Elizabeth And James Fall 2015 RTW Is So NYC!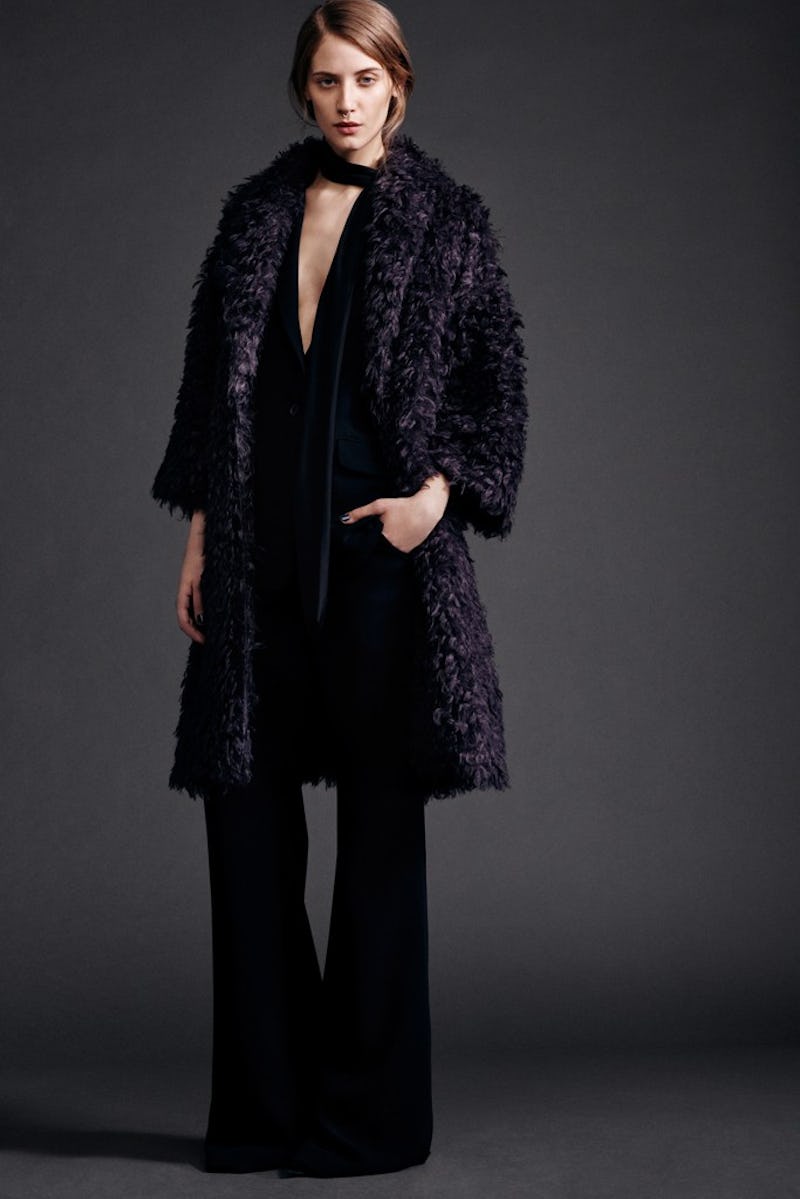 I do not hide, mask, or quell my gushing when it comes to Mary-Kate and Ashley Olsen's Elizabeth and James contemporary line. I'm a total fangirl. I admit it, readily. When I saw Elizabeth and James' Fall 2015 ready-to-wear collection, I nearly pulled a Rachel Zoe and died… twice. So. Much. Black.
The dark color palette — let's be real here, it's largely black, with some dark blue and dark purple mixed in — makes the collection so NYC-appropriate. Like so many Manhattanites, I almost always wear all-black, save for some blue denim. So M-K and A are so speaking my lingo with this range. Now if only they'd open an Elizabeth and James boutique... Then we'd really be in business!
I love almost every piece in the collection, but I am totally crushing, feverishly so, on the Mongolian fur hoodie. Like RUFKM? I love hoodies. Bear with me for a second as I equate them to food. Hoodies are the mac 'n' cheese of the fashion world. Stay with me, stay with me! Hoodies are a comfort piece, a staple, and a basic that you can dress up or down... much like you can simply eat a quickly prepared bowl of Kraft mac 'n' cheese or you can dive into a three cheese, crunchy crust, and truffle oil-doused gourmet version!
You picking up what I am putting down?
These are my favorite looks in the collection. Ashley Olsen told WWD that feminine was the goal for this seasonal set, saying, "We normally focus on our relaxed, casual elements. But we always do sexy clothes; we just never really present them."
1. That Hoodie I Was Talking About
There is none more luxe. I so want to wear this with black leather leggings...
2. Lunatic Fringe
This is the E and J take on a '60s mini and the LBD. The fringe tote jacks up the chic-ness of an otherwise flawlessly basic ensemble. Pst! Notice that septum piercing, too. #Edgy.
3. Paging Morticia Addams
Is this Morticia Addams-inspired? It is, but in the right way. This clingy, slinky, and high-collar dress could fit a myriad of occasions, without being too goth.
4. Beyonce Office Chic
At first look, this print dress screamed "Office chic." Then I noticed the keyhole bodice, which took the frock to a whole other (Beyonce esque) level of sexiness.
5. The Only Coat You Need
I'd ditch every coat I own for this blackened x purple x furry behemoth! I do wish it was black, though!
6. Halt(er)
Another all-occasion dress that's turnt up, thanks to the halter neck.
7. Pretty Much Perfection
The boots, the bag, the outfit. It all works perfectly in concert and I want to own and wear it.
Once again, Elizabeth and James have crafted crazily wearable fall attire!
Images: Elizabeth and James (7)