Why You Should Always Dress For Yourself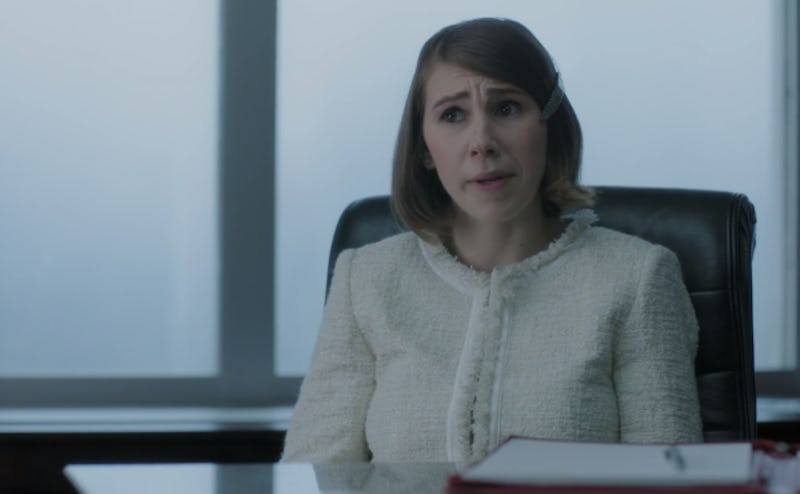 During my senior year of college, when I was unsure of what type of career I wanted to pursue after graduation and consequently applied to every job listing I saw, I went through somewhat of an identity crisis over spring break (I'll always regret not having an MTV-style spring break). I had lined up a handful of interviews over the week I was home in New York, each in very different industries. I was ready to be a paralegal on Monday, a public relations professional on Tuesday morning, and an investment banking analyst on Tuesday afternoon. With job interviews come job interview outfits, and nothing in my closet, save a pair of too-short wool trousers from my high school days in Model UN, would work for any of the corporate jobs I was ready to take on.
So I went shopping. My mom had offered to help fund my interview outfit since it was an investment in my future and all of my unpaid internships up to that point had left me with no money at all. With a less flashy-dressing friend in tow to offer any second opinions, I walked up and down Columbus Avenue the day before my first interview in search of a humble hire-me outfit. Our first stop was J. Crew at Columbus Circle, where instead of settling on a simple black tweed dress, I gravitated towards its neon green cousin.
"No, no, no. You have to dress for the job you want, not the job you have," my career-minded shopping companion scolded me.
I looked at her dumbly — I didn't have a job. I was a full-time second semester senior, and I wanted a job where neon tweed mini dresses were appropriate work attire. I left J. Crew discouraged but with a simple grey crewneck sweater that could complete my backup outfit which so far constituted of my mom's Charter Club flannel skirt from 1995.
Our next stop was Club Monaco, where I explained to the sales associate who was trying to push a baby blue leather mini skirt on me that I had an interview at a corporate law firm and I needed something that wasn't baby blue, leather, or mini. She looked at me, pointed a finger and walked away as if she were having a Eureka moment, then came back around with a silky black shift dress. Not too long, not too short. It didn't make me look like I was going to a funeral. They say you know when you know and I knew — this was the dress that would take me corporate lawyer-dom. In a moment of drunk-in-love excitement at having found "the one," I tried the dress on before looking at how much it cost. It wasn't until I was standing in line to pay that I looked and saw the $300 price tag. More confused than appalled as to how the dress material amounted to $300, I put it back on the rack and left.
My friend had gone off to do bigger and better things with her time, and I was stumped and stressed. My interview was in less than 12 hours, and I really didn't want to wear my mom's flannel skirt. I aimlessly walked around the block hoping a store with affordable business casual separates would appear (à la Hogwarts' Room of Requirement), but it didn't, so I walked back to J. Crew and reluctantly bought the black tweed dress I had dismissed earlier.
The next day, I showed up at a Times Square high-rise for my interview feeling... off. I was wearing a knee-length dress with black tights, flats and a cardigan. It was a perfectly respectable outfit — I fit in with the morning commuters on the C train and easily blended in with the throngs of lawyers walking into the building I was about to enter. But I didn't feel like myself. There was nothing I was wearing that was in accordance with my personal style and I felt insecure about it.
Personal style is an extension of ourselves. It's a simple notion that all too often gets dismissed for being shallow and superficial but it's true: We are what we wear. How we dress affects not just how others perceive of us, but (more importantly) how we feel about ourselves. If you're comfortable with what you're wearing, then you'll feel comfortable in whatever situation you're thrown into. I wasn't comfortable with what I was wearing and I didn't like the way I looked, so I felt insecure and out of sorts.
Dressing for yourself is one of the simplest things you can do to improve your self esteem. When you dress for others, like I did for the job interview, you lose confidence. That doesn't mean I should've gone for the neon version of the tweed dress, but I could've chosen something in a cut I was more comfortable wearing, or with a pair of boots that were just as professional as the black flats. (If you're wondering, I didn't get the job. It had nothing to do with my choice of attire but more about my confused career ambitions.)
Just as not being comfortable with what you're wearing fuels negative emotions, choosing something that will make you feel good will (surprise, surprise) improve your mood. When I'm overtired, stressed, crabby and all that jazz, I wear my "fancy pants" — a bold and flashy pair of floral jeans. They're weird and eccentric but they put me in a good mood and trick me into thinking I can take on the world with negligible hours of sleep. In fact, I'm wearing them now.
Clothes have an enormous power to affect our moods, so why not use them for the better?
Images: HBO; Getty; Giphy