7 Reasons Why February Is Actually The Best Month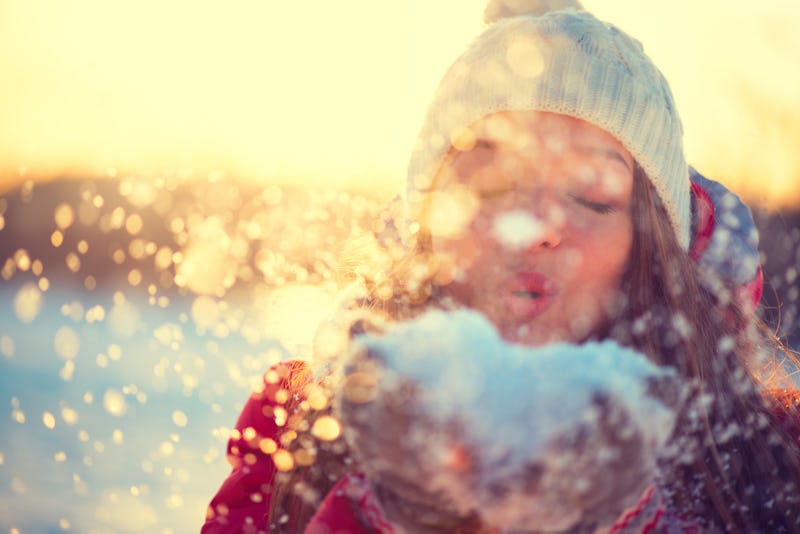 I see you over there, cowering next to the heat lamp in your giraffe onesie. You have the wrong attitude, my friend. February is the best month of the year. Why, you ask? The second month of the year is a time for new beginnings of the most legitimate persuasion; you're not at the gym every day trying to lose that extra four pounds via some half-hearted excuse for a New Year's resolution. By the time month two rolls around, you've officially ditched the buzz and taken on serious, attainable goals. Let's also not forget that February brings with it a number of fantastic excuses to partake of life's best things: singles awareness, celebrations of love, civil rights achievements, and wine appreciation are all highlights this month has to offer. World Nutella Day is this month. President's Day is this month; that means one day off from work (World Nutella Day hasn't yet garnered the adoration it deserves).
It can be easy to get lost in a sea of never-ending pessimism when you step out the front door and run face-first into a six-foot pile of snow, but February marks the end of this reign of terror. It's most probably the last month of the year you'll have frost bite on the mind. Spring is nigh, and just like the flowers, you've got some blossoming to do. So with February coming to an end this week, here are a couple reasons why it's without a doubt my favorite month.
When the concept for this celebration was first conceived, it was meant to be held the second week of February, as this week contained both Abraham Lincoln and Frederick Douglass' birthdays. The month-long appreciation didn't come into fruition at a federal level until 1976. So while we don't all celebrate it as wildly as we would Mardi Gras or St. Patrick's Day because society is society and beer and booze hold all the power, February might be seen as a time to consider the strides we've made in equality on all levels.
2. I repeat: World NUTELLA Day
February 5 is World Nutella Day. If you've been looking for an excuse to Nutella all the things, that day has arrived. Toast? Don't mind if I do. Bagel? Yasss. Tostada? Why the heck not. This is the day to give your favorite chocolate hazelnut spread all the love it deserves.
3. Whether you love being single or love being in love, there's a glorious celebration for everyone
The singles of the world have really taken back the month of February; they're alone, independent, and happy to shout it to the social media gods. To the same token, Valentine's Day is a great excuse to get drunk and happy with the love of your life, and seriously, what's better than an all-inclusive event?
4. There's lots of booze to be appreciated
Wine lover? Get out the bottle of vino and get ready to cheers to National Drink Wine Day. More of a margarita kind of girl? Great! We're celebrating those this month too. And let's not forget all the bubbly you're bound to imbibe on Valentine's Day. Make no mistake — February is a month for drinking.
5. Three words: President's Day Weekend
An extra day off from work so you can celebrate our nation's fine leaders and hit up a few crazy awesome store sales? Um, YES please.
6. There's an off chance you might get to enjoy a grownup snow day
OK yes the weather is less than ideal and snow is all but ruining your life, but let enough of that white stuff accumulate, and you could relive the snow day joy of your youth. Spike some hot chocolate, grab a few blankets, and prepare to spend some quality time with your Netflix queue.
7. The year is new, and opportunities abound
Just like the groundhog that emerges from his little hole every year this month to give us either immense hope or utter despair, we emerge from our winter slumps. A little daisy popping out of the cracks in the sidewalk; a few weeds making their way through the melting snow. These are sights that February brings.
It is the month of hope, the month of love, and the month of delicious European chocolate spreads.
Enjoy it while it lasts.
Images: Fotolia; Giphy (8)