11 Ultra-Glam Oscar Cocktails To Try Tonight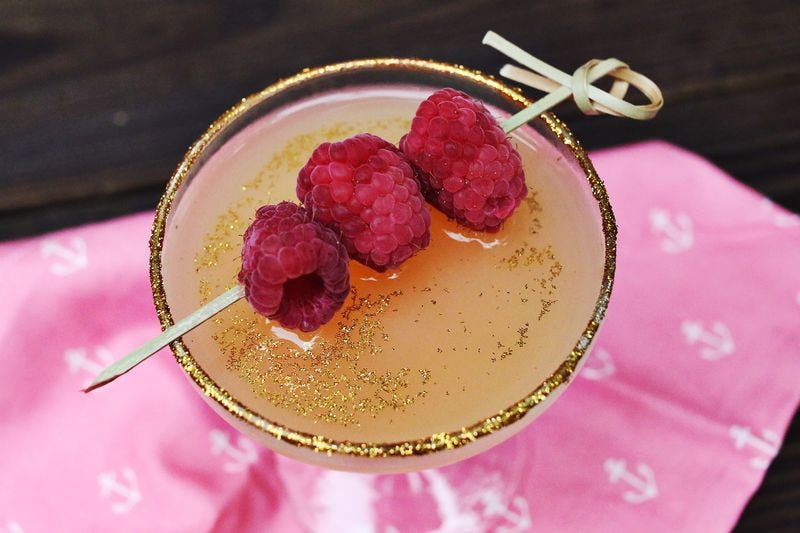 The Academy Awards have finally arrived — a special few hours where we can look back and celebrate all of film's contributions to society in the last 12 months, ooh and ahh at red carpet glamour, talk about how much we still freaking love Jennifer Lawrence, and get super duh-runk along the way. Kidding! (Kind of.) An Oscars party wouldn't be complete without a few Oscar-worthy cocktails, and even though this isn't, like, the Golden Globes or anything, it's still the perfect opportunity to get a little tipsy on a Sunday night without feeling guilty. Also, let's be serious — you've been plotting out the details of your Oscars night drinking game for weeks now (every time someone cries thanking the Academy take a shot — zing!), and you're going to want to make sure you're consuming your libations in the classiest way possible.
Because, just like how you wouldn't waltz down the red carpet during the most glamorous night of the year wearing your finest stretch pants and sloppy bun (although if you did, you'd be my hero), you don't want to sip on just any ol' box of wine as you watch the glitter-filled fete from your television (or Twitter feed, whatevs). So before the show begins, take inventory of your liquor cabinet, see what you're missing, and get ready to whip up one of these oh-so-fancy, totally A-list, award-winning cocktails that will make you feel like a shiny gold star from the comfort of your couch. Cheers to the winners, clink glasses in commiseration with the losers, and remember, above all else, to drink responsibly.
1. Blood Orange Champagne Daiquiri
Developed by Mat Snapp, master mixologist at Fox Restaurant Concepts, this cocktail has basically everything you need to show the world you're just as fancy as those A-listers making their way to Dolby Theater. Make his blood orange mixture ahead of time with one part fresh lime juice, one party Evap Cane simple syrup, two parts Sailor Jerry's spiced rum, and two parts fresh blood orange juice. Then, top it off with equal parts sparkling wine, and get ready to applaud yourself for your seriously impressive performance at the bar.
2. Little Tickle Cocktail
The Jelly Toast blog has created a little something something she likes to call the Little Tickle Cocktail — and if alcoholic beverages could land themselves on best-dressed lists, this one would be at the top because it's purple. All you need is a little vodka, a little gin, a little creme de violette, and what do you know? You've just made the most stylish drink of them all.
3. Blackberry Fizz Martini
OK, so somehow your invitation to walk the Oscars red carpet got lost in the mail. Bummer! But this blackberry fizz martini is as good a consolation prize as you're going to get. Climbing Grier Mountain has created a beverage that's brimming with gin, champagne, and fresh blackberries — a combination that's sure to put you in a good mood. Oh, also? It kind of matches the red carpet, which counts for something, right?
4. Pear Vodka-Infused Champagne Cocktail
This pear vodka-infused champagne cocktail by Savory Sweet Life looks fancy and elegant and old Hollywood. You kind of just want to take it in one hand, stick your pinky up, and say "why yes, dahhling, of course dahhling, well done, dahhhhhling" while Julianne Moore gives her acceptance speech after winning Best Actress (fingers crossed, all I'm saying).
5. Grand Budapest Punch
Paying quirky homage to Wes Anderson, mixologist Mat Snapp has come up with another cocktail that's sure to put you in a good mood regardless of whether or not The Grand Budapest Hotel takes home the award for Best Picture. One part fresh lemon juice, one part Evap Cane simple syrup, two parts sauvignon blanc, and two parts Tanqueray gin blend together flawlessly in this creative concoction, but because this is the Oscars we're talking about, and because at the Oscars you go above and beyond, Snapp tops everything off with three drops of Absinthe and ice. Get ready to party, y'all.
6. Raspberry Champagne Fizz
All I'm going to say about this raspberry champagne fizz drink by Food and Style is that it's made with champagne and ice cream, which means it wins all the awards in all the categories and everyone else can just go home now. Cheers.
7. French Ginger Martini
This cocktail by The Crepes of Wrath may look classy, but don't let its innocent appearance fool you. It's out to kill. Vodka and ginger liqueur come together with Grand Marnier for a drink that should win the award for best special effect — and by special effect, I mean ability to get you drunk with just one tiny sip.
8. Sparkling Limoncello Vodka
While the stars clutch their gold statuettes, wrap your hands around this sparkling limoncello vodka drink. It's not quite the same thing as getting an Oscar, but I promise it will make you feel like a winner. The Little Epicurean has the recipe.
9. The Golden Girl Cocktail
If the Oscars could be summed up by one beautiful beverage, it would be this Golden Girl cocktail by A Beautiful Mess. It has edible glitter in it, you guys, not to mention perfectly ripe raspberries that bring a bit of that red carpet glam right to your martini glass. As for the drink itself? It's just a bit of prosecco and grapefruit juice mixed together — geniusly simple and simply genius.
10. Pomegranate Negroni
The Oscars love a good curveball — a win you didn't see coming, a dress you never could have expected, an acceptance speech that knocks you out of your seat. This velvety smooth pomegranate Negroni by A Better Happier St. Sebastian is here to see you through all of that. Mix gin with Campari and pomegranate juice, and prepare yourself for whatever the Academy has coming your way.
11. Shirley Temple
Pay tribute to the Golden Age with a classic drink named after one of old Hollywood's greatest icons. A little lemon lime soda topped off with maraschino cherries is all you need for this retro throwback treat. Add a little grenadine if you're looking for something slightly less PG, or enjoy this sweet mocktail as is. Either way, you can't lose.
Image: A Beautiful Mess; Bustle (2)