9 Times Kanye West Interrupted The 2015 Oscars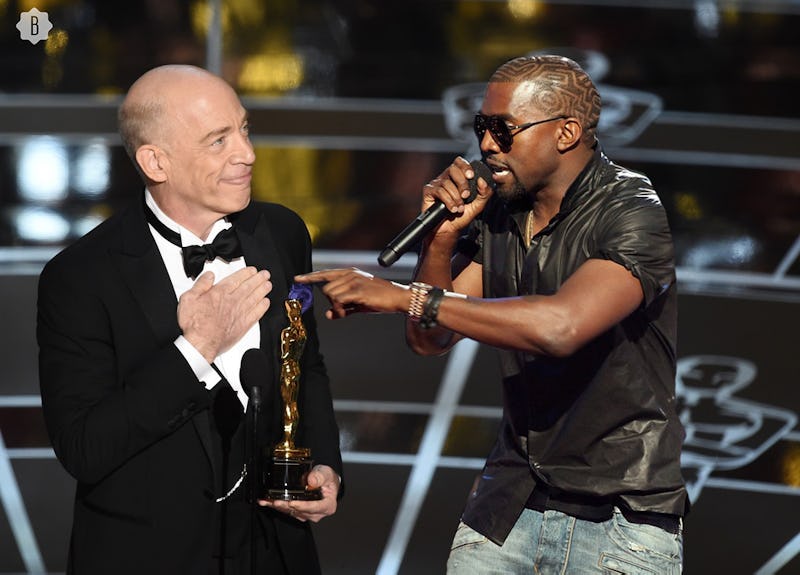 I can't believe that Yeezus did it again. Maybe we all should have seen this coming when Khloe Kardashian turned up on E's red carpet show, but I guess I just refused to believe there was any good reason for Kanye West to be at the Oscars. Of course, since he was, in fact, there, it was only a matter of time before Kanye began objecting to the way they were putting on the ceremony. And we all know what happens when Kanye objects to something. Didn't Taylor Swift learn that lesson at the 2009 MTV VMAs? And there's a reason you probably shouldn't say Kanye's name to a Beck fan right about now. Whether you love him or hate him, the fact still remains that 'Ye has a bad habit of running up on stage to interrupt award ceremonies. Why would the Oscars be any different?
All right, so Kanye didn't really rush the stage at the Oscars. I mean, I don't think he was even there at all, let alone present just because his sister-in-law was. However, that didn't stop me from imagining the kind of chaos that Kanye would have caused if he had stormed the stage at the 2015 Oscars. After all, even despite Neil Patrick Harris' best efforts, the ceremony was still a little dry and serious — so here comes Yeezus to spice things up. Oh, what, you didn't see him do any of these things? Well, maybe you just weren't looking hard enough.
At this stage in his career, Kanye can pop on and off stage in under a second from all the practice he's had. So rewind your DVR and make sure to look out for these nine times he interrupted the Oscars.
"Neil Patrick Harris, I'mma let you finish..."
"...but my birth was the best magic trick of ALL TIME!"
"Adam Levine, I'mma let you finish..."
"...but Beyoncé is the best performer of ALL TIME!"
"Jack Black, I'mma let you finish..."
"...but Kim Kardashian takes the best selfies of ALL TIME!"
"Jared Leto, I'mma let you finish..."
"...but you and Lupita Nyong'o would be the cutest couple of ALL TIME!"
"Paweł Pawlikowski, I'mma let you finish..."
"...but my 15-minute Wireless Festival rant was the longest speech of ALL TIME!"
"J. K. Simmons, I'mma let you finish..."
"...but my cameo on Keeping Up With The Kardashians was the Best Supporting Actor role of ALL TIME!"
"Anna Kendrick, I'mma let you finish..."
"...but Fat Amy was the best Barden Bella of ALL TIME!"
"Yo, Academy, I'mma let you finish..."
"...but Selma was the greatest movie of ALL TIME!"
"Patricia Arquette, I'mma let you finish, but..."
"...actually, I'mma really let you finish, because you're giving the most feminist acceptance speech of ALL TIME!"
Image: Getty Images (8); Kadeen Griffiths/Bustle