Going To A Thermal Spa Changed My Body Image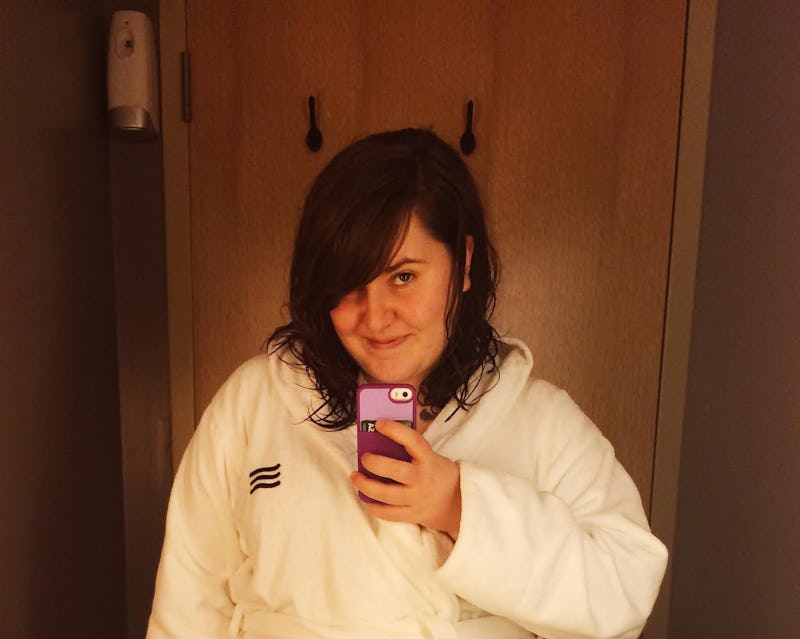 There are all types of salons, spas, weight loss products, beauty products and treatments that claim that they're going to "help you feel beautiful" or "change the way you see yourself." As a teenager and young woman, I totally bought into the propaganda and spent a good deal of time and money on trying to lose weight, get more toned or feel more beautiful. I would splurge my little pay checks from working at an office supply store on magazines that lured me in with diet tips and that seductively promised me my "best body ever."
When I felt like that wasn't doing the trick, I bought whatever supplements were being touted as "miraculous" and promised to help speed my metabolism: apple cider vinegar, green tea and even caffeine. I mean, I had read about how bad that stuff could be for you on the same pages of the magazines advertising Hydroxycut and offering up meal plans and exercise regimens. So, how bad could they really be? As a teen, that message of "sitting still is being lazy" and the irresistibility of burning a few extra calories a day were too strong. I had a weird relationship to my body and disordered eating habits that went unnoticed even by me: They were just seen as my "trying to be healthy."
(18-year-old me.)
The next few years, I would dabble with eyelash extensions, hair extensions and indoor tanning. Those aren't inherently negative things (the return of my eyelash extensions are actually imminent), but I was employing them to cover myself up instead of enhancing the way I looked. My quest for self-improvement seemed never-ending and all of these things that promised to make me slimmer, happier or closer to perfection were costly to maintain and ultimately falling short of their promises.
I realized that I was waiting for the perfect combination of good skin, perfect hair and the best outfit to receive permission to feel good about myself and the way I looked. I was waiting for that magical moment where I unlocked this inner confidence or finally proved that I was trying hard enough to make up for my "flaws." Only then could I stop the ridiculous regime and be at ease with myself. After a weird summer where a lot of my deeply-held beliefs were shaken, I realized that I just needed to say "eff it" and give myself that permission. I moved to a new city and my hair extensions did not join me on the journey.
(20-year-old me.)
I lived for a few years in a version of a body that I learned to be comfortable in — that I began to understand how to dress and recognize as my own (most of the time, your girl's not perfect). About two years ago, my body started changing thanks to my PCOS and I felt like I was being forced to channel Drake and start from the bottom once more. I struggled with learning to fight off the conditioning that taught me I was failing if I wasn't losing weight — that taught me to completely hate my stomach, thighs and arms all the time. I realized I had replaced one ideal of "a good body" — stick-thin with good muscle tone — with the one I had, subscribing to the "real women have curves" narrative in the process. When my body adopted new curves in different places, it was difficult for me to accept. I'm definitely not all the way there when it comes to loving my body the way it is — not just yet anyway. But I'm making gains pretty much every day and have almost permanently moved out of the "actively hating" phase. So I'm gettin' there! Imagine my surprise, then, when I realized that what I thought looked like acceptance was at least partially veiled in avoidance.
The hardest part of accepting the new appearance of my bod has been being present in my body and being mindful of it. This smacked me right in the face when I spent a day at a Nordic-style thermal spa with my family last week. I am wild about self-care and a big manifestation of that, for me, is pampering myself. Specifically, the combination of quietness, tranquility and relaxation makes spas sort of my perfect place in the world. Dying to try out this new-to-Winnipeg concept, I happily accepted my mom's invitation to spend a day soaking in heated pools and languishing in steam rooms. I was a bit nervous about being in my cute fatkini around a bunch of health-minded people for a whole day, but practiced my death stare should I encounter anyone else's body negativity. I was prepared and ready for as much relaxation and mental tranquility as possible and was psyched not to have to think about anything for a few hours. Very cute idea — but about five minutes into the first sauna rotation and I was already confronted with the familiar but distant feeling of being present in my body.
While I used to practice yoga and meditation daily, things had gotten busy and my practice had slowly dwindled to near evaporation. I, and this body that was giving my self-acceptance trouble, hadn't sat with this iteration of myself in a long time. Or really ever. I realized that a big part of being able to feel confident and being comfortable was to just avoid being present and having to deal. Wondering why I was so worried about other people focusing on the way I looked, I should have been prepared to deal with how I felt.
In the next 10 minutes, though, I felt more grounded and more connected to myself than I had in months. I felt every single inch of my skin (as sweat was pouring out of it, but still) and was totally in it. That sensation felt like the lifting of the denial and the invisibility I'd been giving myself. As a plus-size woman, I'm always very aware of the space my body might be taking up in public — this was different. I felt peaceful, at ease and truly comfortable. I didn't need a spa treatment to feel more beautiful: I needed mindfulness, permission and acknowledgement from myself. The rhetoric that "being seen by other people is powerful and important" is something I will spout all day long. But being seen and validated by yourself just might be more important. After years of searching for the one thing that would finally make me pretty enough to feel comfortable being myself, it was the place that never promised me a "better body" or a "more beautiful me" that ended up delivering it.
Images: Author's Own