Ranking The Music Of 'Empire' 1 Episode At A Time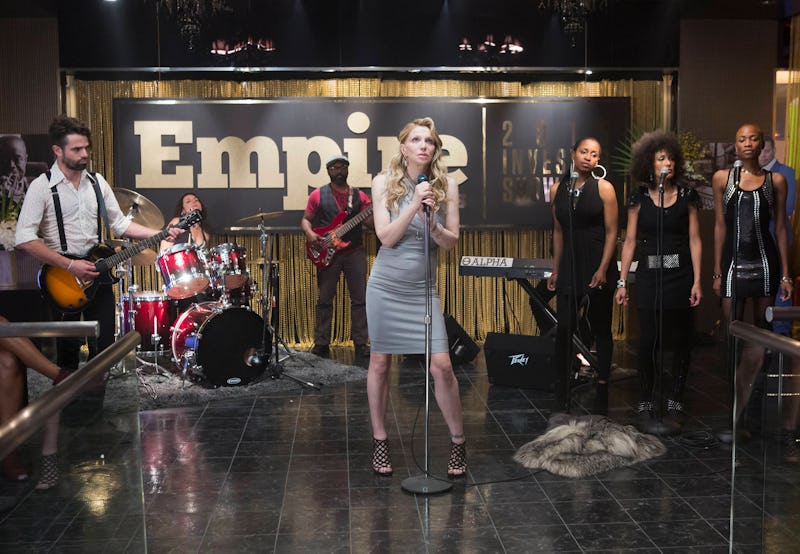 At its heart, FOX's ratings-defying new hit Empire is really just a particularly sudsy soap opera. There are multiple characters with life-threatening illnesses, cheating spouses, feuding siblings, surprise offspring, and multiple catfights per episode. (Not that I'm complaining!) But what really sets Oscar nominee Lee Daniels' show apart is the music. To help craft the show's tapestry of hip hop music, Daniels brought on super producer Timothy Mosley... who you may know better as Timbaland. Apart from his own recording work, Timbaland has helped produce albums for such legends as Madonna, Jay Z, Rihanna, and Drake. He and Empire co-music producer Jim Beanz supervise a team of songwriters that pen an original soundtrack for every episode of Empire , based on the material given to them by the script writers.
Having aired seven out of 12 episodes in Season 1 so far, the series has just passed the halfway point of its freshman year. So before we move further into the season's back half, let's take a look back at what we've heard so far. Here are Episodes 1-7 ranked by their soundtracks... in my humble opinion, of course.
7. Episode 4, "False Imposition"
Best Song: "Keep It Movin'"
Other Songs: "You Walk"
The song that Hakeem and Tiana sang for the Teen Choice Awards Nomination Concert was fun, but it wasn't either of their best songs. Plus, the small stage at nightclub seemed like an odd choice of venue for such a big event. The only other song of the episode was nothing to write home about; just Lucious and young Andre jammin' out together in a flashback.
6. Episode 5, "Dangerous Bonds"
Best Song: "Keep Your Money"
Other Songs: "Drip Drop"
While "Keep Your Money" is far from Jamal's finest moment (more on that later), it stands out because the song's style is distinctive from pretty much all the other music Jussie Smollett has sung on the show. "Drip Drop" is a fun little ditty, but I can't really get past the ridiculous chorus... not to mention the golden showers falling in the background of the video.
5. Episode 3, "The Devil Quotes Scripture"
Best Song: "Up All Night"
Other Songs: N/A
The beautiful song itself gave me goosebumps, but the flashbacks to happy Lucious and Cookie were a little too schmaltzy for my taste. And it's hard to rank the episode too highly when there was only one song in it.
4. Episode 2, "Outspoken King"
Best Song: "No Apologies"
Other Songs: "Adios"
Jamal and Hakeem slayed their first official musical team-up. The brothers christened Leviticus with this hands-in-the-air anthem; bonus points for Jamal's surprise appearance and the impressive speed of Hakeem's rap on the song's bridge. Tiana's first song, "Adios," was also fun — especially the choreography with the dancers at the barre.
3. Episode 7, "Our Dancing Days"
Best Song: "Walk Out On Me"
Other Songs: "Money For Nothing"
If you thought Courtney Love's first song on the show didn't show off the singer's talents enough, this episode more than made up for it. As Elle Dallas, the Hole frontwoman reminded audiences what a true legend sounds like. Too bad Jamal and Hakeem's duet for the Empire Investors Showcase was so head-scratchingly bizarre. What was up with those Deadmau5-esque microwave heads?
2. Episode 1, "Pilot"
Best Song: "What Is Love"
Other Songs: "Good Enough," "Right There"
The very first song of the series sent shivers down my spine — and I bet I'm not the only one. Seeing Lucious relentlessly pulling greatness out of his artist was a compelling way to start the series, and still one of the best performances yet. Jamal and Hakeem's first songs were both serviceable introductions to their characters, but neither of their best work... as we would find out in my top pick.
1. Episode 6, "Out, Damned Spot"
Best Song: "I Wanna Love You"
Other Songs: "Can't Truss 'Em," "Take Me To The River"
It's probably not a coincidence that Jamal's best song is one written by the character's portrayer, Jussie Smollett. The tune is an earworm, Smollett sounds terrific on it, and — unlike some of Empire's tunes — I can easily imagine it getting airtime on the radio. (No fault of Timbaland's; when you're churning out 2-3 original tunes every week, they're not all going to be bonafide hits.) The furious "Can't Truss 'Em" is also Hakeem's best song so far — it allowed him to not only show off his rapping skills, but access his character's emotions at the same time. And Elle's first song, "Take Me To The River," while frustratingly short, was at least an appetite-whetting teaser of what was to come the following week.
Image: Chuck Hodes/FOX