Rodarte X Superga Collab Will Up Your Shoe Game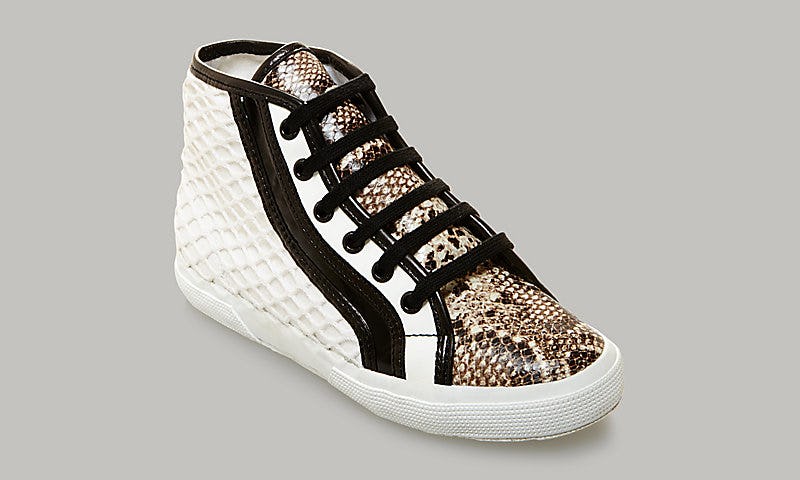 I have been a fan of Rodarte for quite some time now, but after seeing the ingenious eye bling on their models at New York Fashion Week, I became OBSESSED. This brand is the epitome of everything cool — pushing boundaries, taking risks, and always delivering the crème de la crème in high-quality designs. In their latest endeavor, Rodarte collaborated with footwear company Superga, to release an exclusive sneaker collection that is so amazing, it makes me want to wear sneakers every day for the rest of my life.
The limited edition line offers six different styles which combine that extra special edge factor Rodarte is known for, with simplistic casual features that make the sneaks totally wearable for day-to-day. Complete with mesh overlays, patent leather, and snakeskin, these bad boys will definitely up your shoe game (something I really need to work on).
Rodarte designers Kate and Laura Mulleavy explain, "We were inspired by the brand's iconic look, and by taking that recognizable message and putting it into new context—one that conceptually explored innovative and interesting textures and fabrications. We built a world inspired by netting, stamped leathers, and surfaces (tweeds and denims). This allowed for us to keep the meaning of the Superga classic line, and yet bring our point of view to the design." Style.com reported. And fuse classic with innovative they definitely did — mission accomplished.
The custom sneakers are available on Superga-usa.com and range between $239-$259. Not too bad for some designer kicks.
Which one is your favorite?
Images: Superga-usa.com (7)