Kenny G & Warren G's Collaboration Is A Must-See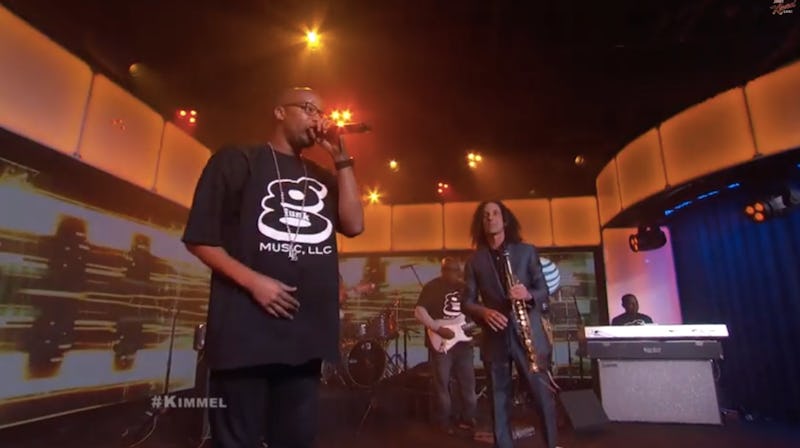 OK, so this is really weird but in case anyone else had an inkling that jazz musician Kenny G is actually more hip than he lets on, this next clip contains some solid proof. During the #MashUpMonday segment of Jimmy Kimmel Live, Kenny G and rapper Warren G performed together and while their laid-back rendition of the 1994 hip-hop classic "Regulate" wasn't bad (that song never ages), seeing the two of them onstage rocking out together like it was no big deal was rather strange. Even after discovering that Kenny G is actually a huge fan of hip hop, I still watched the performance with my head titled to the side, trying to figure out exactly how this collaboration came together.
As confusing as it is, Kenny G's no stranger to uncanny musical collaborations. He's worked with everyone from Weezer to Robin Thicke, so I'll be totally prepared the next time he jumps on his stage with someone outside of his usual groovy genre.
Interestingly enough, there have been quite a few other brow-raising musical pairings over the years that make Kenny and Warren G's joint jam session look super tame by comparison.
Here are seven of the craziest musical collaborations ever:
Lady Gaga & Tony Bennett
The May-December couple of musical collaborations, Gaga and Bennett are supremely talented and adorable together, but moving past their undeniably odd pairing takes a little bit of effort.
Eminem & Elton John
This performance of "Stan" remains a staple on the list of strange musical collaborations because John shocked everyone by working with Eminem.
Mariah Carey & Westlife
Where was I when Mimi collaborated with Irish boy band Westlife?! Strange combo, but the music isn't bad at all.
Taylor Swift & T-Pain
T. Swizzle & T-Pain?! Make. It. Stop.
Common & The Jonas Brothers
Eeek! I hate to rain on Common's Oscar-winning parade, but this 2009 song with the Jo Bros was entirely too weird.
Matt and Kim, Soulja Boy & Andrew W.K.
I absolutely love Matt & Kim ("Ice Melts" is my jam), but "I'm a Goner" featuring Soulja Boy & Andrew W.K. is an utterly confusing collaboration that can only be blamed on the fact that it was a part of a Converse promotion.
Ke$ha & Iggy Pop
What's even stranger than Ke$ha and Iggy Pop's song "Dirty Love" is the fact that she left him out the video.For more strangeness, check out Warren and Kenny G's "Regulate" performance below:
Image: NBC/YouTube