'The Good Wife' Doesn't Deserve Matthew Goode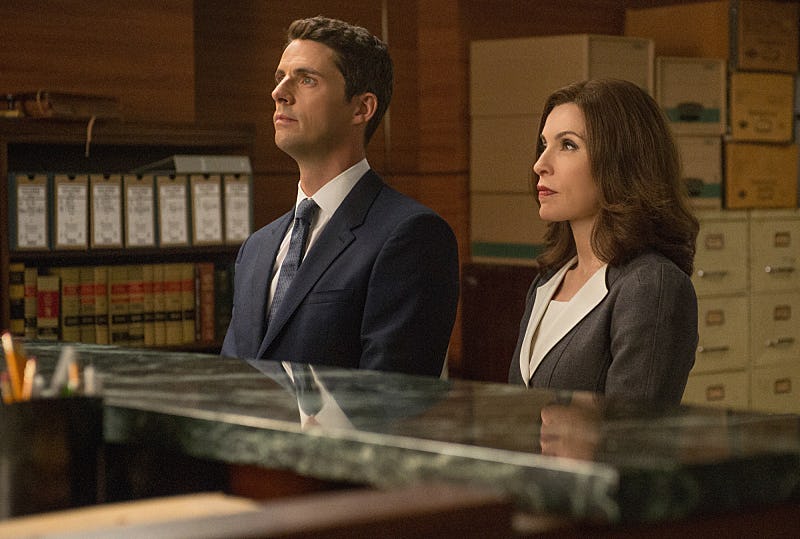 Matthew Goode isn't only a disarmingly attractive man, he's a damn good actor. On the show, Goode definitely has chemistry with leading actress Julianna Margulies and some charm, but that's it. The writers behind The Good Wife are wasting his talents! Goode's character on The Good Wife, Finn Polmar, is a non-entity. Why hire such an amazing actor and position him as very important only to do absolutely nothing with him? It has also felt like he's slowly being phased off of the show since he has appeared as much in Season 6 as you would expect after becoming a series regular on The Good Wife. Part of his smaller role on the CBS drama is because of Goode appearing on Downton Abbey as a new love interest for Lady Mary Crawley. Does this mean Matthew Goode is leaving The Goode Wife ? There's a great he will and he probably should.
In an interview with TVLine The Good Wife showrunner Robert King addressed what else we can expect from Matthew Goode on the show:
Julianna Margulies and Matthew Goode are amazing with that kind of tension. We lost Matthew for one or two episodes because of obligations, I think for Downton Abbey, but he's in the rest of the season, and he's fantastic.
Goode seems to enjoy playing Finn Polmar, saying to The New York Times that "you can't replace Will — you can't replace a character who's that influential and that loved. But what they have tried to do with Finn was make him be one of the few people so far on the series who doesn't have hidden agendas, who is sort of morally unambiguous."
Goode will be appearing in the next season of Downton Abbey, which means he will be moving his family again this time to England, which is especially trying considering he has two very young daughters and a third child on the way. When asked if he would appear on The Good Wife next season Matthew Goode says to The Wall Street Journal:
I don't know yet. We haven't had the discussion. I might, but I'm all about the family, really. You can't keep uprooting your children all the time."
He may not be saying it explicitly but I think it's pretty clear that Goode will not appear on The Good Wife Season 7. Of course, I have had a suspicion that the final season of The Good Wife is already upon us. As much as I love Goode as an actor and The Good Wife I think it's best the two go their separate ways. Hopefully, Goode gets better writing on Downton Abbey.
Images: David Giesbrecht/CBS; f***yesdowntonabbey/Tumblr; Giphy