Is Matt McGorry Coming Back For 'HTGAWM' Season 2?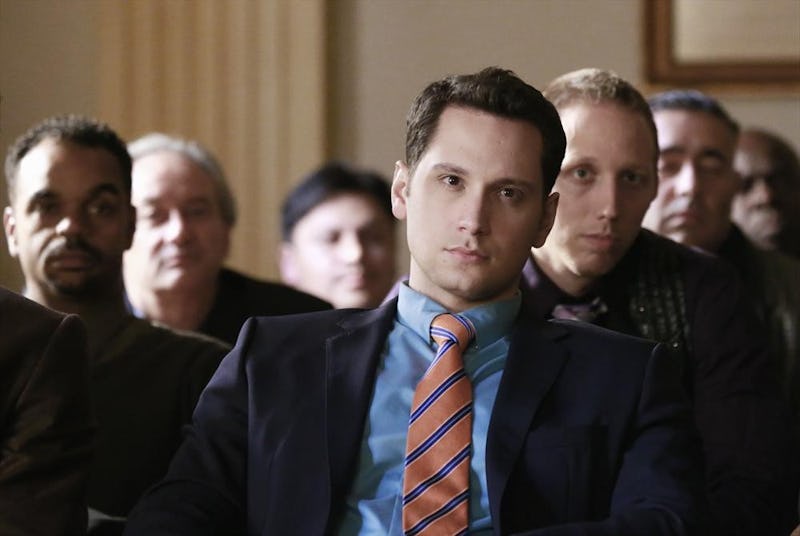 Well, there's no official confirmation either way when it comes to casting for How to Get Away with Murder Season 2 — besides series star Viola Davis, that is. At this point, it could really go either way: Some are quick to point out the fact that it wouldn't really make sense for the Keating Five to stay with by their favorite professor's side past their first year of law school — but then again, it would make even less sense for us to get a whole new batch of students, especially when we've come to love this particular bunch so darn much (especially douchebag in residence, Asher Millstone). So, here's the million-dollar question: Will Asher (and the rest of his gang) be back for Season 2? He'd better be!
Matt McGorry's keeping his lips sealed — in a recent interview with E! Online, Alfie Enoch profusely denied any knowledge of Season 2 casting, while McGorry agreed, whilst wearing a "sinister grin." And in a Bustle interview where castmate/co-murderer Karla Souza was asked the same question, she only said, "I don't know, I hope!" Officially, mum's the word, but it almost seems like they know something we don't (maybe I'm getting a little too into the spirit of the show here).
We don't know quite what they have in mind, but here's one thing I do know: They've got lightning in a bottle, especially where Asher's concerned, and it would in their best interest to keep him around — and here are 9 reasons why:
His Mad Dance Moves
Iconic.
His Way With Words
Dude's a born poet.
His Knack for Physical Comedy
I don't know about you, but this is still in my top 5 moments of the show.
His Self-Perceived Sexual Prowess
Well okay then, Mr. Sex.
Team Bosher!
I don't care how dysfunctional it is, I can't help but ship it.
He Makes Faces Like This Sometimes
Forget HTGAWM, give the man his own TV series.
His Goofiness
Thank God he's around for comic relief, or the show would be pretty relentlessly depressing.
His Consummate Douchiness
There's just something so deeply, inherently bro about him, isn't there?
He's Actually Got His Heart in the Right Place
Poor, poor Asher. You're too good for the scary HTGAWM world.
Images: Mitchell Haaseth/ABC; wesgxbbens (5), ashermillstones (3), htgawm/Instagram