11 Books That Will Make You Feel Like It's Spring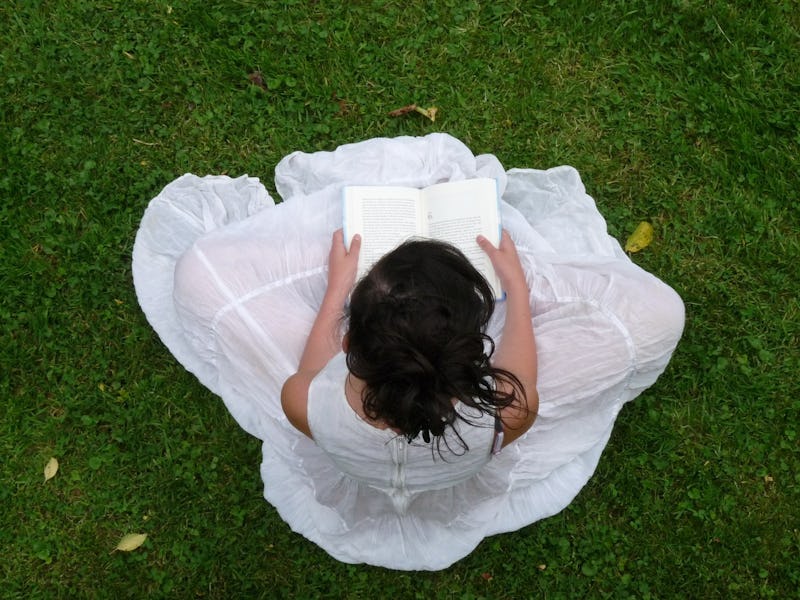 Percy Bysshe Shelley's perennially popular "Ode to West Wind" — a mainstay of high school English classes and a poem you've probably read at least once in your life, even if you don't remember all of its seven parts — is part actual ode to the "wild West Wind" and part desperate plea for spring to hurry the heck up and get here. Shelley is, of course, talking about both spiritual spring and actual spring, but it's hard not to feel a little poetic about the magic of spring, that season of rebirth and warmth that, thank goodness, that inevitably comes on the end tail of punishing winter.
In his poem, Shelley wonders, "If Winter comes, can Spring be far behind?" and we hope his logic remains sound this year, because winter has been punishing, brutal, snowy, and cold for much of the country (California, I am not talking to you, I am sorry, but I am just not). Until the ice and snow and salt and everything else crowding our cold sidewalks melts away and the season's best inhabitants (flowers, obviously) start showing their sunny faces, we're just going to have to fake it with a few books that can make even the worst winter spell feel that much closer to spring. Don't take off your scarves just yet, though.
The Secret Garden by Frances Hodgson Burnett
Burnett's classic may be a mainstay of kiddie reading lists, but its big themes — friendship, forgiveness, the power of joy, amongst others — are applicable and important for all ages. They also all speak to the concept of things being reborn and made new, and that's to say nothing of the nearly riotous levels of flowers and foliage that almost overwhelm the novel's story. What's more lovingly and ravishingly spring-like than bunches of happy, fresh flowers?
The Wind In the Willows by Kenneth Grahame
Like The Secret Garden, Grahame's pastoral novel might also skew to the younger set, but its celebration of nature (and cute animals, let's just be honest here) makes it feel like a breath of decidedly fresh (and British) air. The book even opens with a big round of spring cleaning — thanks, Mole – and that sense that something is just about to unfold never abates.
The Great Gatsby by F. Scott Fitzgerald
Fitzgerald's masterpiece might famously take place during summer, but there's something still delicately spring-ish about this ill-fated love story. Perhaps it's that notion of possibility and the sense that things are changing that speaks so highly to the season (summer, it seems, is all about things being too hot and too overripe and pretty much just too done in general). Time to get borne back ceaselessly into the past.
The Art of Fielding by Chad Harbach
What could possibly be more spring-sounding than a book about baseball? Young hero Henry Skrimshander might spend most of this novel attending college, but it's also framed around his experience on his school's outstanding baseball team. You can almost smell the fresh-mowed grass right now.
A Tree Grows in Brooklyn by Betty Smith
Smith's novel is about hard-won growth and emerging into a bright future at the end of a long period of helplessness, much like winter! It's like a personal winter! Sorry, I've gone delirious from the cold (still, the metaphor is a good one, right?).
The Paris Wife by Paul McLain
This popular fictionalized account of Ernest Hemingway's marriage to Hadley Richardson — the first of his four wives, so you already know this thing doesn't work out — is mostly sent in and around Paris. Few cities so proudly scream "spring!" as Paris does, and even when their marriage is spectacularly crumbling, the loveliness of Paris can't help but keep the reader (and Ernest and Hadley, too) afloat.
Wild by Cheryl Strayed
Sure, long stretches of Strayed's memoir take our heroine through miles of actual snowpack, but by the time she emerges into the novel's bright, hopeful conclusion, everything feels gloriously new and blossoming. The spirit of renewal and rebirth punctuate Strayed's story, one that encourages an appreciation of nature that is unabashedly spring-like.
Anne of Green Gables by Lucy Maud Montgomery
Avonlea = forever spring.
Under the Tuscan Sun by Frances Mayes
Between the loving depictions of the Italian countryside and the mouth-watering details about all that good food, Mayes' memoir would make anyone to go on a European vacation. Why not embark on an adult spring break, even if it's one that just exists within the pages of a well-loved novel?
My Life in France by Julia Child
If you're still hungry for a hefty food memoir and a loving look at France, consider Julia Child's memoir to be the story of your dreams. The famous chef reflects back on her early years in France, and this autobiography is heavy with delicious details and stunning looks at life in the country. Fresh foods dominated Child's adoration of cooking, and spring is just lousy with them.
Hot House Flower by Margot Berwin
Protagonist Lila Nova swears off both men and flowers early in this novel and — shockingly! — finds her demands up-ended by a handsome flower-seller (typical). As their love blossoms and blooms, so do actual flowers.
Emma by Jane Austen
Austen's most flighty and light-hearted heroine spends her day engaging in just really terrible acts of matchmaking. Emma's heart is (always) in the right place, but her instincts and methodology are adorably wrong-headed. As Emma involves into a more mature woman, the world opens up around her. Hey, kind of like spring.