'Spectre' Teaser Reveals Clues About New Bond Film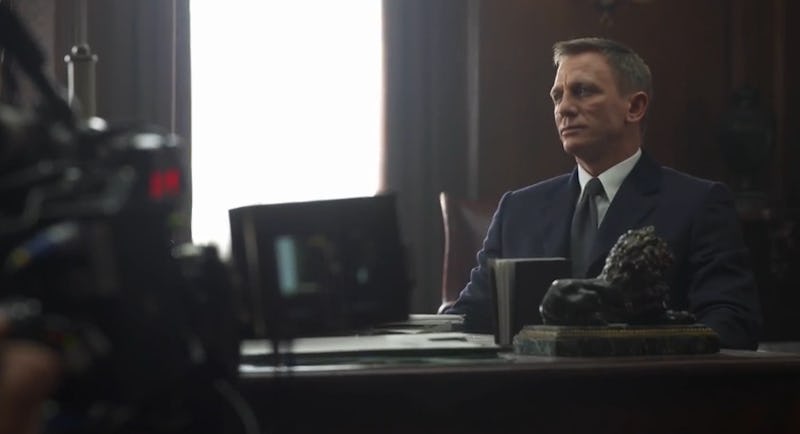 Sony continues to release these extremely brief behind-the-scenes teasers from Spectre that seem to offer more questions about the upcoming Bond film than answers. While the latest Spectre teaser is equally short at only a minute and a half long, director Sam Mendes was generous enough to provide a few clues as to what we can expect from some of the film's main story lines.
But first, let's revisit what's already been confirmed. Obviously, Daniel Craig resumes his role of the utterly calm and collected sexy British spy, while Ben Whinshaw will play the part of Q. Also, for anyone who was freaking out over this, Andrew Scott's Spectre role won't impact Sherlock 's season 4, and — thanks to Bustle's Kadeen Griffiths — we've been thoroughly briefed on the exactly what the latest Bond film title means.
Even though the Spectre script supposedly leaked as a part of the massive Sony email hack, details have remained pretty scarce, which is a good thing, even though the anticipation is absolutely dreadful and realizing that Spectre won't hit the big screen for another nine months doesn't make it any easier. (However, the idea of Idris Elba being the next Bond helps a lot.)
OK, so I'm not a professional sleuth, but here are 3 things this behind-the-scenes footage reveals about Spectre:
Bond is Totally Running Things
While Bond's steely demeanor probably convinced us that he's always in complete control, in the behind-the-scenes clip, Mendes points out the fact that his "post-Skyfall" status actually places his character in a position where he has more experience and wisdom than those who are assisting him on his latest bad guy pursuit, which brings me to...
More Screen Time For M, Q, and Eve Moneypenny
In Spectre, we can expect to witness the expansion of these characters and the role they play in assisting Bond.
Bond Will Be Forced to Do Some Some Serious Life Contemplation
Spectre will ultimately find Bond at a crossroads, and as Mendes put it, he'll face the decision of whether or not to "pursue the life he's always pursued, whether he matters and is he going to continue or not." It's no secret that Craig has been itching to get out of the Bond role for a while, but it'll be interesting to see if and how the sexy spy will opt to hang up his Bond badge.We'll find out Bond's fate when Spectre hits theaters on Nov. 6. Until then, watch the full behind-the-scenes clip below:
Images: JamesBond007/YouTube; Giphy (3)