Claire Has Serious Ambitions On 'House of Cards'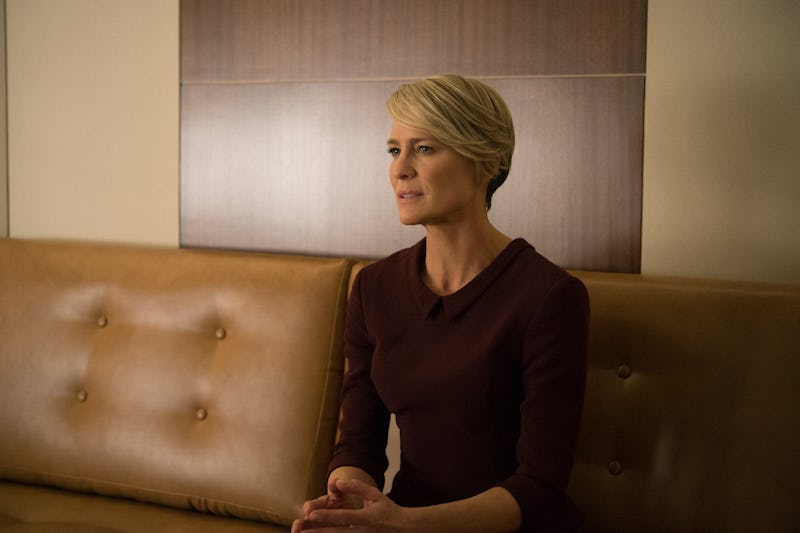 Although the premiere episode of Season 3 of House of Cards had a strong focus on Doug Stamper being alive (hoorah for living Doug! — even if he is a creep), we know the Underwoods are never comfortable taking a backseat. And the new first lady proved that as Claire wants to be the ambassador to the U.N. on House of Cards . Claire was already taking care of Frank's business by visiting Doug in the hospital, but Claire doesn't like to do anyone's bidding — she has her own goals. And although it's controversial for the President to nominate a first lady for the role of ambassador, there doesn't appear to be any laws against it.
The Senate must make the final decision on who gets to be ambassador (current ambassador to the U.N. in real-life is woman Samantha Power). And Claire got Senator Mendoza (the Republican majority leader) to agree to not oppose her nomination in "Chapter 27." But then Frank suggested waiting on announcing the nomination (blaming it on U.S. Secretary of State Cathy Durant's hesitation). Ohhh, excuse me, Frank, but are Claire's aspirations getting overlooked by you once again?
Claire, obviously, was not pleased with Frank's dismissal of her nomination. She said to him, "I'm almost 50 years old. I've been in the passenger's seat for decades. It's time for me to get behind the wheel." If you think the role of ambassador to the U.N. seems like a jump for Claire, she wants the job so that she can run for office herself one day — and she needs the political experience.
Similar to First Lady Mellie on Scandal , Claire has her own political ambitions. And if Frank can't win the election for president in 2016, she wants to be poised for her own political success. (And considering Frank is in the president's seat with not a single vote and has a terrible approval rating, there's a high chance right now that he wouldn't win.)
After Frank made Claire to watch a terrorist being killed to see if she still wants the nomination, she didn't back down (uh, of course not). And it seemed like Frank realized he can't put any roadblocks in the way of her success. Just because he's the President, doesn't mean he gets to have all of the power.
Image: David Giesbrecht/Netflix