Tori Kelly's New Video Will Make You Want To Move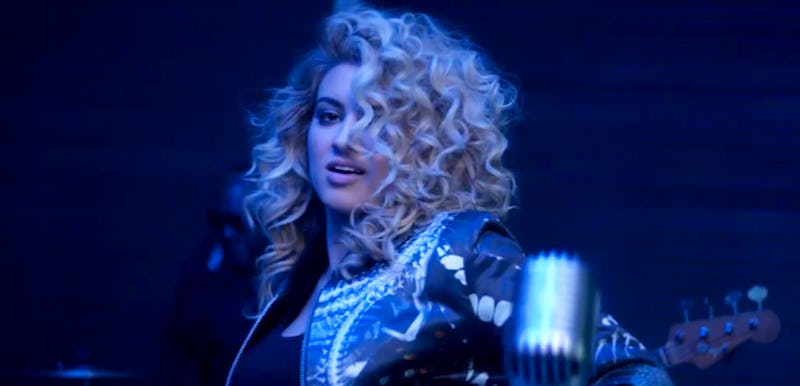 On Thursday, up-and-coming pop artist Tori Kelly premiered the music video for her new single, "Nobody Love," and it'll make you want to bust a move. When the adorable clip begins, Kelly and her friends are just hanging out together in a diner. Suddenly, the singer's pals start pounding out a beat on the table and Kelly breaks into song, because, well... because it's a music video! That sort of thing just happens in music videos. Naturally, Kelly sounds incredible singing "Nobody Love" a cappella, but before long, the studio version of the track fades in and everybody gets out of their seats and starts dancing — even the people passing by on the sidewalk outside! It's a lot of fun.
The video's simple concept fits "Nobody Love's" laid-back vibe well — and it really allows Kelly to shine. She has star power for days! She's only 22 years old, but she already looks like a seasoned pro. I can't wait to see (and hear) what she does next. "Nobody Love" serves as the lead single from Kelly's forthcoming major label debut, which is scheduled to drop sometime later this year.
Here are the 13 best moments from Tori Kelly's "Nobody Love" music video:
When This Cop Is Enjoying His Delicious Donut
When Tori's Friend Makes This Hilarious "She's Killin' It! Can You Even Believe It?!" Face
When This Awesome '90s Boy Band Choreography Begins
When Tori's Friend Is On Fire (Figuratively Not Literally)
And This Dude Is Super Mad About It
I Can't Tell If This Lady Is Super Mad About It Or Super Into it
OMG He's So Mad
"YOU DARN KIDS!!"
When This Epic Spin Happens
This One, Too
When This Dude Finally Catches The Spirit
When Tori Hits Her Xtina Note
And Then Pulls Out This Move & You're Like "Oh Yeah, She's Definitely A Pop Star"
Images: ToriKellyVEVO/YouTube (14); Alex Kritselis/Bustle