Maggie Smith's 15 Best Zingers As Dowager Countess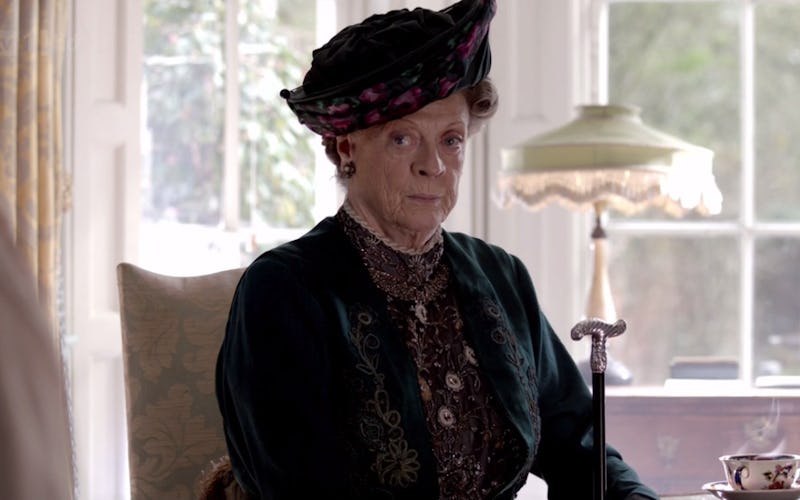 You're probably still reeling from Downton Abbey 's Season 5 finale, so you're going to want to sit down for the next bout of Grantham news. Maggie Smith is leaving Downton Abbey after Season 6, which means we only have one more season of her side-eye glares, constant judgements of family members and newcomers alike, and perfectly-timed zingers. There's no one on television who delivers a burn quite like the Dowager Countess of Grantham, and I'm just praying that she decides to go disappear with someone instead of being killed off the show. If Downton continues for another few years (or heck, even decades), the youngest members of the family — a.k.a. George, Sybil, and Marigold — are going to need some guidance from their sharp-tongued grandma. A little sarcasm tossed with some insults and general shade can be taught, but only by someone as perfect as Violet.
To start the mourning process early, a celebration is in order. Below, I've highlighted some of the Dowager's best one-liners from the past five seasons. They're perfect for everyday use, even in 2015, and here's to hoping that Season 6 is so jam-packed with them that we have enough to use for the rest of our lives. If not, at least we'll always have these zingers.
When She Knows She's Right
Don't question the Dowager.
Which Happens A Lot
Those are her four favorite words.
When She Can't Handle Your Whining
C'mon, Edith.
Or Your Snobby Behavior
You're fired.
Or Your Vulgar Words
R.I.P., Sybil.
She Really Can't Handle Her Whole Family
But they love her anyway.
The Dowager Also Doesn't Tolerate Old People
Have some class.
And Sometimes Her Best Lines Are When Words Escape Her
Her face says it all.
Well, Not All Of Them
This one definitely needed words.
Some Of Her Zingers Are About Looks
Ouch. Need some ice for that burn?
A Lot Of Them, Really
My bad.
Others Are About Bad Personalities
Again, families.
And Shade Is Always Delivered
Now you're singing "Halo," right?
The Best Of All Is When She Threatens Death
Long live the Dowager Countess of Grantham.
Images: PBS; Giphy (15)