Here's How The 'VPump' Reunion Will Go Down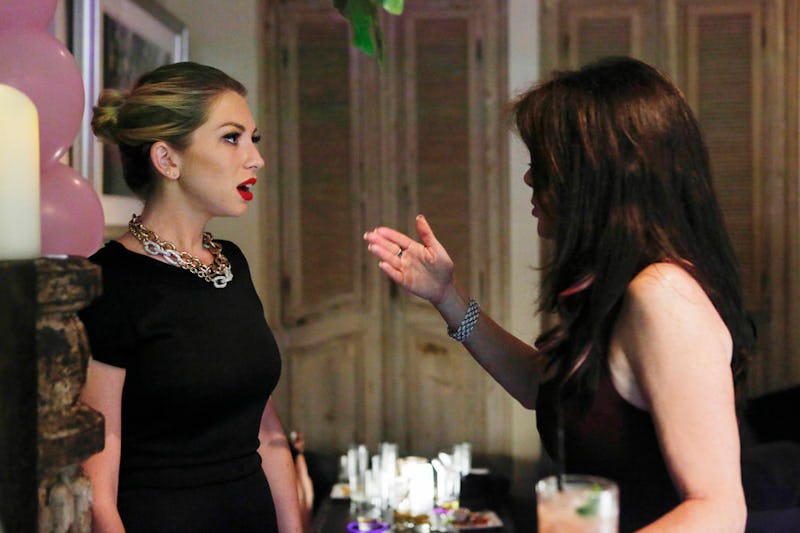 To quote a song with the same message and level of class as a Vanderpump Rules reunion, "It's going down, I'm yelling timber" (Kesha, 2014). Soon, all of your favorite SURvers will be reuniting (In the same room. At one time. Together.) to talk about all the ridiculous craziness that went down on Season 3 of Vanderpump Rules . This season was full of cheating, fighting, cheating, Jax's nose job, punching... It really was the pinnacle of primetime television, and I'm hopeful for at least one Emmy nod for Andy Cohen, dammit. Because this season was about as fruitful of proud moments for the cast as I'm sure Pandora's sangria wine business is, Andy Cohen has a lot of questions to ask the cast, and they have a lot of splainin' to do.
The teams that the cast has created have dramatically shifted since Season 2. Stassi is kind of floating alone on a boat like the kid in Life of Pi. No friends on the cast (Kristina doesn't count. She's not in the opening credits), and no real ties to the plot of the show, other than meeting people for lunch to "hear the scoop." Katie, I don't really know who Katie is friends with... Is she really friends with Scheana, or does she just tolerate her? This is something we may never know. The men are going strong — somehow — because despite the backstabbing, betrayal, and lying that Jax does, at the end of the day the guys are still able to hop on their trick bikes and ride into the sunset. Kristen is still Team Kristen, party of 1.5 (James is the .5).
So with that said, this is sure to be an interesting reunion, as no one probably wants to be there. Here's what we can predict for the Season 3 reunion of Vanderpump Rules.
The Ring On A String
I'm already so sick of this phrase, probably as much as Katie is sick of Tom Schwartz dragging his ass down the aisle. Will Katie be wearing the ring on a string ("It's a gold chain" -Tom Schwartz) or will she have a new ring on? Don't worry, Andy will ask.
Stassi Is So Over This Crew
Like "do-re-mi-fa-soooo" over this bunch of people. She's on to bigger and better things like blogging once in a while and grabbing gossip lunches with fake-cast member Kristina.
The Marriage Question Part 1: Tom Sandoval and Ariana
Could Tom & Ariana be engaged? Andy Cohen isn't Anderson Cooper when it comes to getting the important scoop, but he knows his way around a probing question.
The Marriage Question Part 2: Tom Schwartz and Katie
(See: "Ring On A String")
The Marriage Question Part 3: Stassi and Her Boyfriend
Andy will only ask her this because he feels mega-obligated to. She'll burn him with her well-worded, physically excruciating insults and threats if he doesn't.
Scheana Loves Being Married And Wearing Crop Tops
Because why can't you do both? If Scheana isn't wearing a GD crop top to this finale, though, we're going to have a major issue. You can't say wearing a crop top is your thing IF IT'S NOT YOUR THING, SCHEANA.
Lisa And Kristen Showdown
If Lisa shows up for a segment, expect the following. Lisa: You have a bad attitude. Kristen: You never liked me, Lisa. Lisa: I didn't like your attitude. Kristen: I was going through a lot and you weren't there... NO ONE WAS THERE. Lisa: You can work at SUR again when Season 4 starts filming.
"Stop Being Obsessed With Us, Kristen" - Ariana
The reunion wouldn't be a reunion if Ariana didn't get at least five minutes of camera time to talk about how Krazy Kristen is about her relationship with Sandoval. Also, if Ariana doesn't care about Tom "cheating" then she doesn't care. At least that's what Ariana will say.
Scheana Will Sing
Maybe this is wishful thinking, unless James brings his iPad and they download the T-Pain autotune app. Then, and only then, Scheana can sing live.
A Montage Of Kristen Talking About Tom & Ariana To James
Then the camera will shoot immediately to her for a reaction shot, and there will be nothing there. She feels nothing.
Who Cheated Part 1: Tom Sandoval
Will we finally learn what happened in Miami? Probably not.
Who Cheated Part 2: Tom Schwartz
Please, don't let Tom Schwartz turn to Katie and say, "I wasn't completely honest with you," AGAIN. I wish I could say he wouldn't do that again, but he's like a pro at picking the worst possible times to admit his infidelity.
"I Have Text Messages To Prove It"
Drinking game alert. Every time you hear this phrase, take a sip until all of these people seem likable.
Miami Girl Will Show Up
And she won't even be called by her real name. Just "Miami Girl."
Vail And Peter Will Be "There"
Just like how they always are "there."
Images: Vivian Zink/Bravo; Giphy (15)