'Vanderpump' Season 3 Cameos, Ranked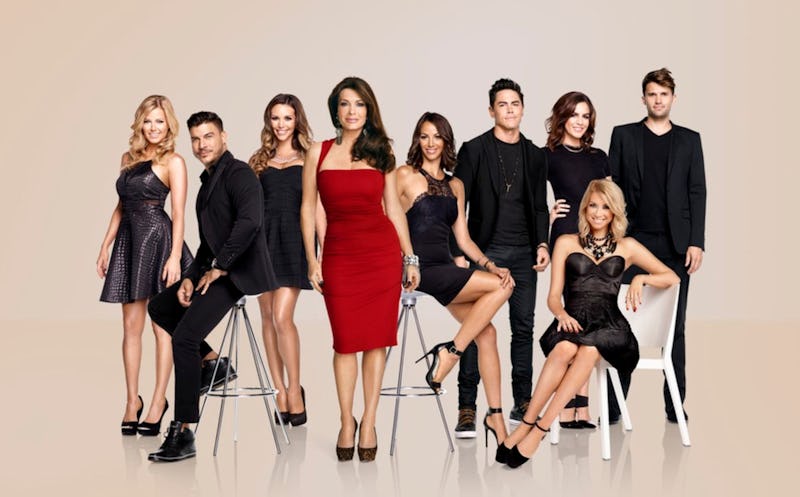 Here we are. It's February 2015, and Vanderpump Rules Season 3 continues to truck along. Monday's episode was episode number 16 (whereas Season 2's regular season ran 14 episodes), and the finale is no where in sight. I am not upset about this, mind you; Vanderpump Rules is my favorite show on television. A wave of joy washes over me every time I hear "Raise Your Glass" at the beginning of every new hour, like a bucket's worth of SUR Cosmo has been dumped over my head. May this show last for at least 11 more seasons.
Throughout the third season of the Bravo reality show, there have been some terrific, truly memorable cameos. Cameos for the books. Even though we have not reached the end of the Vander-road, I went ahead and ranked the cameos that've happened so far. Sure, doing this a handful of episodes before the finale may seem premature, but whatever. I did it. And I will share the rankings of the Season 3 cameos with you now:
#5: Miami Girl
The Legend of Miami Girl has been such an epic part of the season, so when Annemarie appeared on the show, I felt like I was seeing a celebrity. IT'S MIAMI GIRL!!!!!
REASON FOR RANK: Despite how excited I was to see her, Miami Girl isn't actually a celebrity.
#4: Jade Roper
The Bachelor contestant partied with some of the Vanderpumpers at a poolside gathering.
REASON FOR RANK: I literally blinked and missed her cameo.
#3: Lance Bass
Early in the season, Manager Peter interrupted the Queen of SUR in the middle of dinner to let her know that James would like to speak with her. Oh, but it wasn't just any ol' dinner. Lisa was dining with Lance Bass.
REASON FOR RANK: The 'N Syncer's cameo was great, yes, but it didn't knock me to the floor like the cameos in the #1 and #2 spots did.
#2: That table at Hugo's Tacos
The Hugo's Tacos table where Jax, Tom Sandoval, and Tom Schwartz rehashed the San Diego trip is my favorite Hugo's Tacos table. It boasts the best view of the street, is not right next to a trash can, and is always in the shade. I freakin' love that table.
REASON FOR RANK: That table is awesome, has a special place in my heart, is where I want to sit every time I go to Hugo's Tacos, et cetera.
"But it isn't a celebrity," you contest.
Shhhhhhhhh. Yes it is. As far as I'm concerned, it is the Brad Pitt of tables.
#1: Stacie Hall
Stacie, aka Stacie the Bartender from The Hills, is IRL friends with Scheana.
REASON FOR RANK: I figured there was a solid chance we'd see Stacie in the wedding episode (she was in Scheana's wedding party, after all), but oh my gosh. Wow. WOW. Watching Jax Taylor shamelessly hit on the same woman Spencer Pratt shamelessly hit on so many moons ago was such a glorious moment. I will cherish it always.
OK, rest of Season 3. You see that list? As far as cameos go, you have a LOT to live up to.
Your move.
Images: Tommy Garcia/Bravo; bricesander/tumblr