E!'s 'The Royals' Is Already Teasing a Big Death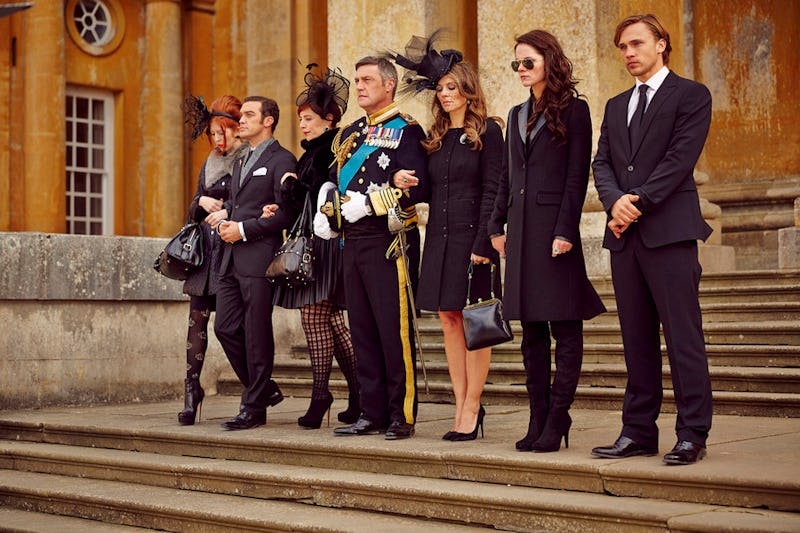 With E!'s The Royals premiering on March 15, Prince William and Prince Harry are going to be old news (just kidding, guys — I'll always crush on you both). But get ready for some serious drama as the scripted The Royals starts off with the death of a prince. The Elizabeth Hurley-led show doesn't ease into anything (but did we really expect that?) as the wild, no-underwear wearing Princess Eleanor tells Hurley's character Queen Helena that her eldest son is dead. A royal funeral takes place as the British monarchy grieves, but how did Prince Robert die?
The royal family is comprised of Robert, Eleanor, Helena, King Simon, and Prince Liam. With Prince Robert being the oldest child, his death puts Liam next in line for the throne. (Liam is portrayed by William Moseley of The Chronicles of Narnia, so he's got the experience to play royalty.) Although Liam is not as out of control as his sister Eleanor, he is dating the commoner (and American!) Ophelia, much to his mother's dismay. Hurley plays Helena as quite the evil, ice queen, particularly when she tells her two surviving children, "Richard III had it right. Lock the kids in the Tower and be done with them."
Clearly, Robert was Helena's favorite child. And now Liam will be under scrutiny even more since he'll be the next king. But Liam is not a softy himself, and he questions his mother on how the 23-year-old Prince Robert really died. The only information that Robert's siblings know is that he died in a "military accident." There has to be more to that story, and I have an inkling that Helena may know what actually went down. While Eleanor may drown her sorrows in booze and drugs, I'm hoping that Liam will investigate how his brother really died.
But the death of the prince isn't the only intrigue that The Royals will have going on. There is quite a Shakespearian villain in Uncle Cyrus (King Simon's brother) who seems to care only about how much power he has. Cyrus has two daughters, Maribel and Penelope, and with their red hair and ridiculous hats have to be spoofing real-life Princesses Beatrice and Eugenie (the daughters of Prince Andrew and Sarah Ferguson).
Plus, the reasonable King Simon discusses the idea of abolishing the monarchy to the family. I'm sure that won't happen, but the death of a Prince and the monarchy in one episode?! This can only be British royalty in the eyes of E!. Of course, royalty being manipulative is nothing new to TV with shows like Game of Thrones, The White Queen, Reign, and The Tudors. But what makes The Royals unique is the fact that it's set in modern-day England. And there is no doubt in my mind that comparisons to the current royal family will be made.
So, if you're finished with watching the "real" dramas of the Kardashians and Real Housewives, E!'s The Royals will be the next logical show for you to watch. And you don't have to feel too guilty about watching their family drama.
Images: Paul Blundell/E! Entertainment; Getty Images