Derick Dillard's Mom Has A Lot To Look Forward To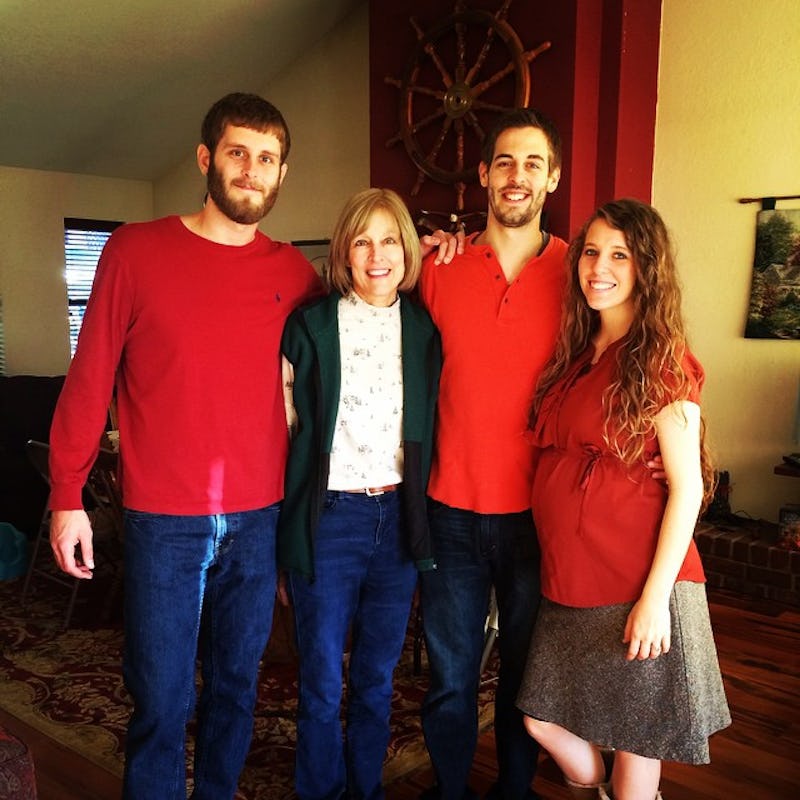 It's almost sickening to think about how adorable 19 Kids And Counting's Jill Duggar is with her new husband, Derick Dillard, but it's true. They're so sweet together, and it's hard to deny that they're going to make awesome parents once Baby Dilly arrives (any day now!). Unfortunately, though, when they first got married, Derick was dealing with some heavy stuff. Derick's mom, Cathy, was battling cancer, and was so sick she was unable to attend their rehearsal dinner. When Derick and Jill were first engaged, they visited her in the hospital and couldn't even hug her for fear of spreading harmful germs. It was obviously a heartbreaking situation for everyone involved, so how is Cathy Dillard doing now? According to her most recent Instagram post, things are definitely looking up.
Cathy's Instagram might only have two posts on it, but her latest is a good one, mostly because it means she's much healthier now. She uploaded a picture of the short blonde wig she's been wearing after losing all of her hair due to chemotherapy, and included the hashtag "#gladtobecancerfree." She, Derick, and Jill must be so relieved that Cathy's doing better than when we saw her last, especially since she's about to become a grandma! According to the caption of a photo of Derick, his brother, Jill, and Cathy, she's been cancer-free at least since Thanksgiving.
And speaking of becoming a grandma, earlier this month, Cathy gushed to People about how excited she is to welcome her first grandchild this spring and be involved in his or her life however possible.
I was unable to be involved in any of the wedding preparations for Jill and Derick. And so I am really looking forward to helping them get ready for the baby! Oklahoma State is my alma mater. This year, they came out with a T-shirt that says 'Real grandmas don't wear pink, they wear orange.' I plan to get one of those. I am looking forward to every aspect of them having this baby.
OK, how sweet is that? Cathy's obviously going to be an awesome grandmother, and I'm glad to hear she's feeling better now. Maybe this means we'll see more of her on 19 Kids and Counting in the near future, especially once the baby arrives. It'll be so adorable to see both grandmas in action!
Image: DerickDillard/Instagram