10 Fun Facts To Celebrate National Pancake Day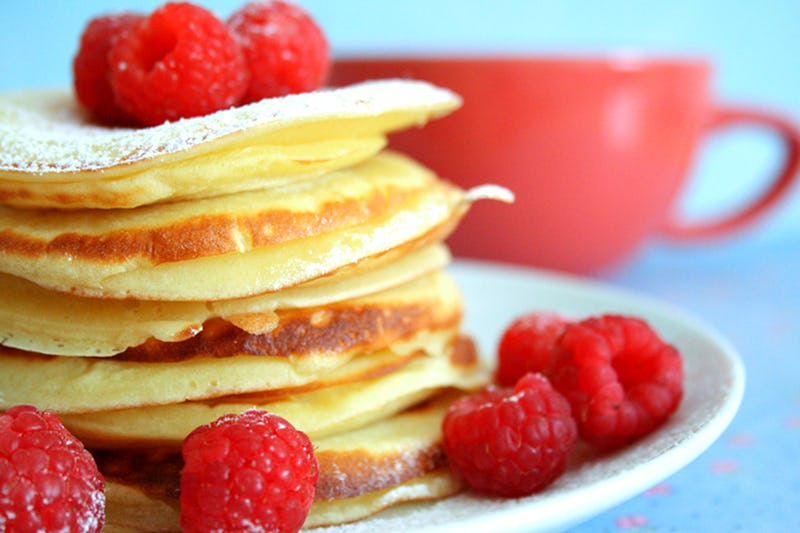 Does the thought of a fluffy stack of flapjacks bring a smile to your face? Do you wish you could coat everything in maple syrup and butter? Then you're in luck, because March 3 is National Pancake Day. Though many celebrate this beloved breakfast dish every day, this is the one time of year we dedicate ourselves to a dish that knows no limits. Think about it for a second. You can serve it as a sweet or savory confection. You can make it from a Bisquick mix or by using freshly peeled potatoes. You can eat it for breakfast, dinner, or a drunken snack. It is as versatile as the names it goes by.
Some will celebrate this holiday by flipping their own batch of flapjacks. Those who aren't as culinarily skilled will head over to IHOP and feast on some free stacks for a good cause. And others will honor the day by learning a little more about their favorite meal.
While most of National Pancake Day should be spent eating, it doesn't hurt to take a few minutes to educate yourself on this delicious dish. Because, believe it or not, there is more to the pancake than flour, milk, eggs, and syrup. In honor of National Pancake Day, here are 10 fun facts to chew on while you anxiously await your table at IHOP.
1. This breakfast dish dates back to the 1400s.
Some say pancakes actually date back to the Stone Age, when cavemen cooked the batter over a heated rock. But the the first written reference to a pancake appeared in the year 1430, when they were made from gruel. Since then, the dish has evolved into a tastier treat that we enjoy on the weekends (or during the week if we're lucky).
2. But IHOP didn't arrive on the scene until 1973.
Well, technically the first restaurant opened in Los Angeles in 1958. The IHOP acronym, however, did not make its way into our vernacular until 15 years later as part of a marketing strategy.
3. Today, there are more than 1,600 IHOPs worldwide.
Because you can't be an international house of pancakes if you are only located in America. Although the United States is home to the majority of the franchise's locations (1,579 restaurants and counting), there are also locations in Canada, Dubai, Kuwait, and Saudi Arabia.
4. There's a trick to ordering tastier pancakes.
Rather than using the syrup on the table, ask your waiter to bring you a warm batch. You'll thank us for this tip later.
5. This isn't the only day to get free IHOP pancakes.
Take your child to an IHOP on Halloween, and they'll receive a free scary face pancake. And if they know what's good for them, they'll share a bite or two with you.
6. To find remnants of the world's largest pancake, travel to the United Kingdom.
In 1994, the people of Manchester gathered to watch as the Co-Operative Union created a 49-foot wide flapjack.
7. To see the site of the world's largest stack, visit the Netherlands.
On October 16, 2014, chefs John Pijnappels and Humphrey den Otter whipped, flipped, and stacked 242 pancakes to create a tower that measured 2 feet, 11 inches tall. No word on whether syrup and butter were included in the final measurement.
8. March 3 isn't the only day dedicated to pancakes.
The British celebrate the beloved breakfast dish on Shrove Tuesday, or what we in the states know as Mardi Gras. The tradition began in the 1400s as a way for people to use as much milk, fats, and eggs as possible before they began fasting for Lent. These days, the British celebrate the holiday by feasting on flapjacks and hosting a pancake race, where women carry frying pans as they run a 415 yard course.
9. Every year, IHOP serves more than 700 million pancakes.
That's a whole lot of flipping!
10. You can surf the web while you eat your IHOP pancakes.
Use the password pancake1, and you can surf the web while you scarf down some tasty pancakes.