'Catfish' Made A Big Change To Their Usual Formula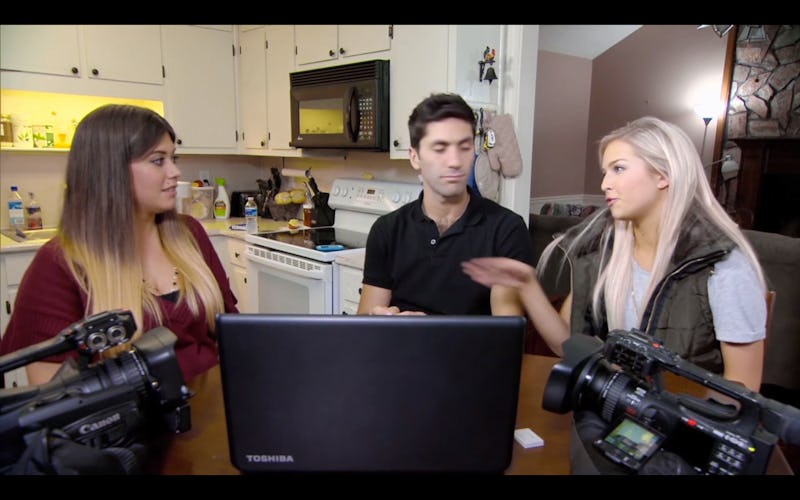 Most reality shows tend to lose something after the first couple of seasons go by, but the next episode of Catfish Season 4, "Courtney & Isaak," is a genuine surprise. The titular pair actually together anymore, and the invitation to be cast on Catfish was initiated disingenuously. In MTV's 10-minute preview of the episode, we find out that Isaak, who may or may not have a different name, contacted Courtney on OKCupid months prior. Because she liked his picture and he seemed polite, she responded, and the two started talking via text and online — though they never video chatted or attempted to meet up.
Then things started to get suspicious and Courtney decided the relationship wasn't going to work out — partly because she's a single mom who has to think about the safety of her kid, and partly because Isaak was being too overzealous, pushing the idea of meeting in person in their home state of Georgia even when Courtney didn't want to. And then came the ultimate (and weirdest) betrayal. He sent in a submission to Catfish under Courtney's name, claiming that she wanted to meet him. When MTV contacted her, she was shocked, but decided to go along with it anyway.
And the temporary host for this week, filling in for Max while he directs a movie, is former Miss Teen USA Cassidy Wolf, who had a very similar experience to Courtney. Cassidy's webcam was hacked by a stranger who used it as a way to blackmail her into spending time with him. Eventually Cassidy was able to have her stalker reported and she says he's now in jail. So far, things between Courtney and Isaak haven't gotten that serious, but hopefully using Catfish as a way to meet up helps bring closure to their relationship so he won't continue to contact against her will. But here's everything we know about the next Catfish couple — and everything that makes them unique.
They Aren't In Contact Now
Courtney told Nev that she was only talking to Isaak for a few weeks, and abruptly asked him to stop contacting her after she realized that he wasn't being totally honest with her. And she's looking for closure, not to resume the relationship. She wants to know why he keeps contacting her.
We Know Isaak's Pics Were Faked
Courtney showed Nev and Cassidy the images that Isaak used as his online profile pictures. But they didn't match up with a different selfie that he sent her over text when she asked for a more recent picture. We also don't know how many of the other things he said were untrue — he might not be asexual or looking for a non-sexual relationship.
Courtney's Not Into Sharing Personal Info
Unlike last week's Miracle, who loved being a part of Catfish, even creating her own Facebook fan page, Courtney never even planned on being on reality TV. Isaak basically forced her into it, and she's not all over social media proclaiming that she's the newest MTV star — even though it looks like her episode is going to feature a good amount of surprises because of how much it deviates from the expected Catfish formula.
Images: MTV (2); Giphy