Dsquared2's #Dsquaw Debacle At Milan Fashion Week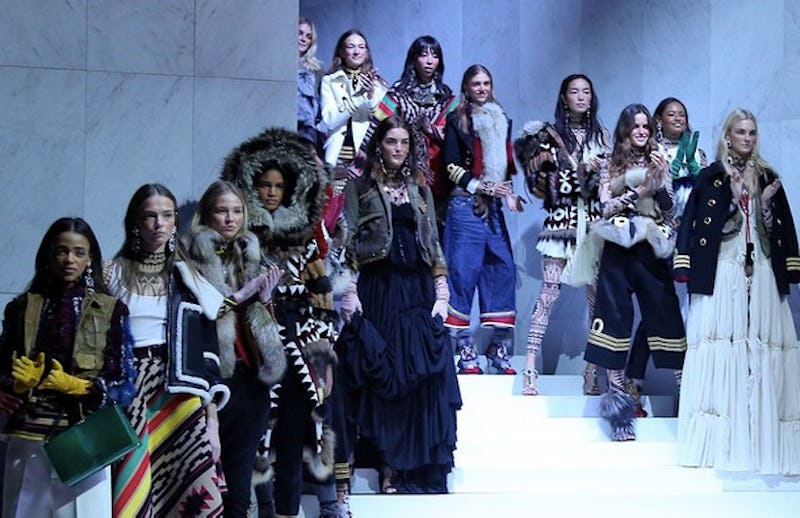 The term "Canadian fashion" sounds like an oxymoron. Imagining the style of the Great White North evokes images of the red belted jackets and brown broad-brimmed hats worn by Mounties, or the red and black plaid flannel shirts and suspenders worn by lumberjacks, or the blue thong that infamously poked out of Manny Santos's low-rise jeans in that one episode of Degrassi: The Next Generation. And let's not forget the country's most famous fashion export, the Canadian tuxedo. Canadian fashion isn't exactly chic, and certainly not what you'd think of as a go-to inspiration for Milan Fashion Week.
But Dsquared2, run by identical twin brothers Dean and Dan Caten of Toronto, attempted to buck these anti-Canada biases this season. Their Fall 2015 ready-to-wear collection, which was presented at MFW, "went back to the Yukon," according to Style.com. This isn't the Canadian fashion we all love to hate:
"Not the Yukon of muscle-y Mounties and moose, the campy Canuck fantasia of their fashion past, but a place where, said Dean, a suitcase of clothes and jewels from Old Europe had fallen out of a plane over the icy tundra and been taken up by an Inuit tribe, who had incorporated the finery into their own tribal duds."
Dsquared2 took the theme seriously, and tried to show a different, more adventurous side of Canadian fashion, which is a commendable goal. But this is where execution is important, as even the best of intentions can backfire, especially when it leads to cultural appropriation.
The European references in the collection are, in and of themselves, not at issue. There was no sign of Christina Aguilera-style whale tails or flannel of any kind in Dsquared2's newest collection, but the influence from the Royal Canadian Mounted Police was evident. Models sported military-inspired jackets with epaulets and gold stripes on the sleeves, worn over flouncy blouses with bows at the neck in the "Old Europe" style Dean Caten described above.
It is the pairing of these elements with the "Inuit tribe" in "their own tribal duds" that makes this collection offensive. The use of native Canadian (or native American, as it's never made explicitly clear from what culture these are drawn) imagery in this collection is a cut and dry example of cultural appropriation. The decadent fur hoods recall cartoon images of Eskimos. Stereotypical tribal patterns are slapped onto everything, from floor-length skirts and leggings to ponchos and purses. The brand actually described its signature Twin Peaks bag, with the addition of tribal-inspired beading, fur accents and leather fringe, as "eskimeaks" in an Instagram post.
Dsquared2's insensitive social media presence around this collection is perhaps even more unsettling than the designs themselves, as the language used belies the brand's ignorance. Most enlightening to the designers' perspective, and simultaneously discomfiting, is the description of the collection's inspiration posted on Dsquared2's Facebook page. In this statement, "the enchantment of Canadian Indian tribes" is placed in clear opposition to "the confident attitude of the British aristocracy."
Creating that dichotomy takes this issue beyond simple appropriation of native culture. Dsquared2's collection is a celebration of colonialism, that sorry tradition of wiping away the rich history of native cultures in favor of more "civilized" Western ones. The description of native imagery as "magic and mysterious" is belittling and exoticizing, and demonstrates no regard for the traditions and history that form the foundation of these cultures' own fashion. This theme implies that native style is not good enough; it needs "Old Europe" glamour to become truly chic.
There's also the problematic use of the term "squaw." Although the social media accounts have since been cleaned up, earlier posts featured the hashtag #Dsquaw to describe the collection.
"Squaw" is an ethnic slur. Although the word has roots in the Algonquin language (and is still used within that culture to refer to certain ceremonies and traditions), it evolved to become a derogatory term for a North American native woman. There seems to be a broader cultural understanding of the baggage associated with this word in American culture, and a general understanding that it is a word to be avoided. In much the same way that there's pressure to change the name of the Washington Redskins football team to something less offensive, there's pressure within the United States to change place names with the word "squaw" like Squaw Valley Ski Resort in California. It is not OK to call a woman a squaw, least of all if you're two white Canadian men.
It's still more than a little shocking that Dsquared2 went through with this collection at all, especially given the backlash others have gotten for appropriating native cultures, often in the form of feathered headdresses. Victoria's Secret publicly apologized for sending Karlie Kloss down the runway in a headdress with turquoise jewelry. Khloe Kardashian was publicly embarrassed for posting a picture of herself sitting in front of a miniature tee-pee, sporting a headdress. Urban Outfitters was sued by the Navajo tribe for selling "Navajo" underwear, and ultimately pulled the product off shelves.
At this point, designers should know that cultural appropriation is a sure-fire way to get in trouble, but there's been a concerning rise of misappropriation of native American culture in fashion. This collection from Dsquared2 falls prey to that shift, and it is insensitive, colonialist and, above all else, racist. Dsquared2 should apologize for its brazen use of a harmful slur to promote its designs, and closely examine the design process that let this travesty happen in the first place.