Remember These Famous 'Full House' Guest Stars?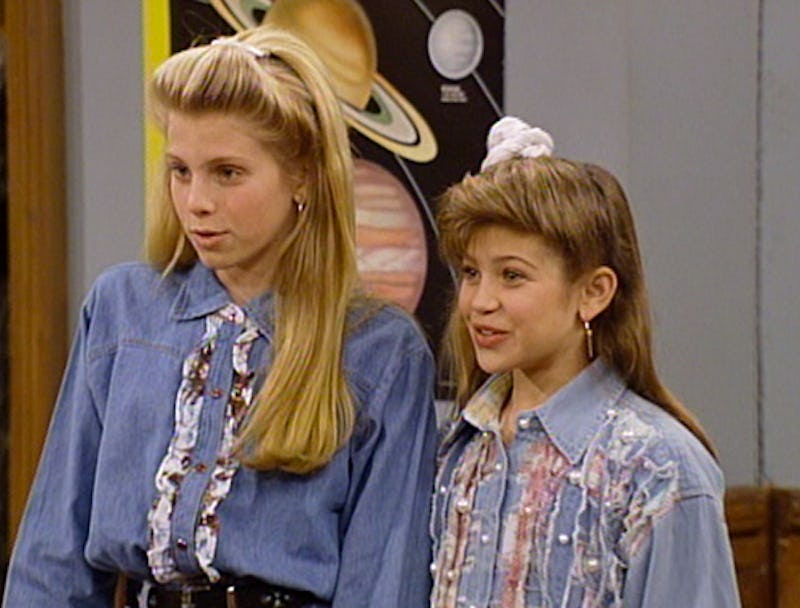 With a typical episode consisting of at least 10 or 11 major cast members, it's easy to forget that anyone but the Tanners and their closest friends ever appeared as guest stars on Full House. Yet, during the show's eight years on air, plenty of non-Tanner characters arrived on the scene, whether as one-episode guest stars or in frequently recurring parts. From The Beach Boys to Kimmy Gibbler, Full House consisted of way more than just the people who actually lived in the house — including a whole lot of celebrities, many of whom you might have forgotten ever set foot on the show.
The stars who appeared on the series were an eclectic mix: some of them were crazy famous at the time of their appearances, while others were unknowns back in the '90s and didn't achieve major success until many years later. Yet chances are, regardless of their fame at the time of the show, you probably forgot they appeared on Full House; how could you not, when a routine episode was jam-packed with everything from eating disorders to music to adopted donkeys? With a pace like that, it's understandable how a star could get lost. To refresh your memory, here are 13 celebrities you forgot were on Full House:
Jaleel White
Played: Steve Urkel, his Family Matters character, who appeared on Full House in a crossover episode as the cousin of DJ's friend.
White was, of course, a huge star in the '90s, and the crossover episode was a very big deal. It was Urkel!
Jurnee Smollett-Bell
Played: Denise, Michelle's feisty, trouble-making best friend.
In the early '90s, Smollett-Bell was just a kid actress trying to make it in TV, along with her siblings (including Empire's Jussie Smollett). A few years later, though, she'd receive major acclaim for a starring role in the indie drama Eve's Bayou, and would later go on to have memorable roles in Friday Night Lights, True Blood, and Parenthood.
The Beach Boys
Played: Themselves, in several episodes throughout the series.
Considering they were Jesse's idols — and because, as Yahoo! points out, Stamos was an occasional member of the band — it's no surprise that The Beach Boys actually appeared on the show. Only on Full House, guys!
Little Richard
Played: Himself — he appeared as Denise's uncle, who happened to be holding a concert in San Francisco, and later performed for Michelle's school PTA.
Although many young Full House viewers might have not cared much about the famous guy playing Denise's uncle, their parents certainly did. According to the Huffington Post, Little Richard was one of the show's highest-profile guest stars.
Marla Sokoloff
Played: Gia, Stephanie's cigarette-smoking, school-skipping best friend.
Sokoloff's found significant success since her time on Full House , with roles on The Practice, Desperate Housewives, and even a recent turn on Grey's Anatomy.
Phyllis Diller
Played: Herself, taking over a comedy set originally intended for Joey.
One of the best, and most surprising cameos.
Scott Baio
Played: Pete, an old friend of Jesse's who almost convinces him to ride his motorcycle on the ledge of a parking garage.
Baio was in his late '80s prime thanks to his role as Chachi on Happy Days when he showed up on Full House.
Doris Roberts
Played: Claire, Danny's mother.
Forget that Danny's mom had already been played in two episodes by a totally different actress named Alice Hirson — the producers found out that Doris Roberts was available, so Doris Roberts became Granny Tanner.
Danielle Fishel
Played: Jennifer, a mature classmate of Stephanie's who pressures her to get her ears pierced.
Nothing is more '90s or more amazing than Topanga appearing on Full House in an episode about peer pressure and plaid outfits.
Suzanne Somers
Played: Herself, using the pay phone after Steve and causing ~~drama~~ in his relationship with DJ.
I amend my earlier statement: nothing is more '90s than Suzanne Somers appearing on Full House to use a pay phone.
Vanna White
Played: Herself, appearing in a dream of DJ's about taking the SATs.
White guest-starred as herself back in 1994. I'll let the image speak for itself.
Kareem Abdul-Jabbar
Played: Himself, referring the high school's fundraiser basketball game. Because what else did we have to do?
Jesse had no idea who he was, yet thought it was totally normal that he was an incredibly tall, talented basketball player who happened to just be lurking around the court. Oh, Uncle Jesse.
Buddy
Played: Comet, the dog.
The most famous Full House guest star of them all? Buddy, the sports-playing Golden Retriever best known as Air Bud in the movie franchise, who portrayed the Tanner family dog Comet.
Images: ABC (13)