Why Did Andrew Leave 'RHOM'?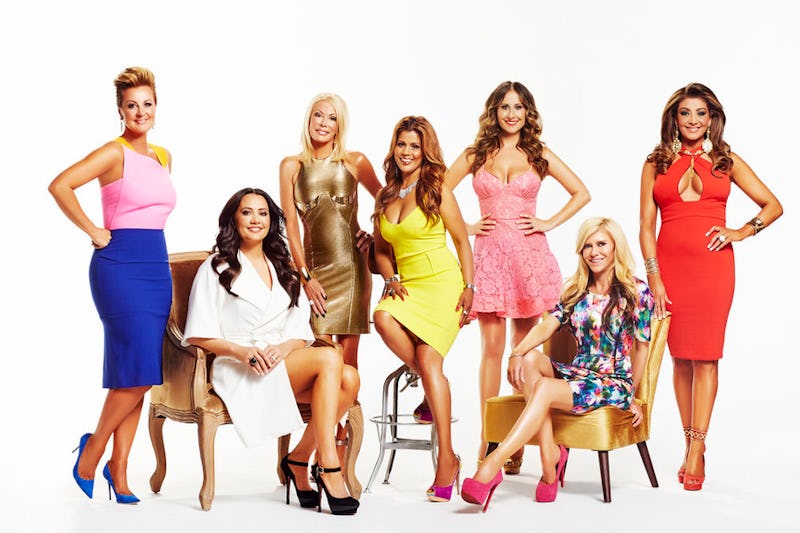 Andy Cohen is one of the smartest men on the planet because he's hooked millions of viewers to watching rich women drink fizzy beverages and scream at each other. I'm not even saying this as a condemnation, because I watch the shows, too. The latest Real Housewives franchise member on our televisions and in our hearts is The Real Housewives of Melbourne, which was aired on Sunday afternoons on Bravo for its first season and I guess gained enough traction for Bravo to slot Real Housewives of Melbourne in prime time in Season 2. It's simultaneously exactly like and so unlike any Housewives we've seen before, which means the uninitiated might not know the glory that was Real Housewife of Melbourne Andrea Moss.
Us Yanks get to see a group of Aussie ladies (Gina Liano, Lydia Schiavello, Janet Roach, Jackie Gillies, Andrea Moss, and Chyka Keebaugh) do the same things the American women do: Wear fancy clothes, go to parties where people throw legs (Aviva), flip tables (Teresa), run in the middle of Fifth Avenue during rush hour (Kelly), or show up unannounced on their friends' vacations (Jill). I am decidedly and ultimately a Real Housewives of New York fan, especially during the "Scary Island" time, but I am so into RHOM. It's expanded my mind so much: I now care about the rock band Silverchair, which is the first time anyone has said that since the mid-1990s; I know what a barrister is; and I want to live in Toorak (that's a very chi-chi neighborhood in Melbourne). One bummer for newbies just coming into the second season is that one housewife is no longer on the show, and you probably have no idea why Andrea Moss left RHOM. Did she leave because of the in fighting? Or did she just think that it was time to go her own way?
Well, in order to understand where she went, it's probably important that we understand where Andrea has been.
Her Background
Both a mother of three and the owner of Liberty Belle Skin Centre in Toorak, Andrea is married to one of Australia's most successful plastic surgeons, Chris Moss. She manages his business while dealing with hers and is also working on a book. Yes, she is very busy (but not too busy to appear on a reality show).
Leaving The Real Housewives
Her departure from RHOM was announced after Season 1 completed, and, of course, tongues started wagging about why she was leaving the show. Was she tired of the drama? Had she had enough of Gina, with whom she fought constantly and who allegedly called her a very naughty c-word? Nope. It's not of the above. Andrea did an exclusive interview with Britain's The Daily Mail to shed some light on her leaving the show. The reason? She had no more outfits to wear during filming. Seriously:
I love the show and can't wait to watch season two but I had to quit because I ran out of outfits. I had completely and utterly exhausted my wardrobe.
The Real Reason She Left... Supposedly
Yes, ladies and gentlemen, she is serious. She cannot be seen in the same top twice, so she needs to quit one of her jobs. Moss went on to say that she loves not having to dress up for TV anymore:
I can now wear daggy old things; I'm at work today in my track pants and I'm absolutely loving it. I can wear all the tatty old things that I couldn't on the show.
Oh, my real housewives! Never change! There are so few people on this planet that think this is a valid excuse not to be seen in public! Andrea is acting like she's a public figure (I mean, maybe she is in Australia, but not really) and can't wear the same jeans twice in a row. Or, actually, even wear jeans. When I have three kids you'll be lucky if I have pants on.
Former co-star Jackie told The Daily Mail that the rest of the cast supports Andrea's decision, because "she wants to be focusing more time on her children and husband and business and that's fair enough."
Fair enough indeed. What have we learned here, today, ladies and gentlemen? Don't have enough things to wear? Quit your job so you don't have to wear anything nice. Problem solved.
Image: John Tsiavis/Bravo; giphy