'The Royals' On E! May Make Fake History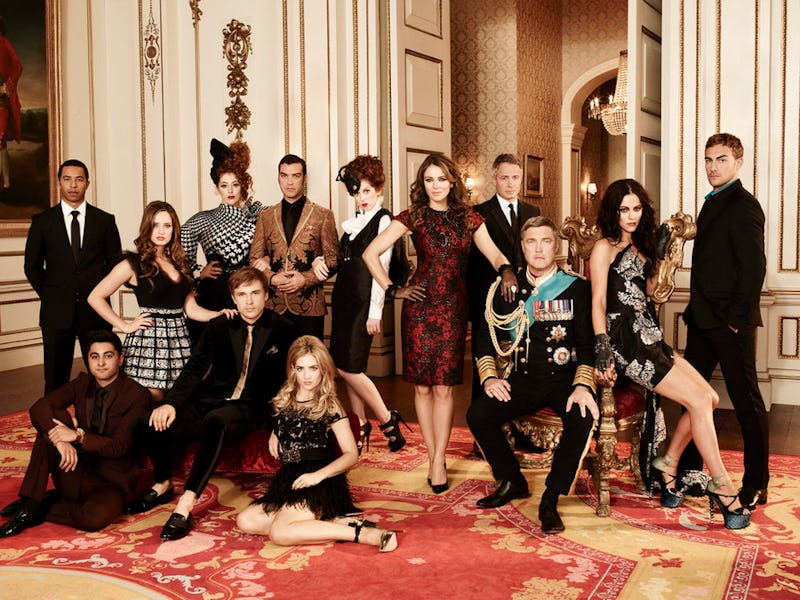 I consider myself to be a little obsessed with the British royal family. I devoured everything that had to do with Kate and Wills' courtship (including that awful Lifetime movie they made about it, which I watched on Netflix…twice); I woke up at 4:00am to watch the whole wedding; I participated in both of Kate's bump watches and tried to emulate her shiny hair. Given my predilection for the crown, I am so excited for E!'s new series, The Royals . Elizabeth Hurley stars as a fictional Queen of England, and between her, her husband, and their obviously spoiled children, there's plenty of drama and intrigue and trash to go around. One of the preview clips has the King of England, played by Vincent Regan, threatening to dissolve the monarchy. The United Kingdom (this includes England, Scotland, Wales, and Northern Ireland) without a monarchy is like a BLT without the bacon: the sandwich would work without it, but it wouldn't make any sense. Every few years, there's an article about how the monarchy is an ancient relic and a symbol of imperialism and it should be abolished, yadda yadda, but how many Brits would actually want to follow through with it? This got me thinking: Can a king just decide to get rid of the monarchy? Who has that power, and has anyone ever made the move to dissolve the monarchy for real?
The History
Before we dive into kicking the monarchy out of Buckingham, let's take a very shallow wade into British history. Henry VIII, annoyed that the Catholic Church said he couldn't divorce one of his many wives, peaced out and formed his own church — the Anglican Church — and got rid of all of the Catholics. This didn't make the Vatican or predominantly Catholic countries like Ireland and France very happy, so there were always invasions and scheming and persecution, mostly on a religious level. Also worth noting is that, until the British and Scottish Parliaments passed the Acts of Union in 1706 and 1707, respectively, whoever ruled those countries had two titles on the same head: King of Scotland and King of England. This led to a lot of weird allegiances and, again, infighting and attempted coups. The Acts of Union didn't entirely fix this problem, but it did help.
Problems With Parliament
The basic answer is yes, the monarchy can be ditched completely or replaced by an act or vote of Parliament — checks and balances, people — but it's only been done a few times, and mostly for religious reasons. Scottish King Charles I made Scottish Presbyterians angry when he seemed to favor his Roman Catholic wife and the Anglican Church. Civil wars broke out in both England and Scotland, Charles II lost, and he was handed over to his British enemies in Parliament. They chopped his head off in 1649.
In the late 17th century, James II, a Stuart, wasn't getting along with his Parliament, as he was trying to promote Catholicism, and Parliament wasn't down with that. So what did James II do? Well, whatever he wanted, basically. Protestant nobles convinced William of Orange to invade England, and James II's army and navy, alienated by all of this religious fervor, totally bailed on him. James II ran away, Parliament declared it an abdication of the throne, and then they crowned William of Orange, and his wife, Mary, as joint monarchs. They also wrote the Bill of Rights, ensuring citizens' basic rights and freedoms: James II stepped on way too many toes.
And finally, Sophia, Electress of Hanover, a granddaughter of James I, was in the right place at the right time in the 18th century. Her name was floated around in the succession list when the Bill of Rights was being written in 1689, and Parliament passed on adding her and her brethren. They changed their minds when basically all of the Protestant kings of the time were dead or childless, and Catholics were breathing down their necks for the monarchy. Parliament skipped over scores of valid claimants to the throne (mostly Catholics) and proclaimed her the nearest Protestant heir in the Act of Settlement in 1701, making her first son King George I.
Today's Monarchy
In the present day, England's throne remains Anglican and there is no Catholic infighting, so it's safe to say that Kate and Wills will remain safely in line for the throne. Will the family of The Royals be able to say the same? I'm pretty sure that it's partying and bad publicity that will bring them down, not dubious bloodlines and religion.
Images: Frank W. Ockenfels 3/E! Entertainment; giphy (2)