Adanna Was Worth The Wildcard Save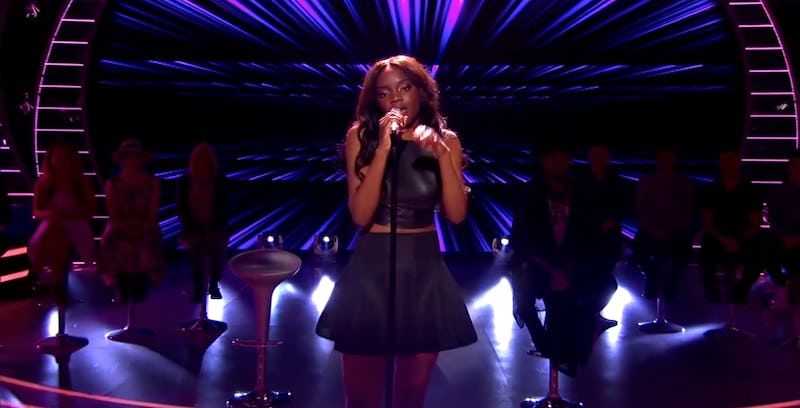 Adanna Duru made the judges proud. The 18-year-old was saved in the Wildcard at last night's Top 12 results, and I was very skeptical that she deserved it over Loren Lott. But Duru proved me wrong with tonight's performance of "Runaway Baby" by Bruno Mars. Her "party song" song choice was spot-on for her voice and her performance was out of this world. Seriously, based on her performance alone, this girl deserves to be in the finale. Duru has some of the best stage presence of this season, and her vocals are just the icing on the cake.
Duru's Top 12 performance last night was pretty spotty — the judges even commented that the whole thing was out of tune. That's no way for a successful singer to perform, especially when they've just been given a second chance. But it seems that could all be chalked up to nerves, because the California native redeemed herself tonight. The judges compared her to the likes of Tina Turner, but I spotted some Taylor Swift in her, too. It could've just been her amazing outfit or killer legs — seriously, girl's got some great gams — but everything from her dance moves to her handling of the microphone screamed Swift to me. I'm thinking Scott Borchetta had a little something to do with this... Either way, Swift is an incredible performer to be compared to, and Duru deserves the compliment.
Borchetta described Duru as "brooding, moody, and dangerous." Though I can't say I've seen a lot of the brooding & moody in her performances, they definitely lean to the dangerous & edgy side. Duru comes alive on stage and puts herself in the song. So many Idol contestants simply stand with their guitar or hang on to the microphone when performing, but Duru puts her entire body into it and that's what makes her so likable. It seems like the threat of going home really motivated her, because after tonight's performance, Duru proved that she's sticking around for a while.
Image: YouTube/American Idol