You Can Get Crescent Moon Brows With Only 2 Tools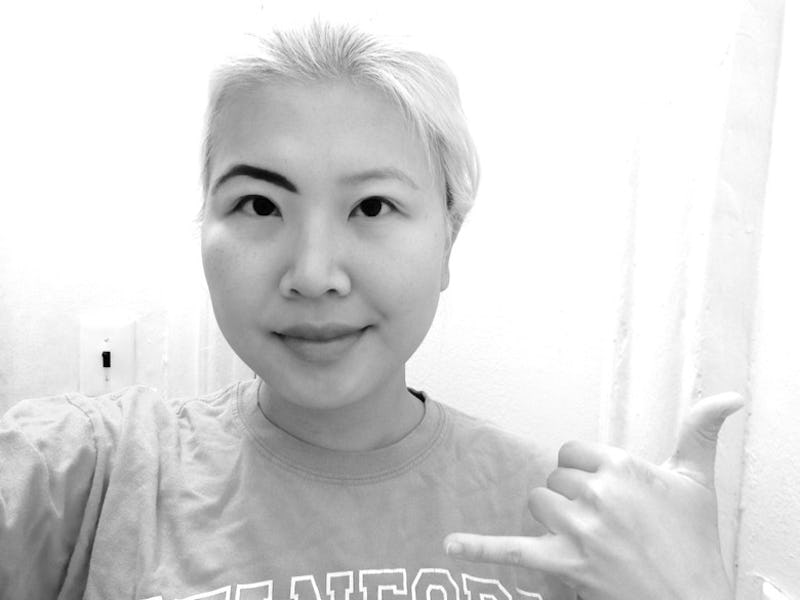 I love everything about the moon. So much so that a friend in middle school used to call me "Ko Moon." So when I heard about crescent moon eyebrows from the magical world of fashion, I had to know what they were all about!
I know how important brows are for framing the face overall. In fact, they may be the most natural definer, aside from makeup-based contouring. They truly make a difference, and our brow shaping is yet another show of our unique styes.
To trace the greater history of eyebrows, they were thinly penciled and arched back circa the Roaring Twenties, turned more dramatic mid-century, and have become more naturally well-defined today. Like Brooke Shields did when she entered the limelight, model Cara Delevigne has more recently popularized a thicker look as the poster child for bright-eyed, bushy-tailed thickness and boldness. So grand was the attention on these markers that Elle declared 2014 the "year the of the eyebrow." The New York Times even did a whole feature with a "how to get your brows on fleek" portion, or whatever the youngsters are hashtagging these days.
But there's always something specific that stands out. At Milan's F/W 2015 Fashion Week, some of the looks were super wearable for street style in broad daylight, but I couldn't help but question whether Missoni's crescent moon eyebrows could be done and worn for real life.
The goal for the brand's lead makeup artist Lucia Pieroni was to turn the models into "tough girls doing romance" (as described by Elle U.K.) with a longer, slightly rounded shape to their brows. Since fashion is cyclical and inspired, it's a deep throwback to Cleopatra's strong brow game. These brows are not so angled outwards and seem even more elongated past the corners of the eyes.
According to a MAC makeup sheet from the runway show, the artists used:
In order to replicate the look, I used a similar shadow in black espresso with an already owned Stila brush to try to create "a half-moon shape without any hard edges." I wasn't at the actual show (a girl can dream) so I guestimated how much powder they used and how they applied it. From pictures, I could tell the brows were pointier at the ends. So I made sure to make my stokes smaller and smaller as I reached the ends of my brows, whilst remembering "tough, romantic girl."
Overall, I drew them thicker and longer than normal and attempt to keep them defined but not definite — a delicate balance. I realized the color needed to be darker, so I rummaged for some black eyeshadow that I bought at an airport in Japan and gave it another layer. I needed to amplify for dramatic effect, after all. Professional or not, it took me a few minutes to get it right... and that was only the first one! But ultimately, all you need is eyeshadow, an angled brush and a bit of patience.
In the end, I think I did a good job. (Even if from far away, it could look I took a black marker to my brow bone.) Because of the way my eyes are set, the look kind of calls to mind two caterpillars crawling closer together, almost Frida Kahlo unibrow style. But if anyone were to ask, I'd nonchalantly comment, "Oh, it's high-fashion art. You know, Missoni." I figured I could pull them off in real life, so I decided to keep them for my evening festivities. Hey! Crescent moon eyebrows are not so out of this world.
On a side note: I love how the Italian house used Asian American models to show off the clothes and the look, too.
My Korean mom, who has so little hair on her body she doesn't even need to shave, got her eyebrows tattooed back in the day. They look grey now, and personally I don't like the idea of one shape being permanent, since brow trends change with the times. (Think about it: Nowadays, you can also get lace-front extensions and implants.) Eyebrows are a fluid, expressive piece of our facial features. So whether you've already got 'em or need to draw them in, flaunt them and raise them up! And maybe give this seemingly bizarre-o trend a try this spring.
Images: Getty; Author's Own