14 Great Books To Read Outside This Spring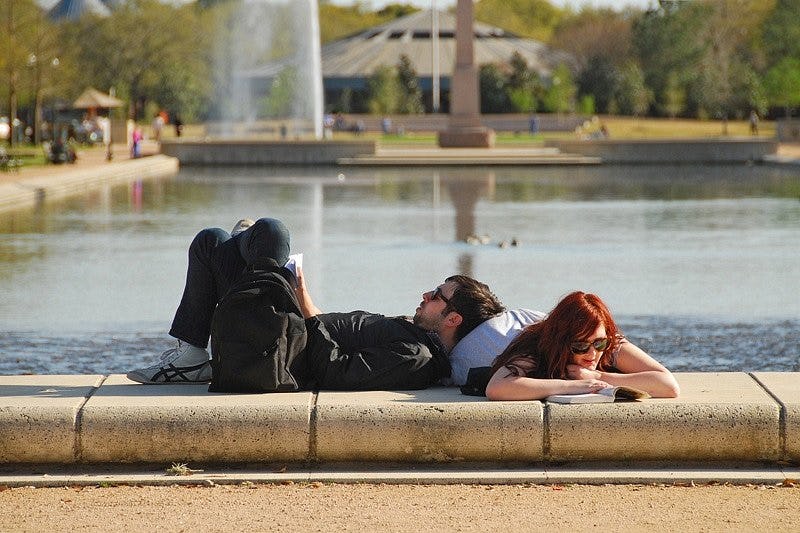 Winter seems to finally be on its way out, and the first hints of spring are appearing, however small they might be. I don't know about you, but I feel like we all survived something. Yes, winter gave us tons of time to read and binge watch The Unbreakable Kimmy Schmidt, but it's enough. Winter has had us in its clutches for far too long, and it's about time for some fresh air. And some fresh stories! These are the best books for spring to read outdoors.
So, let's get outside. Breathe in the flowers and feel the sun. Be outdoorsy. You know, outdoorsy in that we can now relocate from comfy beds to a hammock. Or lay in some grass, or on a beach, basically anywhere. No matter how you like to spend your time outside, one of the best ways to soak up some sun, enjoy the fresh air, and take a journey in someone else's shoes is to get outside and and take a book with you. Find a sunny spot and try out one of these springy reads.
Nothing says warm, beautiful weather quite like a road trip. Mim Malone's journey is funny and sad and will have you itching to get on the road yourself, meeting all of the eccentric people you can along the way, just as Mim does. Lay back, feel the wind in your hair, and envision yourself on a spring break road trip.
Summer 1876, San Francisco. The heat is accompanied by Blanche Beunon's desperate quest to bring justice to the murder of her friend, Jenny Bonnet. Jenny, known for dressing in men's clothing and catching frogs, is not the most popular member of 1800s society, but as Blanche shows, there is far more to Jenny than meets the eye. Feel the California summer heat from the comfort of your own backyard this spring!
The cover alone scrams "spring," but the novel itself also deals with the power nature mysteriously has over human life. The discovery of a skeleton buried beneath a lone peach tree at an inn brings together former rivals Willa Jackson and Paxton Osgood, who soon learn that nothing is as it seemed. The mystery breathes new life into the women (like spring itself!), uncovers truths, and paints a magical portrait of Walls of Water, North Carolina.
The title doesn't exactly seem like it jives with the new life that spring brings with it, but hear me out on this. Area X was long forgotten about — nature reclaimed everything humans had once brought to it. Kind of like spring itself, as it warms up and bring back everything that winter has frozen. Four women venture into Area X in Jeff Vandermeer's Annihilation looking for an understanding of the land nature took book.
This might be the ultimate, escape into nature fiction around. The lush trees of the forest in Barbara Kingsolver's Prodigal Summer almost feel like an emotional presence. They seem to reflect the moods of the characters, and definitely reflect some amazing nature writing. It's near impossible to not want to go outside after (or during!) reading this one.
One of the best travel writers around, Bill Bryson won't let you down with his detailed account of hiking Appalachia. If you loved Wild and have been looking for something to fill the boot-shaped void Cheryl Strayed left behind, Bill Bryson's A Walk in the Woods is along the same lines, and will have you itching to get outside the minute the weather is nice enough.
Spring is the perfect time for journeys: getting out of what you know and experiencing something new. Luckily, Jean Kwok knows journeys. She moved to the U.S from China when she was younger, and her characters tend to face similar life changes. Take a walk through New York's Chinatown with Charlie and discover a love of ballroom dancing: feel the music overtaking you, no matter where you really are.
Get lost in the gorgeous fairytale retelling that is Helen Oyeyemi's Boy, Snow, Bird. Atmospheric and mysterious, this is the perfect novel to lose yourself in on a breezy spring weekend. Oyeyemi hits all the things that make for good fairy tales: good, evil, and a lesson at its heart.
Lila by Marilynne Robinson
The field of flowers and sun on the cover of Marilynne Robinson's newest book is enough to make you want to take off running through a meadow, just for a little while. A good alternative in case you're lacking a meadow: pick up this title and live (somewhat) vicariously through Lila, who spends most of her life wandering a country side just like the one on the cover. You can practically smell the flowers.
Springtime is for gardening and bringing flowers back to life, and The Secret Garden is a classic example of the solace and freedom that can be felt in the budding of new flowers. Feel the sun on your face and the possibilities open around you as Mary Lennox and her friends discover The Secret Garden when they need it most.
"State of wonder" is also known as the emotion you feel on the first warm day of spring after the freezing temperatures of winter break. Ann Patchett's novel explores the Amazon in a way that makes you feel like you're actually going the exploring yourself. Get out of your winter funk and climb into a boat, because State of Wonder takes your straight into the heart of the Amazon with Dr. Marina Singh to discover all things beautiful and dangerous.
A remote island, a lost tribe, and scientists determined to find the group known as the Dreamers. The People in the Trees reads like a dream, perfect for floating away with this spring. Not to mention it's the perfect book to pick up for anyone already missing Yanagihara's latest, A Little Life
After a day full of countless mishaps (including being dumped twice) a woman sets off for a little vacation from her life. At least, she plans to, until she unexpectedly has to care for a mute four year old. But when that same four year old picks the winning lottery numbers, the two set off on a journey together, in a funny, read it in a day adventure.
The story of Kenya Curtis is one of self doubt and self discovery in Philadelphia in the '80s and '90s. Struggling to reconcile her differences — in skin color, in the holidays she celebrates, and in her beliefs, Kenya's journey is just what the title suggests: disgruntled. A coming of age tale perfect for anyone who has felt different or out of place, Disgruntled is the perfect spring read to inspire you to embrace difference and overcome your limitations.
Image: Faungg/Flickr