'Teen Mom' Exes Ryan & Maci Can Still Bring Drama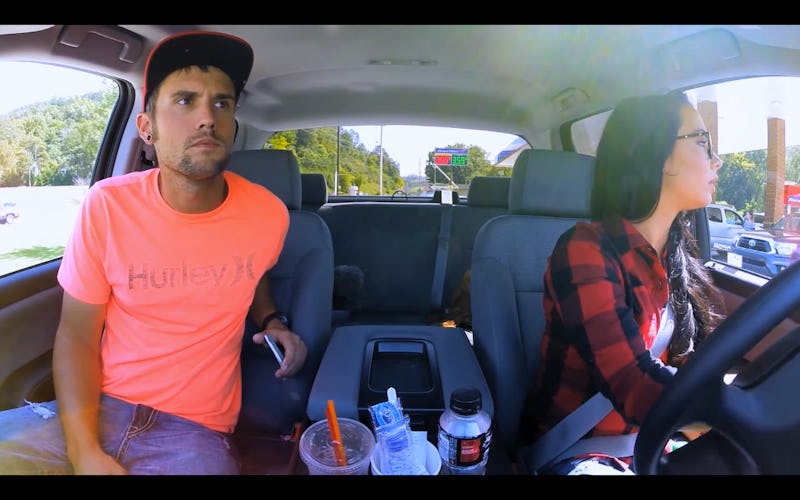 They thought they were out, but MTV is drawing them back in... the original cast of Teen Mom is returning for Teen Mom OG, a new season that will show what's changed (and what hasn't) between the teen moms, their kids, and the dads. One of the most contentious Teen Mom relationships is between Maci Bookout and Ryan Edwards, the father to her son, Bentley. Ryan and Maci have split up, reunited, and split up again several times since the birth of Bentley, but it seems like their last breakup was permanent, because Maci is now engaged to her new boyfriend of two years, Taylor McKinney, and pregnant with their first child together.
But it doesn't seem like leftover romance is the cause of the Ryan-Maci tension from the trailers. That all stems from Maci's ongoing frustration with Ryan's inconsistent relationship with parenthood. Because even though Ryan appears to be single at the moment, right now, it seems like Ryan still isn't over his ex-girlfriend, Shelby Woods. They split last November, but he's still posting Woman Crush Wednesdays of her and claiming that she's his "best friend." A few Tweets Ryan posted in January 2015 made a reconciliation seem possible, but that's the most recent update. On the other side, Shelby's Twitter account and Instagram are private.
If Ryan and Shelby are still broken up, it's time for him to get over her, because I don't think any number of "WCW" posts is going to put them back together. And while we see a woman who looks a lot like Woods in the trailer for the new season, and she could very well appear on the show since they were together when it was filming, it still looks like Ryan was up to a whole lot of his old tricks. He does seem to really care about Bentley, but then pulls moves like not showing up on time to meet up with Maci.
Ryan has dated several women on and off since he first appeared with Maci on 16 and Pregnant, but while he may be going through a single patch, pretty much everything else about Ryan has stayed largely the same, just with Shelby by his side instead of Dalis.
Ryan is still passionate about ATVs, at least judging from his many Instagram pics and Tweets, and it seems like he's totally healthy and recovered from the serious car accident he was injured in back in late 2014. It's still unclear if the accident will be a part of this new season. Mostly, Teen Mom OG is focusing on Ryan and Maci's struggles to co-parent, as well as the continued involvement of Ryan's parents. They've been heavily involved since the beginning, and were a big part of the custody battle between Maci and Ryan that put a strain on their relationship. Looks like that strain still hasn't been lifted.
We'll also see how Ryan reacts to the news that Maci is pregnant again. Sometimes jealousy arises between exes, even though it seems like more responsibility is the last thing that Ryan is looking for. In a piece on the new Teen Mom OG season in TV Guide, Maci promises that her relationship with Ryan will be a huge part of her storyline this season, so we're sure to see what, if anything, has changed with Ryan. Hopefully, watching Maci and the rest of the former teen moms slowly move on from their pasts and start to build new, stable lives inspires him to grow up a little too.
Image: MTV