6 Movie Puppies That Stole The Spotlight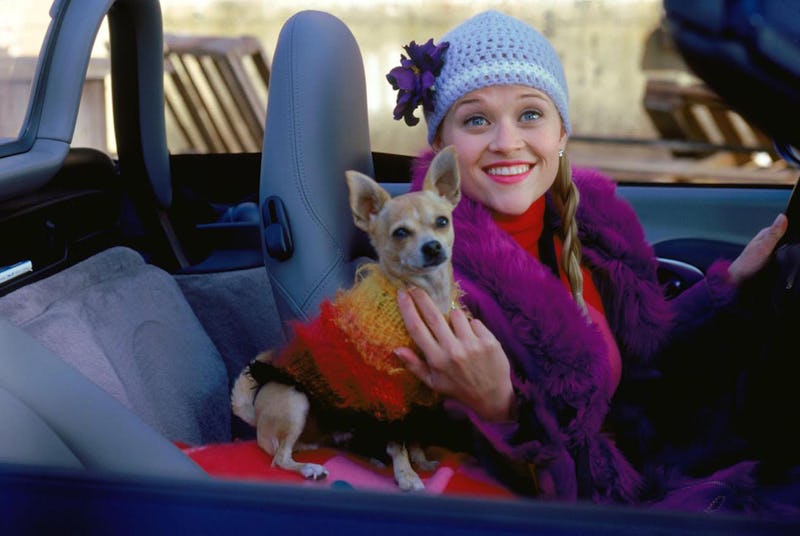 People are sometimes jealous of me, because I own a miniature Lassie. Her name is Serena, she's a 13-year-old shetland sheepdog, she's extra fluffy with one floppy ear, and she's a total asshole. No joke, if I was stuck in a well, that bitch would leave me there. But we forgive her for that, because she's such a beautiful, majestic creature with her resemblance to cinema's most famous canine. What can I say, there's a special power about dogs in film, whether they're starring in it, or out on the sidelines.
When you think about it, being a dog on the sidelines may be the preferable choice. Historically, dogs that are the focal point of a movie end up 50 shades of dead. But when you're just someone's wacky sidekick, you have real potential to shine in your own right. And as today is National Puppy Day, I want to take a moment to recognize those pups that went above in beyond. They'd all be winners in a "Best Dog in a Supporting Role" category.
Excelling in both cuteness and talent, here's just some of the elite dogs in that have really made it in the film industry, paws down.
1. Toto from The Wizard of Oz
Born Terry, the dog behind Toto was paid $125 a week, which was more than the average Munchkin. Baller or offensive? You decide. In any case, the little Cairn Terrier is the motivation behind Dorothy's decision to run away from home, and without that poor judgment call she may have never ended up in Oz.
Toto's no fool, though. He manages to run away from the evil Almira Gulch, and he exposes the wizard as an illusionist behind the curtain. So not only is he tiny and precious, but it's that intellect that makes Toto the original dog icon.
2. Dug from Up
His name is Dug, he just met you and he already loves you. Up goes hard on being heart-warming, and Dug is that extra cozy blanket on top. Earnest and excitable, Dug's dog-to-English collar spouts the most innocent statements, capturing the unconditional love all dogs have for their masters. And, as evident by his journey with Carl, the unconditional loyalty as well. You're a good boy, Dug.
3. Bruiser Woods from Legally Blonde
He's a Gemini vegetarian with impeccable fashion sense, and, as revealed in Legally Blonde 2, an out and proud gay dog. There's a lot of reasons that the dog is inspirational, and all those reasons aside, he's still a cute little chihuahua. In fact, Bruiser's cuteness warmed the ice cold heart of Vivien, Elle's romantic rival, proving that he has the power to build bridges and stir change.
4. Jack from The Artist
Even if you barely remember The Artist, you almost definitely remember the Jack, played by the sensationally talented dog star Uggie. Not only was Jack a talented movie star in his own right, performing alongside (fictional) silent movie great George Valentin, but he also later saved George's life. Honestly, he pulled a Lassie and alerted the authority that George was stuck in a burning building.
Uggie later went to the Academy Awards, and in 2012 became the first dog to have his paw prints on the Hollywood Walk of Fame. So. Good luck feeling satisfied with any of your accomplishments knowing a dog is more famous than you.
5. Zero from The Nightmare Before Christmas
Wow, a dead dog actually ended up on this lift after all. To be fair, Zero was dead long before The Nightmare Before Christmas, and being a ghost dog is really part of his whole appeal. He can casually glide through the air, and he has a glowing nose that resembles a Jack-o-lantern... the better to light the way!
6. Baxter from Anchorman: The Legend of Ron Burgundy
So wise, like a miniature Buddha, covered in hair. There isn't much to say about this champion, but in short? He speaks fluent bear, is able to withstand a punt off a bridge, and can eat a whole wheel of cheese. Ron may be the movie's protagonist, but Baxter is it's hero.
Images: MGM (2), Disney (1), Giphy (4)