12 Authors Who Make Food Sound Delicious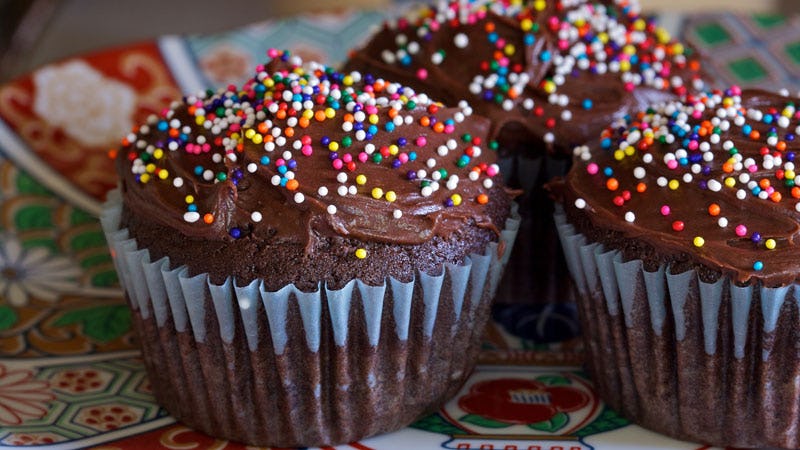 If you're anything like me, you love nothing more than settling down with a great book and a box of assorted fudge. Or a shrimp ring. Or both. Whatever. I've always found reading and eating to be inextricably linked, particularly when I'm spending time with the works of certain authors who always seem to be describing their characters' latest meal.
There are plenty of food and cooking memoirs available, as well as novel-recipe book hybrids, like Nora Ephron's Heartburn. But the following bodies of work by this group of authors ostensibly have nothing to do with food; they sneakily suck you in with their captivating plots while secretly pushing a foodie agenda. And it works.
After avidly reading these authors, a sort of osmosis occurs where you develop perfect food combinations for almost any situation in life, adapted from situations in their books. Stuck in an airport alone, like a character on the lam in a John Grisham novel? Head immediately to the the nearest airport diner for some fried chicken and a Red Stripe, if available. Spending 14 hours straight working on a project? That's kind of similar to a Lisbeth Salander-style hacking binge — break for coffee and several open-faced sandwiches before starting up again.
Whether you're in the mood for some new meal ideas, or simply want that final push over the edge to order takeout, pick up a book by one of these authors:
Marian Keyes
Reading Marian Keyes will make you want to curl up with a bag of cookies, mainly because that's what her characters are often doing. Whether it's chocolate biscuits, crisps, or pizza, Keyes recognizes the void that food can fill and often writes characters that are comfort-eaters. Her ability to make you laugh out loud extends to her satirical take on high-end restaurants, where in Keyes' London, depicted in Last Chance Saloon, you might be served beef brulée with coriander pesto, curried shoestring beetroot and a side of chocolate mash.
Stieg Larsson
The Millenium trilogy shed light on the culture of corruption and misogyny in Sweden, as well as giving us a close look at Swedish magazine journalism. But it also showed us that Swedish people love coffee, smoking, and open-faced sandwiches above all else. You might think four open-faced sandwiches could just be made into two regular sandwiches, but you'd be wrong — not the same thing at all. It's hard to imagine what Lisbeth's Salander's life as an elite hacker would be like, but her penchant for McDonald's Happy Meals and Billy's Pan Pizza is all too relatable to me.
Donna Tartt
If you want to know why an ice cream float is the best hangover cure, or think that subsisting solely on Vegas buffet-style appetizers like buffalo wings would be a pretty good deal for a few months, read Donna Tartt. Food even makes it way into the plot in The Secret History when the protagonist has serious cause for concern that the mushrooms steamed in wine he's been served are part of a murderous plot to poison him.
John Grisham
The location of Grisham's novels always dictate what his characters eat. Often in legal thrillers set in the Southern U.S., Grisham's lawyers, whom he calls "ham and eggers" for their morning diner habit, start their days with full Southern-style breakfasts complete with grits, and dine on catfish or ribs in the evenings. In The Broker, set mostly in Italy, the main character spends a huge chunk of the book learning Italian by ordering meal after meal with his tutor, making for a thriller that felt like equal parts The Da Vinci Code and Eat, Pray, Love. Sidenote: Grisham admitted to gaining 10 pounds while doing the research for this book.
Roald Dahl
Dahl may be a children's author, but if YA can take the book world by storm, maybe children's books are next. In Danny the Champion of the World, the plot surrounds poaching pheasants, mostly for spite against a wealthy land-owner, but also to achieve Danny's father's dream of sharing a meal of roasted pheasant, breadsauce, potato chips, and boiled parnsnips with his son, who has never had access to an oven. This novel is also filled with delightful sounding English delicacies like cold meat pie filled with hard-boiled eggs.
Alisa Valdes
The one condition for membership in The Dirty Girls Social Club is a twice-yearly meeting at El Caballito, a Puerto Rican restaurant in Boston. The six members dine on meat, fish, beans, and fried plantains while catching up on their lives which have become increasingly separate since their time at college together. Valdes uses food, among other things, to illustrate the difference in upbringing between the six friends — by describing what they ate growing up.
Stewart O'Nan
One of Stewart O'Nan's classic moves is writing long passages that show his characters performing quotidian tasks in excruciating detail, usually while in the midst of a tragic or upsetting event. Like in Songs for the Missing when Fran Larsen, mother of a missing teenage girl, painstakingly prepares barbecue chicken and chocolate mud pie for her family. Or when Patty Dickerson in The Good Wife spends the day baking Christmas cookies while her newly paroled husband bonds with their son for the first time in years.
Toni Morrison
In Paradise, Morrison describes a safe haven for women called The Convent, where the residents live harmoniously, cooking lavish meals and growing much of their own food as a way to help keep themselves isolated from the outside world.
Jennifer Weiner
Jennifer Weiner could release a cookbook exclusively consisting of the meals in her novels like fig, prosciutto, and parmesan pizza, or clams and linguine with crusty bread. Sometimes food is being celebrated, other times the character has a troubled relationship to it, but detailed meal descriptions are always a factor in Weiner's novels.
Barbara Kingsolver
If you're into the farm-to-table, locavore food movement, read the works of Barbara Kingsolver. Her naturalist writing style means she devotes a lot of time describing where food comes from, like in Prodigal Summer where you learn what life is like on a self-sufficient Appalachian farm. She wrote an account of her family's attempt to eat only locally produced food for a year in Animal, Vegetable, Miracle.
Maeve Binchy
Binchy is one of the most popular Irish writers of her time, best known for her tea and sympathy style of writing. When her characters face a shock they turn to Irish comfort foods like potato pancakes, chips (the french fry kind), shortbread, or in one particular instance in Tara Road a massive peanut butter and banana sandwich.
L.M. Montgomery
Montgomery's Anne of Green Gables series actually warranted its own cookbook, inspired by recipes Anne prepared and discussed, often in anticipation of honored guests to Green Gables. Recipes featured in the book include poetical egg salad sandwiches, afternoon ruby tea biscuits, and of course, raspberry cordial, which in the book was unfortunately mixed up with currant wine resulting in a hilariously drunk Diana Barry.
Images: Nic McPhee, Alpha, Ralph Grizzle, babe_kl, Megg, Lucas Richarz, paige_eliz, tracy benjamin, Dana McMahan, Laissez Fare, Katrin Morenz, Larry, Ginny