'PLL' Time Jump Will Skip College In Season 6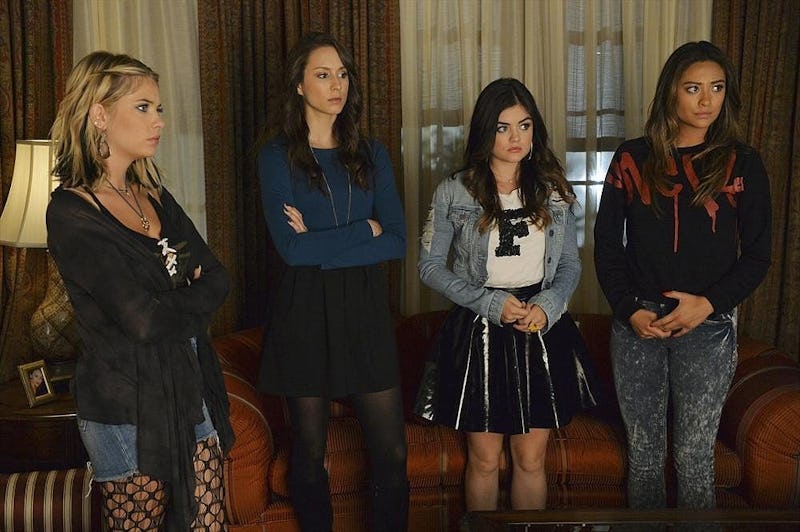 Now that Pretty Little Liars revealed Charles DiLaurentis is Big A and most likely Jason's twin (or maybe Andrew Campbell), everyone is reeling. Although Charles has not been fully unmasked yet, creator Marlene King promises that reveal is coming in Season 6, along with the time jump that skips college that she promised. Now we have some details about the timing of the future-set storylines, which King tells E! Online will be after the first 10 episodes of Season 6. But first, we're going to explore the creepy dollhouse some more, keeping the girls trapped there for nearly half the season.
"We will start next season right were we left off, with the girls trapped and they don't get out immediately," King revealed, also saying that it will take place in a "very condensed period of time." At that point in time, they will be graduating — which means that A lets them go at some point — and pushing the show toward another season of insanity. Even though King says this will be an "exciting season of answers and closure" and the Liars will come "face-to-face with A before the end of summer," PLL was renewed for Season 6 and Season 7, so it's not a one a one-and-done, case closed situation.
Honestly, just because A will be a known entity doesn't mean that the girls are safe. As Bustle has theorized before, this time jump could be a catalyst toward another mystery with one of the Liars going missing — just like how Ali disappeared during their sleepover in Season 1. Even if the girls manage to escape A for four years while they're at college, coming back to Rosewood to reunite and catch up after they've graduated could bring deja vu and more texts from A. This would be better than any type of montage the show could do to show what happened in those four missing years. Getting clues, piece by piece, as they fight to save another one of their own could be the perfect way to get PLL fans hooked again. Because let's be honest — after that reveal that didn't really tell us who has been hiding under the black hoodies for the past few seasons, we need to get reeled back in.
Image: ABC Family