9 Ways SJP & Carrie Couldn't Be More Different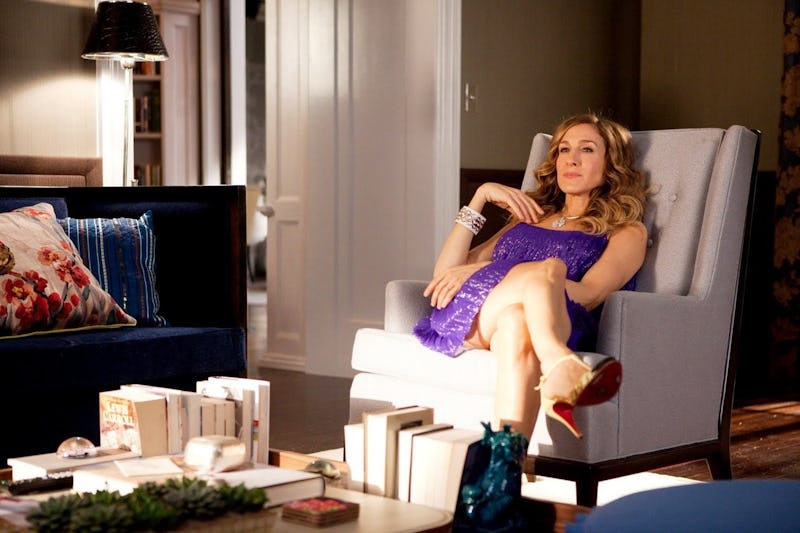 Although she had been an actress long before Sex and the City first premiered on HBO in 1998, it was the character of Carrie Bradshaw that made Sarah Jessica Parker a true celebrity. Parker and Carrie Bradshaw are so integrally linked that trying to figure out where one ends and the other begins has become a difficult task — which is funny, because the two couldn't possibly be anymore different. Yes, they share a love for shoes and a deep love for New York City, but that's pretty much where the similarities end.
Born and raised in Ohio, Parker didn't move to New York City until 1977, when she was cast in The Innocents on Broadway. Since then, Parker has more than made a name for herself, although it's still a foreign concept for her. As she told Allure in 2008, "I didn't think I was going to be a person who other people knew, whose name was recognizable."
In other words, if you took Carrie Bradshaw and turned her down about 50 notches, you'd finally get to the Sarah Jessica Parker. Case in point: Carrie wrote explicitly about sex, but Parker has a hard time with the word "bitch," let alone talking about sexual details. While Carrie Bradshaw was drinking her beloved cosmopolitans on Sex and the City, Parker was behind the scenes drinking her favorite beverage ― Coca Cola.
While SJP and Carrie Bradshaw are vastly different, you can't think of one without the other. So, in celebration of SJP's big 5-0 on March 25th, here are nine ways she's totally different from Carrie.
1. On New York City
Carrie Bradshaw
"If Louis was right, and you only get one great love, New York may just be mine. And I can't have nobody talking sh*t about my boyfriend."
SJP
"When I arrived in the city in 1976, New York was financially a wreck. But to me it's the New York that Matthew and I literally try to find every day of our lives. It was the best place in the world. It was literature. It promised everything.
And for someone who loved food and smells and stimulation, who was rocked to sleep by the sound of taxis — well, there's just so much money now, and the city is so affluent, and all the colors, all the shops, the look of a street from block to block is just terribly absent of distinguishing coffee shops, bodegas. All of that stuff that made it possible to live in New York is gone."
2. On Financial Responsibility
Carrie Bradshaw
"I've spent $40,000 on shoes and I have no place to live? I will literally be the old woman who lived in her shoes!"
SJP
"You've got to earn things. And [her son] will say, like, 'One day, when I'm older' — and I'll say, 'You know, you have $42 in your piggy bank. That is yours to do with what you want. And one day, you'll work hard, and hopefully you'll find work that is good and fun.' "
3. On The Importance Of Food
Carrie Bradshaw
"When I first moved to New York and I was totally broke, sometimes I bought Vogue instead of dinner. I found it fed me more."
SJP
"Anything having to do with food is pleasurable for me. Any conversation about food, review of food, story of food, picture of food, thought of food..."
5. On Their Career Of Choice
Carrie Bradshaw
"I wanted to be a writer, I made myself a writer. I want a ridiculously extravagant pair of shoes, I find a way to buy them."
SJP
"I've always been an actor. That's my job — I can be anything you want me to be."
6. On Taking Media Criticism Personally
Carrie Bradshaw
"'Single & Fabulous,' question mark? There was no question mark implied. I would never have agreed to be in an article 'Single & Fabulous' question mark... They said 'Single & Fabulous!' exclamation point. They did not say 'Single & Fabulous?' question mark. That question mark is hostile."
SJP
"My instinct was that it felt personal. It was really about 'We don't like her.' Who were the judges and critics? I would like to ask them, 'What exactly is it that you personally find not sexy about me? Is it my figure? Is it my brain that bothers you?' My impression is what they find sexy doesn't make them very interesting, or unusual or special. That makes them common."
7. On Love
Carrie Bradshaw
"Later that day, I got to thinking about relationships and partial lobotomies: two seemingly different ideas that might be perfect together — like chocolate and peanut butter."
SJP
"There's also the reality of your life. I love Matthew Broderick. Call me crazy, but I love him. We can only be in the marriage we are. We're very devoted to our family and our lives. I love our life. I love that he's the father of my children, and it's because of him that there's this whole other world that I love."
8. On Friendship
Carrie Bradshaw
"They say nothing lasts forever; dreams change, trends come and go, but friendships never go out of style."
SJP
"We're [the women from SATC] forever in one another's lives. I want the same thing for them that I want for myself: new experiences."
9. On Profanity
Carrie Bradshaw
"F*ck you... f*ck you! My mind was yelling how angry I was, but my heart, my heart... oh, f*ck me."
SJP
"I don't like the F word very much, either. But it's important to me that my moral compass not be somebody else's. There's nothing more unlikable than somebody imposing their morality."
10. On Politics
Carrie Bradshaw
"Politics always seems relevant to me as a new Erica Jong novel. I did find it interesting that a discussion about politics ultimately became a discussion about sex. And a discussion about sex ultimately became a question of politics. Which led me to wonder, if the two weren't in fact inextricably linked, and if so, can there be sex without politics?"
SJP
"The reality of this country, the wonderful diverse group of Americans that now exist — that's the voting bloc. But I don't need to tell the Republicans that. I think it's abundantly clear what happened on election night."
Happy birthday SJP!
Images: HBO; Getty