The 7 Stages Of Grieving 'Downton Abbey'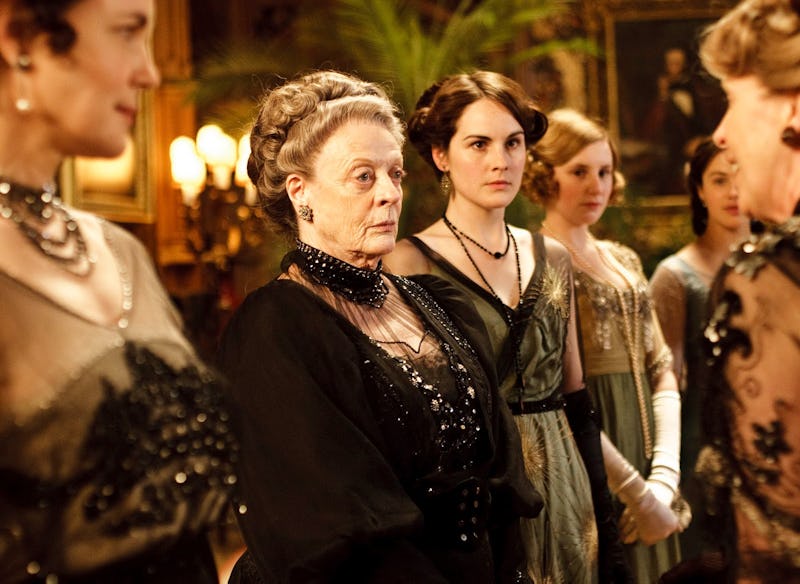 It's time to say goodbye to the Crawley family. Downton Abbey is ending after Season 6, which was announced officially on Thursday after rumors and speculation started last week. Although it makes sense to end the series after six wonderful years — especially considering that Maggie Smith said this would be her last season — it's still hard to say goodbye. But just like Lady Mary grieved Matthew Crawley and the entire family said farewell to Sybil, we have to accept the show's fate.
In addition to thinking about all the things that need to happen in Downton Abbey Season 6 and tracking the careers of the stars after the show ends, it's important to go through the seven stages of grief properly before the big series finale. Thankfully, we have more than a year until the show premieres in the US, and Downton's production company Carnival Films promises that everyone's storylines will be wrapped up as the "idea of aristocracy" in Britain comes to an end. Those aren't many details to go off of, but at least we know there won't be a cliffhanger driving us crazy forever. But before we start getting exciting to see how everything ends, go through the grieving process with us. Your favorite Downton characters are even here to help you through it all, including some zingers from the Dowager Countess.
Stage 1: Shock
No, it can't be happening. There has to be more to the story.
Stage 2: Denial
They're just messing with us, right? Matthew and Sybil must still be alive, too.
Stage 3: Anger
Are you kidding me? How can I live my life without the Crawleys?
Stage 4: Bargaining
They can make a movie, right? Maybe a few?
Stage 5: Guilt
It's because I illegally streamed the UK version, isn't it? I'm so sorry.
Stage 6: Depression
Why? Why? Why? Can't see anything through my tears.
Stage 7: Acceptance
We had six wonderful years together. It's going to be OK.
Images: PBS (1); downtonreactiongifs/Tumblr (7)