Claire Underwood's Lipstick Is From Target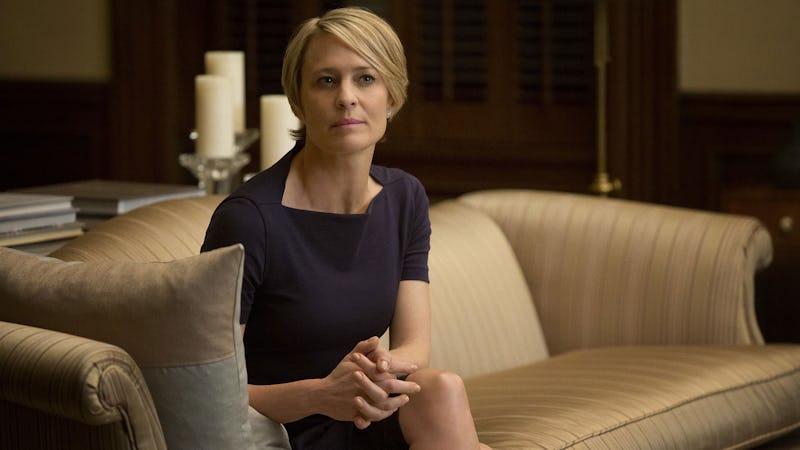 The first lady of television, beacon of perfection and wearer of shift dresses, has a secret. Claire Underwood's lipstick is from Target, which was revealed to The Cut's Isabel Wilkinson in an interview with the show's lead makeup artists Tricia Sawyer. This means that it is a thing you yourself can attain as you covet literally every other facet of her personal brand. You can, in a small way, live that Underwood life (without becoming a power hungry murderer).
"Sawyer explained that Wright uses an unexpected high-low mix of makeup on the show: Armani Luminous Silk Foundation, Dior Eyebrow Pencil, and a lipstick, Sonia Kashuk No. 21, which she buys at Target," writes Wilkinson. "Like Underwood, the understated pale-pink lip color has an unexpected side: it's called Sheer Pink Lust." The lipstick is $10.99, and you can purchase it here (if it's not already being sold on the beauty black market, that is).
Sawyer tells The Cut:
"I think it's true that on most women, they don't change their lip and eyebrow colors very often," she says. "It grows to become part of their wardrobe – and I wanted her to have that same thing, because real women don't change a lot."
I do think that a brow color is a bit different than switching up a tube of lipstick, but Sawyer's got a point here. And if you want to cop some of Claire's other style staples, we've got you covered elsewhere.
Now if you'll excuse me, I'm going to go by Target's back stock so I can make my first million slinging Sheer Pink Lust with interest.
Image: House of Cards/Netflix; Giphy