5 Weekend Trips To Take This Spring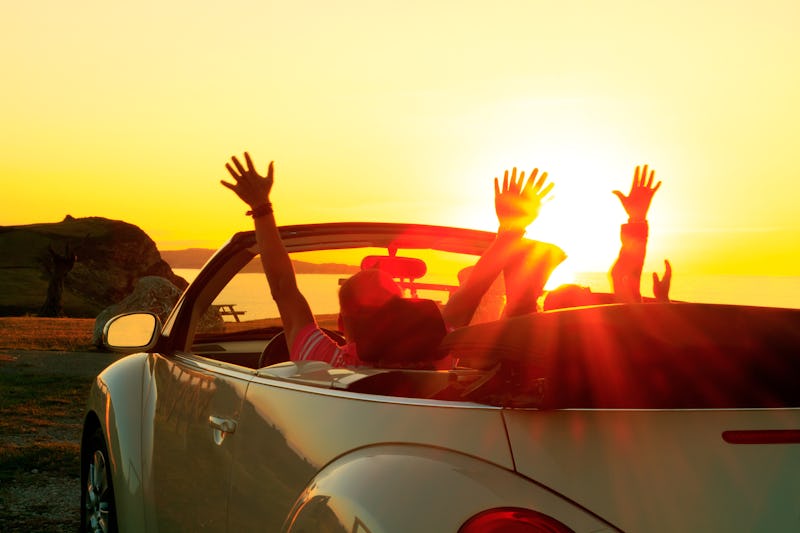 If compulsively checking my Weather Channel app every 20 minutes is wrong, then well, I don't want to be right. Because this forecast? It's nothing but 60-plus degrees from here on out. Oh yes indeed, spring has sprung. And now that I no longer feel the need to spend my weekends in bed with my heating pad, Netflix, and my cat, I'm once again ready to embrace spring weekend getaways and wanderlust. Thanks to this travel-friendly Fahrenheit, I am officially ready to pack a bag and hop in the car, because although this city living is great and all, sometimes I just need a weekend road trip to remind myself of all the hidden gems our fine country has to offer.
While I would love a seven to 10 day international spring escapade complete with picnics, cherry blossom canopies, and amusing miscommunication, I just can't justify the time or money needed for that trans-Pacific ticket. Since I've got a feeling I'm not alone here, I've compiled a list of quick, affordable weekend getaway destinations all across the U.S. — including the most important details, where to eat and sleep. And guess what? Each weekend vacation destination is within a three-hour driving distance from a major city. Major bonus.
1. Charlottesville, Virginia
Situated along the foothills of the Blue Ridge Mountains, Charlottesville is a dream come true for hikers, history buffs, and vino lovers alike. And it's only a 2.5-hour drive from Washington, D.C.
Where to stay: Watch the sunrise from the porch of this authentic log cabin, which houses a wood burning stove and home movie theatre.
What to do: Beginning April 17, head to Charlottesville's downtown mall for a free show at the Pavilion's "Fridays After Five" live concert series. Experience an iconic piece of American history at Thomas Jefferson's Monticello. Or venture down the road to Jefferson Vineyards for a very affordable taste (or three) of their award-winning Viognier.
Where to eat: Indulge in fresh Rappahannock oysters, crispy fried green tomatoes, and savory-sweet hush puppies as you sample the 30-plus whiskies on hand at The Whiskey Jar. Shamelessly continue your oyster binge at Mono Loco, basking in the glory that is the fried oyster and pork belly burrito. Spend your Sunday morning with the locals at Milli Joe's, feasting on their signature brie/apple/honey homemade waffle.
2. Cold Spring, New York
The New York Times described Cold Spring as, "... the perfect way for New Yorkers to flirt with small-town America but be home before midnight." Go by car and arrive within one hour. Or use your unlimited metro card and hop on the Metro North — you'll be there in just under two.
Where to stay: Experience glamping at its best — reserve the famous yurt nestled in the organic apple orchard of Liberty View Farm. This unique, off-the-grid gem is available for $274 a night, thanks to the generous hosts on Airbnb.
What to do: Launch yourself down the historic Hudson via kayak, canoe, or paddleboard from Hudson River Expeditions. Pick up your "Hikers' Lunch Box" from Hudson Hil's Cafe & Market, then head on out to the scenic trails of Clarence Fahnestock National Park for an afternoon in the woods.
Where to eat: Cap off a satisfying day in the great outdoors with a smorgasbord of classic French cuisine at Brasserie Le Bouchon, where the moules and escargot flow like wine.
3. Hartford, Connecticut
Some of the most influential American writers once called Hartford home — and you can tour their homes for less than the cost of an Amazon purchase. Hartford is less than a two-hour drive from Boston and only three hours from New York City.
Where to stay: This castle. No joke, this Airbnb castle is equipped with a Romeo and Juliet-themed room, a garden gazebo, and a "gargoyle hunched on its pedestal." This could all be yours for a mere $200 a night.
What to do: Tour the Mark Twain house where the great American author spent the "happiest and most productive years of his life." The 25-room Gothic mansion houses a stately billiard room, where Twain wrote his most iconic works, including Adventures of Huckleberry Finn, The Adventures of Tom Sawyer, The Prince and The Pauper, and A Connecticut Yankee in King Arthur's Court. NBD. Oh, and while you're here, head across the lawn to the elegant Victorian mansion that Harriet Beecher Stowe called home after setting the world on fire with her seminal abolitionist novel Uncle Tom's Cabin.
Where to eat: Breathe in some fresh air on Firebox's outdoor patio as you get a feel for their version of "spring fever" — a refreshingly sweet concoction of Aviation gin, Cocchi Americano, lemon, St. Germain, and orange bitters. And if you want to go sweeter, you're in luck because Firebox's patio comes equipped with its own artisanal lemonade stand. Soak up some of that booze with authentic wood-smoked, Kansas City-style barbecue at Bear's Smokehouse. Just make sure to come up for air from your mac attack to have a word with the infamous Kansas City-born owner Jamie "The Bear" McDonald, who holds the current Wing Bowl Champion title for devouring 287 wings in 30 minutes.
4. Willamette Valley, Oregon
The Willamette Valley houses more than 400 Oregon wineries — all of which are just a one-hour drive south of Portland.
Where to stay: Nestled in the heart of the valley, Black Walnut Inn & Vineyard boasts breathtaking views of Mount Hood and Mount Jefferson from its many balconies, patios, and gardens. And before you set out on your walking wine tour, make sure you reserve a wine touring picnic basket. Priced at $48 per couple, the basket includes sandwiches, salad, relishes, sparkling water, dessert, and chocolates — the perfect complement to Oregonian wine. Rooms start at $199 per night, and advance reservations are highly encouraged.
What to do: One word: wine. There are 29 wineries just within Dundee, Oregon, which is a mere fraction of the 150-mile long Willamette Valley. You can definitely cover more ground driving from winery to winery, but if you'd rather ditch the designated driver negotiation, give Mark DeLong a call — he offers the Dundee Hills Walking Wine Tour where he takes great joy in educating valley visitors on the soil, weather, and wine making process in between local wine tastings. Walking tours can be arranged by phone: (503) 789-7629, or email: markdartist@gmail.com.
Where to eat: Recipe describes its food as "thoughtfully prepared wine country cuisine showcasing a seasonally adapted menu." Start with the smoked onion-buttermilk dip. Follow with the Willapa Bay oyster stew. Finish with the vanilla bean rice pudding with salted butterscotch sauce. Wash it all down with a few bottles of very reasonably priced wine. Done and done.
5. Santa Cruz, California
Santa Cruz is where great surf meets spectacular mountain. And the heavenly pair is a quick 1.5-hour drive outside of San Francisco.
Where to stay: This tree house. Just a short drive from the coast, this glamper's delight is located in the middle of the ancient Sequoia forest in the Santa Cruz Mountains. The house is equipped with a full kitchen, hot tub, and two redwoods growing up through the living room and bathroom, naturally. This little piece of Mother Nature will run you $125 per night, plus tax.
What to do: When in surf capital... take a surfing lesson. Surf School Santa Cruz offers group lessons as low as $60 per hour. And when you're back on land, grab some deep fried twinkies and take a stroll down the Santa Cruz beach boardwalk.
Where to eat: For breakfast, head to Cafe Brasil for the bife a cavalo (and definitely ask for the house hot sauce). For lunch, grab a couple of fish tacos at Taqueria Michoacan — $3.25 a pop. For dinner, settle into the evening with a glass of red and a plate of house made Gorgonzola cream black truffle gnocchi at Lillian's Italian Kitchen.
Images: Fotolia; Darryl Kenyon, Jamie McCaffrey , Neville Nel, Pablo Sanchez/Flickr; Glamping Hub