The Top 10 Fitness YouTube Channels To Follow Now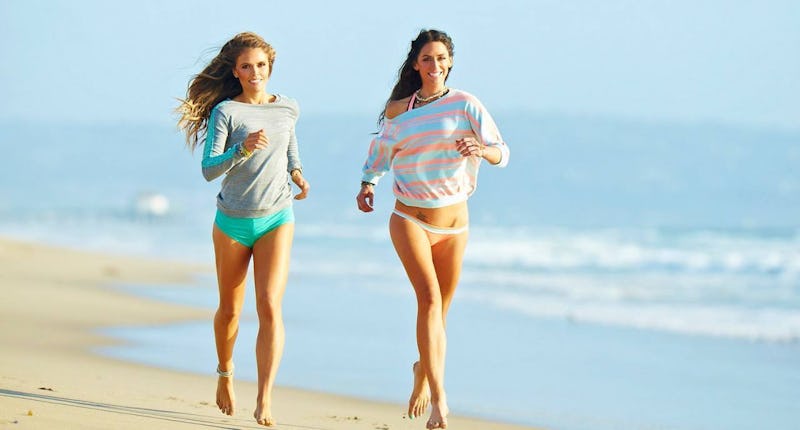 When making a commitment to yourself to get in shape, you most likely consider joining a gym or taking group workout classes, both of which can be unappealing due to the time and financial commitments they require (not to mention the fear of humiliating yourself in front of all those intense spin devotees). Sure, YouTube is your go-to when you want to watch your favorite singer's newest music video or are in dire need of some kitten cuteness, but it's also a pretty effective tool to get fit. There are tons of YouTube channels with free, full-length workouts that will tone, sculpt, and strengthen your computer-chair-loving body. Yes, the videos really are free, and you can do them whenever and wherever you like, with limited required equipment, giving you full control over your workouts.
Unfortunately, YouTube is not magic (even if it can predict that next you'd really like to watch a video of Justin Bieber falling on his face), so you do still need to put in the work to get healthy. That means committing to an exercise schedule you can stick to and getting your sweat on by pushing yourself to give each workout your all. Since not every "fitness trainer" with a camera actually delivers an effective workout, we did some digging and found the top ten absolute best fitness YouTube channels you need to subscribe to ASAP for inspiration, pro exercise tips, and, most importantly, some awesome workouts. The best part? You never have to leave your house. (Your pajama shorts can totally double as workout shorts.)
Karena and Katrina, the fitness gurus behind the channel Tone It Up, are those sweet SoCal girls you both love and hate (because... those ABS). Their workouts are hard, but the beautiful landscapes (they often film on the beach) and their peppy enthusiasm will keep you pushing through. These two insanely fit women have been featured in SELF Magazine, Vogue, In Style, and Shape because they know how to inspire and educate; they offer nutrition and wellness advice in addition to their killer workouts. The community they've built on social media is full of fellow fit-minded women posting their progress reports and sharing their own personal success stories.
Does the name Jillian Michaels mean anything to you? (She's the crazy-strong trainer from The Biggest Loser) No? How about Jane Fonda? BeFiT brings world-famous fitness trainers, including those two badass women, straight to you through your computer screen to keep you going when that plank starts to feel unbearable. BeFiT offers a variety of exercise formats to choose from, from yoga to "fat burn" cardio to pre- and post-natal workouts, so you can squeeze in a workout any time baby decides to nap, even if you only have 7 minutes.
Most Pilates classes will run you $30 a pop, but LA certified fitness instructor Cassey Ho brings you the same tough workouts through her fun YouTube channel. Ho founded POP Pilates, which she teaches at Equinox in West LA, but you can get the same core-strengthening, muscle-toning results by watching her videos. Also, anyone new to exercise should definitely check out her Beginner Workout series, which focuses primarily on form so you can perfect the basics before moving on to her more advanced series.
The energetic trainers over at XHIT combine elements of High Intensity Interval Training (HIIT), CrossFit, and Pilates to give you serious muscle strength and tone. They offer goal-oriented workouts such as the "Miranda Kerr Butt Workout" to help you get closer to your dream of looking like a Victoria's Secret Angel. These workouts cut right to the chase and deliver effective moves that will make you feel the burn (in the best way possible).
GymRa has a paid subscription service for their online personal training program, but many of their full-length workout videos are available on their YouTube channel for free. Their videos feature primarily Tabata training, which is a HIIT workout that consists of eight rounds of ultra-high-intensity exercises in a 20-seconds-on, 10-seconds-off interval format. This means that you get the most bang for your buck in a short amount of time; which is especially awesome since you get to keep that buck for yourself.
Husband and wife team Daniel and Kelli are the faces behind Fitness Blender. This über-fit duo has created a no-nonsense workout program for any goal you could possibly have, whether that's to get tank-top-worthy arms or increase your flexibility. They expertly guide you through the workouts with incredibly detailed cues to make sure you have proper form, which is essential for avoiding injury and making each move as effective as possible. This is a great channel for men as well, so grab your boyfriend and get sweaty!
Jessica Smith is certified fitness trainer with an adorable french bulldog named Peanut who frequently makes guest appearances in her videos, making the workouts extra fun for any dog-lover. Smith's videos are especially great for anyone interested in the latest barre class trend, as she offers many barre-inspired at-home workouts. Each of Smith's videos make you feel like you're taking a group fitness class, but without the hassle of leaving your apartment.
Natalie Jill is the ultimate success story: she went from being a struggling, overweight new mom going through a divorce to a fitness powerhouse, and she's all about inspiring you to fight through your own obstacles to become the best possible you! She loves using a stability ball in her workout videos, though most of her routines can be done without any equipment at all. Natalie also offers videos with advice on nutrition, forming healthy lifestyle habits, and even building your own business.
Autumn Calabrese is a celebrity trainer with abs that will inspire you to try every single one of her videos. She created the 21 Day Fix, a Beachbody diet and workout plan designed to help you lose weight. Her expertly produced videos will guide you through difficult total-body weight training to build fat-scorching muscle to ensure you keep the weight off.
eFit30 is an Australian channel that features Pilates, yoga, and cardio workouts, along with diet tips. Their videos are among the longest available on YouTube, featuring full 30-45 minute workouts, so there's no need to put together your own workout combination. We highly recommend their yoga series for when you need to find your inner Om.
Images: Tone It Up, BeFiT, blogilates, XHIT, GymRa, FitnessBlender, JessicaSmithTV, Natalie Jill Fit, 21 Day Fix, eFit Australia/Facebook