All The Times Lily-Rose Depp Was The Coolest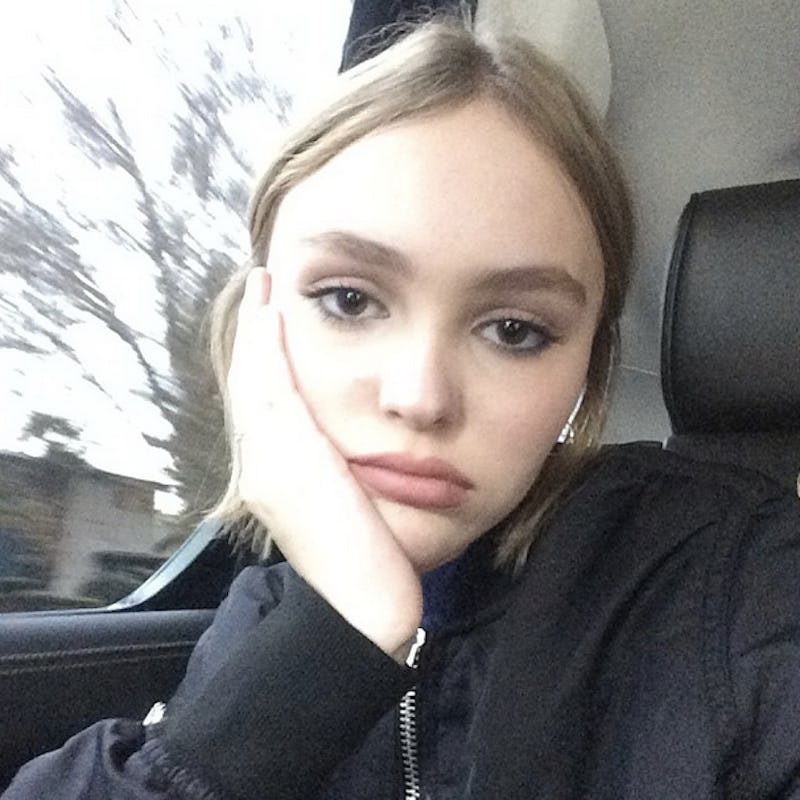 I've adored Johnny Depp from the moment I sneakily watched Edward Scissorhands, many years before I was "officially" allowed to watch Edward Scissorhands, and the adoration has only budded from there (reaching an all-time high when the pretentious literature fanatic in me learned about Depp's friendship with Hunter S. Thompson and the beatniks before him). So it's no surprise, really, that Johnny Depp's daughter, Lily-Rose Depp, is starting to steal some of her father's space in my dark-fantasy-loving heart.
Johnny Depp and French singer/actress/model Vanessa Paradis welcomed Lily-Rose into this mess of a world 15 years ago, and in the time since, she's become something of an "it" girl. The phenomenon is both a shame (because there was no way she was ever going to be granted a private life, being the daughter of Tim Burton and Helena Bonham Carter's best friend) but a blessing (because she's a reminder of the beauty and insanity of adolescence).
As we age, it becomes exceptionally (and devastatingly) easy to belittle adolescence. We start deeming the problems of our younger selves as "frivolous." We look to the woes of teenagers, and say patronizing things like, "They don't know how good they have it," or, "They know nothing about (insert noun relevant to pain or suffering or wisdom of any kind here)." Because this sort of thinking basically permeates contemporary culture, it becomes even more important to acknowledge teens who remind us of how wrong these attitudes can be. And Lily-Rose definitely does this. Through her style, her taste in the surreal and her adorable selfies, she creates the type of nostalgia for adolescence that we probably need more of.
So here are just a few times she proved cooler than you, and me, combined:
1. Her Shout Out To Pulp Fiction
2. When She Reminded Us It's OK To Want To Hide From The World
3. That Time She Rocked A Power Tiara
4. When She Was Unapologetic About Her Partiality To These Surreal Babies
5. When She Wore This Amazing Hat
6. And The Greatest Socks
7. When She Showed An Appreciation For Cheesy Tunes Of Times Past
8. Probably While Rocking The Best Glitter Tatts
9. And When She Broke The Internet With The Best Father/Daughter Pic This Earth Has Ever Known
Images: Instagram/lilyrose_depp