Get Ready For More Of This Mug On 'Finding Carter'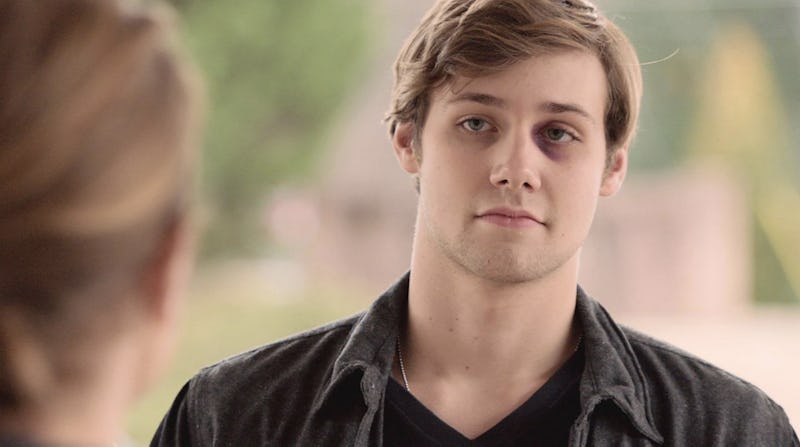 Is this really happening? Someone has to pinch me because I truly cannot believe that this is for real. Sure, I already knew that Crash would return to Finding Carter during this week's episode, but I'm in no way prepared to see him be forgiven. When we last saw Crash he was headed off to jail courtesy of Carter's intervention and on Tuesday night, he returned to beg Max for forgiveness and tell Carter that he didn't come back for her. Which is hard to believe, considering they allegedly had a forever kind of love last season. So, will Carter and Crash get back together on Finding Carter ? If Carter's reaction to seeing her former boyfriend for the first time since getting him arrested is any indication, hopefully not.
First of all, Crash SHOT someone — it seems super lenient that he's already out of jail and allowed to approach the person he shot after seemingly no time. (Aren't probation guidelines against that?) Where is the #JusticeForMax that I begged for last season? Because I'm really not seeing it here, MTV. But, what might be even worse is what seeing Crash again did to Carter at her homecoming party. Sure, the reckless infatuation was there for CarCrash in Season 1, but the truth remains that Crash did absolutely nothing good for Carter and she's better off without him.
After Crash showed up at the party during Tuesday night's episode, Carter essentially got wasted because, while she's angry at Crash and clearly supporting Max in all of this, she still loves him. (She's a teenager, we can excuse her terrible taste in men for now.) But, like most of us — and now Carter — realize, there's really no way to get behind this human being after he almost killed Max. I'm sorry, it just can't happen, even if Max has chosen to try to put his anger behind him and forgive Crash enough to accept a ride from him. So, if you're a CarCrash 'shipper, it looks like you might have a very difficult season ahead.
Carter might have been able to avoid facing the fact that Crash had questionable morals in the past, but confronting him about leaving her behind with her friend bleeding out in her arms was proof that she's smarter this time around. (Getting kidnapped twice will do that to you, I suppose.) Unfortunately, however, if Max plans to forgive Crash, we might be looking at the return of this 'ship sooner than you can say "croutons."
Image: screengrab/MTV