13 Times Stars Hollow Was The Greatest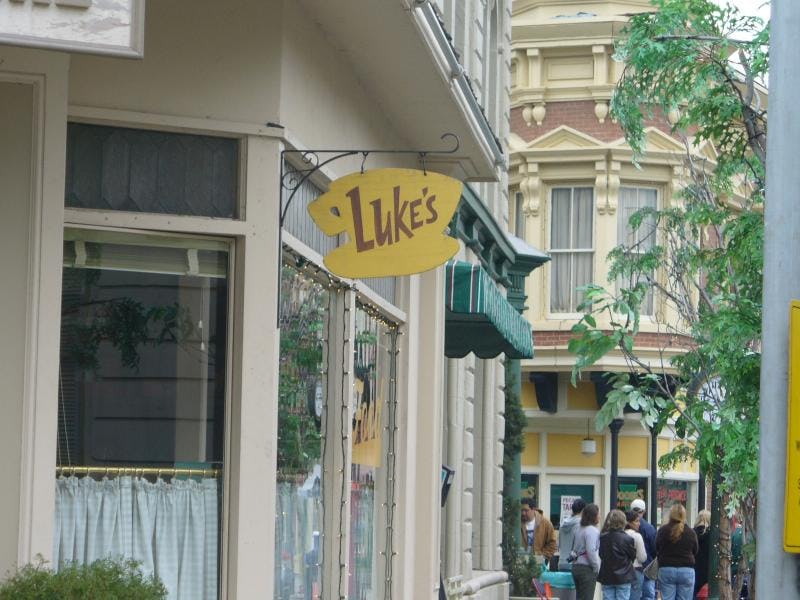 There are a few fictional TV cities fans would love to live in, and the sweet, strange, and lovable Stars Hollow on Gilmore Girls ' ranks at the top. As fans of the show discovered, the town of Stars Hollow was adorable and weird, full of kooky residents, charming histories, and ridiculous, over-the-top celebrations. No matter what situation the residents found themselves in, or what crazy scheme Taylor Doose had come up with that day, there wasn't a single episode of Gilmore Girls that didn't succeed in convincing viewers that Stars Hollow was the best place a person could live.
No wonder Lorelai raised her child there, or Mrs. Kim opened her shop — no town could've possibly been better than Stars Hollow, Connecticut. And hey, did you know it kind of exists in real life? There's a town called Washington, in Connecticut, that creator Amy Sherman-Palladino fell in love with while passing through one day. She modeled Stars Hallow after this friendly New England town where everyone knows everyone's name ... and business. Sounds like a dreamy place full of coffee, charm, wonderfully nosy neighbors, and one very quaint little bookstore.
Anyway, here are 13 times Gilmore Girls made you want to move to Stars Hollow:
When They Hosted a Dance Marathon
For Rory and Lorelai, the dance marathon might not have been so great (R.I.P., Dean/Rory), but for Gilmore fans, it was one of the show's very best episodes. Nothing summed up Stars Hollow better than the fact that not only did the 24-Hour Dance Marathon for Charity To Buy A Tarp To Cover The Bridge in Stars Hollow Festival exist, but it was an annual event. Best town ever.
When They Made the World's Biggest Pizza
Who wouldn't want to live in a town that came together to produce the biggest pizza in the world (or at least their side of Connecticut)?
When They Threw the Festival of Living Art
Even on short-notice, the town managed to put together an impressive collection of living pictures, starring Lorelai as the Renoir Girl, Rory as Antea, and Kirk as... Jesus. One of Gilmore's best episodes, and a perfect capture of the town's charming craziness.
And the Bid-a-Basket Festival
In another Stars Hollow tradition, the Bid-a-Basket festival saw the town's men bid on picnic baskets made by the town's women — and you can't deny that watching Luke, Dean, and the rest of Stars Hollow's finest fellas bid on their ladies' baskets wasn't great.
...and the Founders Festival
A town-wide celebration plus Miss Patty's punch equaled one of Stars Hollow's all-time best festivals.
...and the End-of-Summer Madness Festival
Stars Hollow really loved festivals. Could you blame them? Each celebration, no matter how minor, brought the residents together for some ridiculous, over-the-top fun.
When They Held a Wake For Babette's Dead Cat
If only all departed pets received the love that Cinnamon, Babette and Morey's dead cat, got from his former neighbors in the days after his passing.
When the Entire Town Hung Out at the Inn
Whether it was the Bracebridge Dinner or the opening of the Dragonfly, Stars Hollow's residents loved coming together for inn-related events. Chaotic, but adorable.
When You Realized Just How Many Amazing Stores the Town Had
Want non-pancakes at a pancake house? Go to Al's. Want cat-themed gifts and supplies? Le Chat Club's your spot. Want 12 stores dedicated solely to porcelain unicorns? Stars Hollow is the place to be. Simply put, no other town could compete.
When They Renamed All the Streets
True, having to live on "Sores and Boils Alley" might've been rough, but it would've been worth it for Taylor's enthusiasm alone.
When They Reenacted the Revolutionary War
With Kirk as a female prostitute, no less. What I would've done to witness that.
When They Opened a Hay Bale Maze
Sure, Taylor probably shouldn't have spent the entire festival budget on an enormous hay bale maze, but also, he totally should've. It was fun, hectic, and a way for Luke and Lorelai to get one step closer to reuniting.
When They Threw Rory an Epic Going Away Party
What would the Gilmore Girls finale have been without one of Stars Hollow's trademark weird, wonderful parties? Thanks to Luke, Sookie, and Kirk's mother's nighties, Rory got to celebrate her new job in style, alongside all the people she loved. It was a perfect end to the series, and a fitting goodbye to TV's best fictional town.
Images: The WB (14)