Does Tom Hiddleston Have A Girlfriend?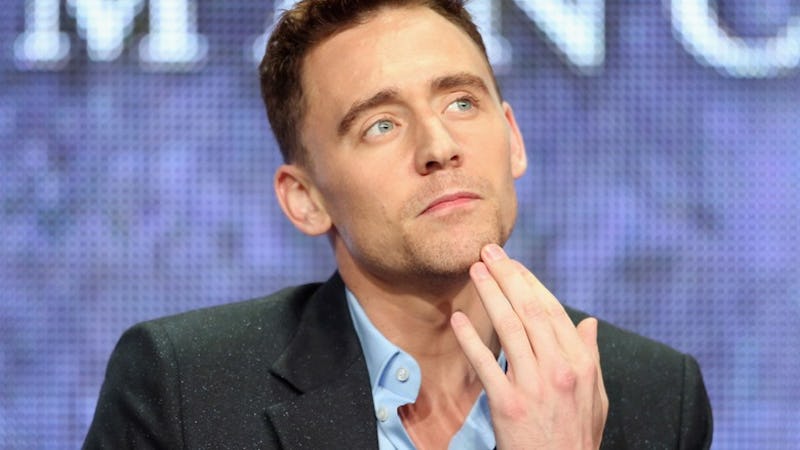 There are few questions I want answered more than "why doesn't Tom Hiddleston have a girlfriend?" The man is basically God's gift to women, and he could certainly have any partner of his choosing — yet he remains unattached. Despite being linked to people like Jessica Chastain and Kat Dennings over the years, Hiddleston hasn't been in a confirmed relationship since November 2011, which is when he broke up with his Wallander co-star Susannah Fielding.
Hiddleston would undoubtedly be the perfect boyfriend. (I mean, honestly, just look at all the sweet things he has to say about love.) But it seems like he's choosing a different path in life right now: The timing of his most recent breakup actually makes a lot of sense because 2011 is when his career really started to blow up after his success in War Horse and Thor. I can totally see Hiddleston as the kind of guy who wouldn't want to ignore a girlfriend because he was busy, especially if he couldn't give her quality attention she deserved.
Since 2011, Hiddles has focused very much on his career. He's starred in huge box office movies like The Avengers and Thor 2, and he's completed a Hank Williams biopic that's already getting Oscar buzz. He even signed up to tackle the King Kong reboot. After doing bit parts for most of his life, the chance to finally step into some larger roles was no doubt appealing to Hiddleston. It's possible he didn't want to be distracted with a romantic life when he had all this opportunity ahead of him.
Hiddleston himself has admitted that he struggles maintaining a work/life balance — and he's such a dedicated actor that he would probably rather be practicing his lines than trying to flirt with women. But, it also has to be a little exhausting to know that so many girls idolize him even without really knowing him. That sounds pretty daunting, so I don't really blame Hiddleston for choosing work over romance right now.
I'm sure he'll find the right woman to settle down with someday. But right now his future in the cinema world is bright, and he should take advantage of those opportunities while he can. (Besides, the longer he waits, the better the chance is that I can meet him and convince him that we're actually soul mates. I'll keep you posted on how that goes.)
Images: Getty Images; team-hiddleston, thfrustration/Tumblr