THIS Outfit Got A Girl Sent Home From School?
Last Thursday, student Macy Edgerly was sent home from Orangefield High School for an "inappropriate" outfit consisting of leggings and a long tunic. That night, her sister, Erica Alyse Edgerly, posted about it online in protest of the school's dress code, claiming it was "body-shaming" and "contributing to the rape culture of today's society." As of this week, that post has been shared over 80,000 times on Facebook, with people sharing similar experiences from all over the country. Say what you will about social media, but you can't deny its power to generate a discussion.According to Erica Edgerly, her sister's dismissal wasn't just a symptom of rape culture, but an interruption of her education. "When you send someone home, you're taking away from their education," Erica wrote in the post accompanying the picture of her sister's outfit. "So I guess it's more important for boys to not have distractions... than a woman's education." Furthermore, she asserted that it contributes to the society's emphasis on female appearance, writing that women "feel insecure about their bodies... beause [sic] you're told your clothing is inappropriate even when you're fully clothed." Comments on the post are largely supportive of Erica's post; most are along the lines of Amy Peveto Dwyer, stating that the "same thing happened to [her] daughter with leggings and a long sleeved overshirt that covered her bottom." Ryan Lebouef agreed with Erica, writing that sending Macy home is "like saying baseball players and softball players are trashy for dressing the way they do."
Some, however, sided with school administrators. "Not every body style can wear what she's wearing and look cute!!!!!" read one comment. "Unfortunately we DO have many hormonal boys here... I have to support the School Board's rules."
The post quickly went viral, being shared on parenting websites and written about on websites such as IJ Review, She Knows, and Hello Giggles . It was even tweeted about by popular advocacy group We Need Feminism.
Erica has thanked her supporters multiple times, writing that the attention is "insane."
Here's hoping that all the attention will bring about actual change in dress code sexism for once. In the meantime, may I suggest my go-to aesthetic?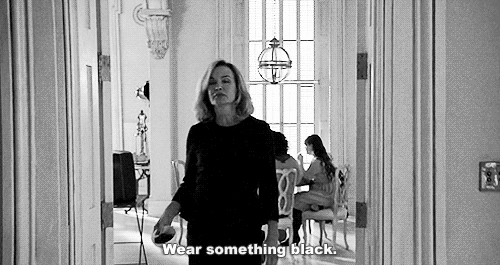 <img alt="" src="http://images1.wikia.nocookie.net/__cb20131015015707/glee/images/5/5e/Wear_black.gif" class="article-body-image" title="Image: http://images1.wikia.nocookie.net/__cb20131015015707/glee/images/5/5e/Wear_black.gif"/>Images: thisarchitecturelife/Tumblr