What Happened When I Used All Natural Products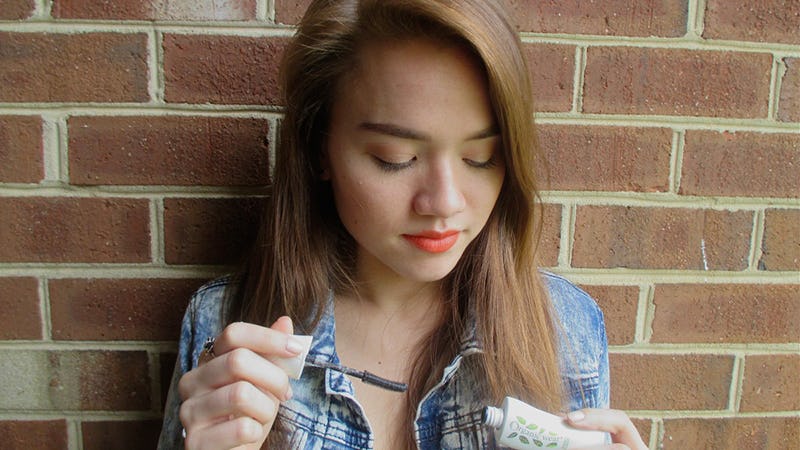 In honor of Earth Day, I was challenged by my editor to try a strictly organic beauty routine — to switch out my normal beauty products for all natural ones. So for the past two months, I tried organic haircare, skincare, and makeup to see how they performed compared to my usual products. Honestly, I had mixed feelings going into the switch. On the one hand, I'm always down for more natural ingredients in my beauty products. I usually avoid the "bad" ingredients like parabens, pthalates, etc. when I can, and definitely prefer seeing names of ingredients that I actually recognize and understand on labels. But on the other hand, I know that some synthetic ingredients can be helpful even if they're not the best for one's skin or hair (like dimethicone and sulfates).
To really submerse myself in an organic beauty routine, I changed my shampoo and conditioner, acne treatment, body soap, deodorant, foundation, lip balm, and mascara. And I was surprised by every single product I tried. After trying out these all-natural products, I can officially say that it is possible to have a successful beauty routine, with results I expect and want from ingredients I recognize and understand. So now I'm challenging you to switch up your beauty routine. It doesn't have to be everything, and it doesn't have to be all at once. But if you're using products with an ingredient list long enough to be a novel, try something organic instead. And if you're unsure where to start, here a few products to try.
Hair
John Masters Organics Scalp Shampoo, $21, Amazon; John Masters Organics Detangler, $21, Amazon
I know it's probably not a popular opinion, but I've actually always liked shampoos with Sodium Lauryl Sulfate. I get a kick out of the lathering, and it makes me feel like the product is working. So I was a little scared to try an all-natural shampoo. I knew it wouldn't have the magic lathering ingredient, and because my hair is decently long and full, I thought it would force me to use half a bottle just to get the product evenly dispersed.
Of course I was wrong about the half-a-bottle thing, but I did end up using more product than I normally would have to feel like my hair was properly cleansed. (There were even a few times I ended up doing the "repeat" part of hair-washing most of us usually skip.)
Left: My regular shampoo and conditioner, air-dried; Right: JMO shampoo and conditioner, air-dried
I normally wash my hair every other day, and these natural products did not inhibit my routine. Although the first few times I washed my hair I noticed that it became greasier earlier than usual on Day 2, continued use allowed my hair to become accustomed to the new products. After about one and a half weeks, my hair was back to not becoming greasy until the morning of Day 3. However, I never felt like I could extend my washes to Day 4 without the help of a dry shampoo.
Although I prefer the washing process with a shampoo that actually lathers, I have to say my hair turned out the same on the clean-scale. However, because I normally use a deep conditioner every time I wash my hair, I had to fight the urge to add a leave-in conditioner or oil after I conditioned in the shower. And although my hair was never dry from using just this natural conditioner, I always recommend rotating in a hair mask at least once a week (regardless of what conditioner you normally use).
Indie Lee Blemish Lotion, $28, Amazon
I have oily, acne-prone skin, so I'm always down to try a new blemish-blaster. Before this product, I hadn't been using a spot treatment, but had just been counting on my regular washing, toning, and moisturizing to keep my skin in check. While that works for the most part, I do still have occasional zits. I guess I had just forgotten how nice it is to have a spot treatment for those little buggers that I had been letting fly under the radar. This particular treatment is a little tricky because it has to be kept in a still, upright position so that the two layers remain separated. (That means I wouldn't want to travel with it.) But yes, it works.
I (unfortunately?) had the opportunity to test this out on both smaller pimples and a couple of those deeper, painful ones. I found that this successfully zapped the smaller ones overnight, which frankly, was awesome. And as for the painful ones, it took a few days to clear up, but only overnight to stop hurting.
Kiss My Face Coconut Milk Bar Soap (3 PK), $8, Amazon
I'm more of a shower-gel kind of gal, but I really enjoyed this bar. First of all, if you love the smell of coconut and lime, you're going to love this. This bar lathers incredibly well for not having any sulfates, so it offers a really pleasing washing experience, and it lasts a long time. Seriously, after two months I still have about half a bar left. The only issue I had with this bar is perhaps because my expectations were too high: Since the ingredients are basically just coconut, olive oil, and water, I expected to be able to just hop out of the shower feeling totally moisturized. And while my skin didn't feel tight, I also didn't feel like I could skip moisturizing. But because I always moisturize after a shower anyway, yeah, I might be a Coconut Milk Bar Soap convert now.
Meow Meow Tweet Baking Soda Free Deodorant Cream, $18, Amazon
I was especially hesitant about switching out my regular deodorant for a natural one. I had heard that it takes a while for the body to become accustomed to natural formulas, so one might smell more than usual for a week or so. This was not the case with this deodorant. Sure, it's a little inconvenient to apply deodorant by hand, but this one has a very pleasant dry texture (so there's no awkward residue) and actually smells like grapefruit. While this deodorant did not keep me dry or particularly fresh during a workout, it's a really great alternative for the day-to-day.
bareMinerals Complexion Rescue Tinted Hydrating Gel, $29, Amazon
Due to my aforementioned oily skin, I usually don't like to wear liquid or cream foundations because they tend to break up on my face after only a couple of hours. Basically, I either wear a powder or, if I'm having a good skin day, nothing. But if I do go for a liquid, I usually try to stay away from buzzwords like "illuminating" or "radiant" or "hydrating." So a "hydrating gel cream" definitely fell on my skeptical list.
But the weirdest thing happened. Yes this product is hydrating — I tried it both over moisturizer and on its own, and my skin was never wanting (although drier-skinned ladies might want to layer it during the colder months). Of course it didn't help at all with oil control, but it also didn't exacerbate my oiliness or even break down shortly after application.
Left: I woke up like this; Right: After one layer Complexion Rescue
I found bareMinerals Complexion Rescue to have sheer to medium buildable coverage, and to be comfortable to the point I forgot I was wearing face makeup. It lasted about four to five hours before I noticed it breaking down on my T-zone, especially on my nose (this was the first area the product disappeared). I especially enjoyed this product on colder/drier days and found I only needed to powder once towards the end of the day to touch up.
As it's been getting warmer though, I have noticed wear-time reduced to about three to four hours before the product begins to break down on my nose, and I've had to powder two or three times during the day. However, because the product is sheer, it is not as noticeable if it has worn off of only certain areas of the face compared to medium or full-coverage products.
Osmia Organics Honey-Myrrh Lip Repair, $22, Amazon
I'm all for an organic lip balm, so I was excited for this product. Honey especially is supposed to have really great healing properties, so I was ready to make this my new night-time lip balm. And yes, I always woke up with plump, hydrated lips in the morning, but I was honestly always a little surprised when I did because the texture of this balm is so thin. The product itself is not very soft, so I would have to rub my finger over it for a while to warm it up enough to get any product out of the jar. And after I applied it and rubbed my lips together, it never quite seemed like I had enough on. Granted, I really like products that make my lips feel like they're coated in a protective barrier. So yes, this performed exactly the same as the balms I usually wear overnight, it just didn't give me that immediate gratification that I crave from my lip products.
Physician's Formula Organic Wear Mascara, $6, Amazon
Not only have I never used an organic mascara before (to my knowledge), but I also tend to wear more high-end brands. I know there are some good mascaras at the drugstore, it's just my favorites tend to be the ones found at Sephora. So I really didn't know what to expect with this mascara.
Well, let me just say, I saved the best for last with this one. As in, this might be my new favorite mascara. First of all, the brush is perfect. It's dual sided with one side being regular rubber bristles that give length and definition, and the other side (also rubber bristles) is a comb that gives major volume. This is perfect for day to night, because you can choose to just use one of the sides for length or volume, or you can use both sides for lashes-on-lashes.
Left: Bare lashes; Right: After one coat both sides of brush (top lashes only) Organic Wear Mascara
The formula is not too wet and not too dry, and I never had clumps when applying. Although it is the only mascara I've ever worn that smudged on my bottom lashes, it lasts all day on my top lashes without budging. And I have to say, one of my favorite parts about this mascara is how easy it is to wash off. There's no tugging or raccoon eyes with this; just add a little warm water and it easily comes off.
Images: Courtesy Brands; Miki Hayes