It's Iron Man vs. Hulk In The New 'Avengers' Clip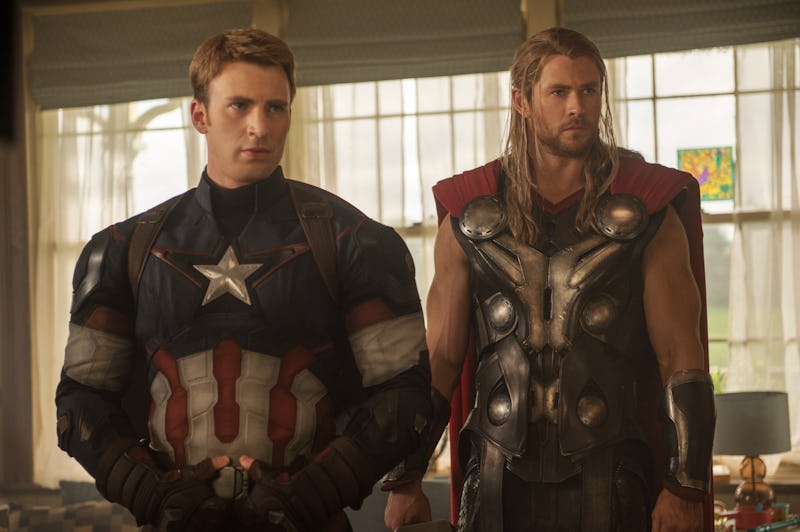 Thank the awards show gods for The Avengers. We were totally robbed of what could've been a great MTV Movie Awards moment when the winner of Best Shirtless Performance was revealed before the show even started (it was Zac Efron, BTW), but luckily, there was another great segment during the MTV Movie Awards: a new Avengers: Age of Ultron clip. Besides the clip itself being awesome (obviously), almost the entire cast gathered on stage to present it. Scarlett Johansson, Robert Downey Jr., Chris Hemsworth, Chris Evans, Mark Ruffalo, and Jeremy Renner were all there to introduce the clip, which came just after the cast presented Downey Jr. with MTV's Generation Award.
But we need to talk about the most important part of this segment: which Chris looked better? Relax, I'm only kidding (and obviously the answer is Evans). Let's delve into that Age of Ultron clip, which centered on a fight between the Hulk and Iron Man. We still haven't reached the famous Civil War, that'll come in Captain America 3,so there was a very good reason for this fight: Scarlet Witch had somehow affected Hulk's mind. It was clear from the nature of their fight, and what Tony Stark was saying to the Hulk, that Stark was simply trying to stop him, something I'm sure Bruce Banner would appreciate once back in human-form.
In fact, Stark was trying to appeal to Banner to get back to his normal self, saying. "Are you listening? That little witch is messing with your mind. You're stronger than her. You're smarter than her. You're Bruce Banner." We've seen bits and pieces of this fight in the Age of Ultron trailers, recognizable for Stark wearing the Hulkbuster version of his Iron Man suit, but this was the first clip that really put it into context. Hopefully both Avengers will come out of it unscathed, but hey, if you're someone seriously looking forward to Civil War, at least you know there's a little inter-Avenger feud tease in Age of Ultron. Watch the full clip below.
Image: Disney