What If Thomas Ravenel Was President?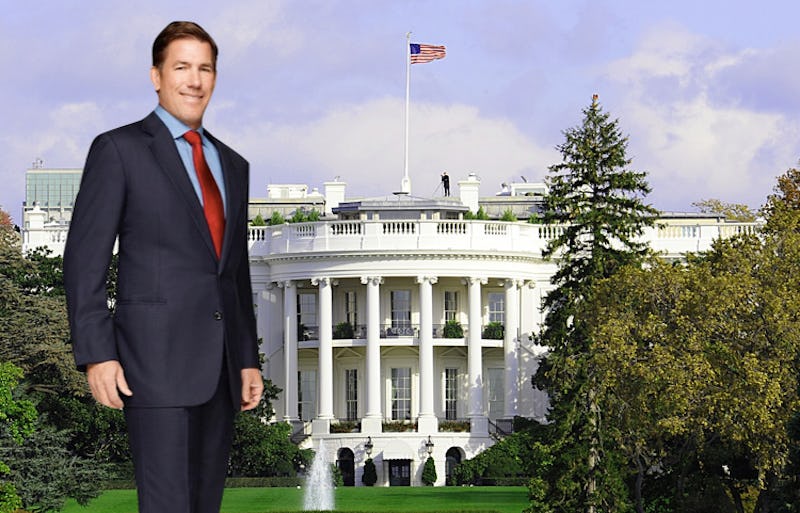 There has been a lot of talk about who will be President after the 2016 election, but there is one name that seems to be missing from the ballot and that is Southern Charm star Thomas Ravenel. Out of all the stars on the Bravo show, T-Rav has the most political experience — he ran for Senate in 2014, but lost... bad — so why isn't he running for President? Or maybe the more important question to ask is: What if Thomas Ravenel was President?
I don't know much about the road to POTUS, but I assume it goes something like: Star on Bravo TV show, lose U.S. Senate election, run for President of the United States. The politician and reality star has never been shy about his desire to hold a political office. In 2014, Thomas ran for the South Carolina U.S. Senate seat against incumbent Lindsey Graham. He only won 3.9 percent of the votes in South Carolina, and I think I know why. He wasn't shooting big enough. Thomas Ravenel, star of Southern Charm, shouldn't be running for a U.S. Senate seat — pfft — he needs to be running for the President of the United States.
So let's say we live in a world where T-Rav ran for POTUS, and — let's get a little deeper into the imaginary world — he WON, how would T-Rav run the country?
He'd Create A Bill To Raise The Roof
Thomas Ravenel won't raise taxes (according to his political ad), but he will raise the roof. Who doesn't want a POTUS who believes in raising the roof, even if it is 2015?
He Would Make Bravo TV Stream Around The Country All The Time
Everywhere you go, there's a flat screen of Bravo playing, at every second of every single day. Can you jive with that? Because I can.
He Would Only Communicate Via Facebook With The Country
Thomas has a habit of writing about his personal relationship with Kathryn — and his feelings about the show — on Facebook. While that might be a small flaw for a reality star and Senate hopeful, he could definitely twist this in his benefit for being POTUS. Instead of State of the Union addresses, T-Rav would hold Facebook events called "Facebook Status of the Union" where he could type his heart out into a status update to let us know what's happening in the country. This will be the last Facebook event you ignore.
Images: KAREN BLEIER/AFP/Getty Images; Robert Ascroft/Bravo; Bravo; Giphy; Brice Sanders/Tumblr