Milo Ventimiglia Is Sticking Around On 'Gotham'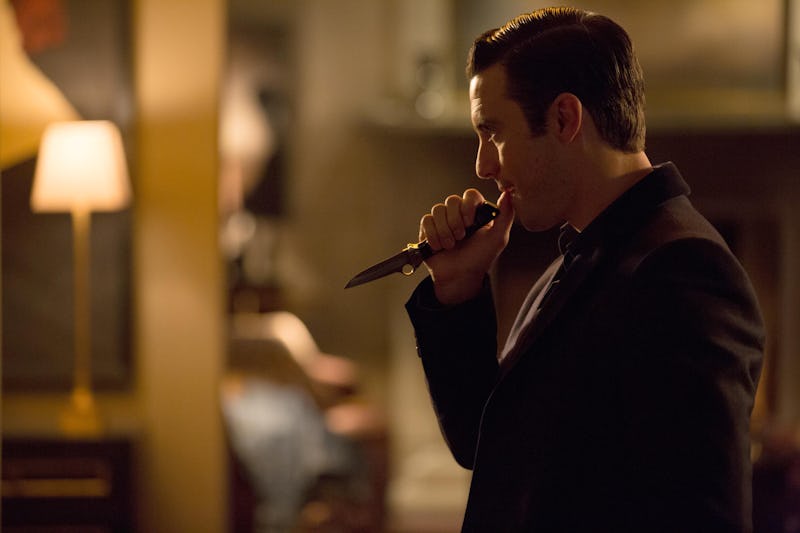 Gotham is back from hiatus and is not wasting any time bringing in new baddies. On Monday night, Milo Ventimiglia joins Gotham as Jason "the Ogre" Lennon. How long can we expect to see this devilish addition to the show? IMDb has Ventimiglia listed for three Gotham episodes, while the official Fox press release additionally describes his role as a "major, multiple-episode recurring arc" that beings in the nineteenth episode of the season, "Beasts of Prey."
You might recognize Ventimiglia from Heroes, in which he starred as Peter Petrelli, so he's no stranger to the world of comics and supernatural powers. Peter was one of the main protagonists on the ensemble series, however, Jason Lennon is most decidedly a Gotham villain. Here's what the official Fox press release has to say about the character.
Handsome, wealthy and seductive, the Ogre is a serial killer who has been preying on the young women of Gotham for nearly a decade, luring them into his web and confronting them with a series of "tests" as he searches for his perfect mate. When the women fail to live up to his impossible standard, Lennon disposes of them quickly and viciously.
He's like an evil Batman and/or Bachelor. Yikes! Lennon sounds like all of my worst fears wrapped into a tuxedo. Entertainment Weekly released a sneak peek that gives Lennon the alternative nickname "the Don Juan killer." That seems more appropriate than Ogre given his modus operandi. Plus, if you recognize that alias, be warned that Lennon is a different Ogre than the Michael Adams of Batman comic books.
With Fish Mooney (temporarily) out of commission and all of the organized crime bosses fighting one another, it appears that Lennon will be the focus of Detective James Gordon during his run on Gotham. Especially if the Ogre becomes interested in Barbara Kean, as the image above suggests. I understand that she's is on the rebound, but a serial killer is probably not her best choice for blowing off steam. However, is it just a random happenstance that brings these two characters together, or is Lennon targeting her because of Gordon?
I'm very excited for this arc. As Ventimiglia says in the same Entertainment Weekly sneak peek, this character will "put a little lightning in the end of the season." Gotham seems to have recognized that "villains of the week" are not necessarily its strength, and I appreciate the opportunity to let a character as interesting as the Ogre grow in the already rich world of Gotham City.
Besides, how much fun will it be to see Ventimiglia playing a villain? I supposed that Jess, his character on Gilmore Girls, is supposed to be a "bad boy" by Stars Hollow's standards, but come on. The dude reads Jane Austen and Jack Kerouac. On a show like Gotham that's full of miscreant potential, someone as wicked as Jason Lennon could trump them all.
Images: Jessica Miglio/FOX (2)