When Naked Selfies Become Wall Art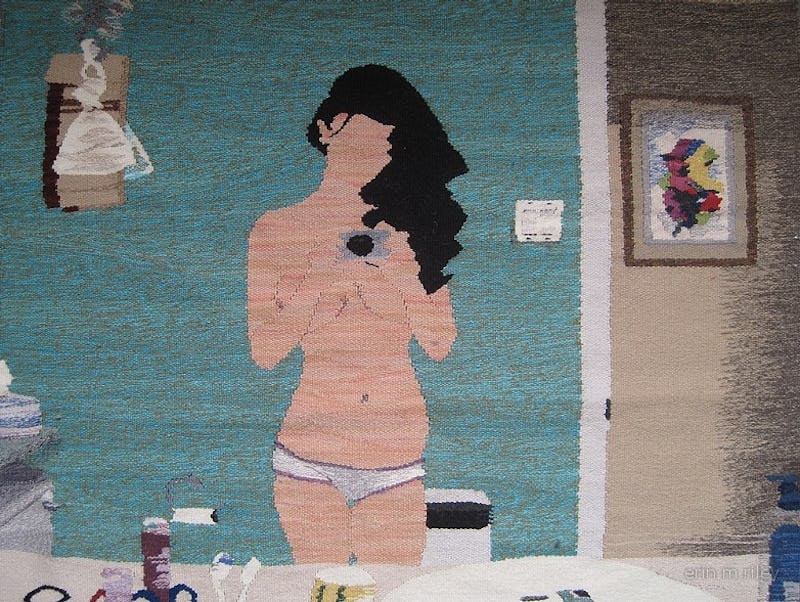 Move over, erotic needlepoint. Artist Erin M. Riley is sexing up another folk art, with colorful, impressionistic tapestries based on sexy selfie photos. Riley's tapestries depict women in various states of undress, some visibly holding up cell phone cameras. They're hot, definitely, but they're more than that. Every selfie tells a story, but nude selfies speak volumes. And the background details Riley emphasizes—beer, curling irons, joints—are as much a part of the portraits as the faceless bodies in bras and underwear.
Riley finds subjects for her 'Nudes' series via Google and Facebook, creating tapestries based on these real-life images. "I grew up connecting with people that I didn't ever know ... the Internet allowed me to do that, and in a really weird way," she said in a 2012 video about her work.
Riley told The Huffington Post that her nudie tapestry series was inspired by stumbling across message boards full of "noodz," aka naked female selfies. "I realized this was the traditional nude of our time and so the 'Nudes' series began," she said. "It has evolved from women using digital cameras and flip phones to the iPhone, and from just the basic straight on, full frontal shot to girls climbing on counters and twisting themselves to get the right angle."
Eventually she began using her own selfies as inspiration, collecting pictures from old boyfriends and presenting her own portraits along with others. "The other women I wove always had felt like reflections of myself, but after I had gone down the road of weaving myself nude, weaving my tattoos and my breasts many different times, these girls were me," she told Arrested Motion. "My work and the girls I present are all embedded with my narrative and therefore most of my work can be seen as a modicum of me."
A selection of Riley's tapestries were recently shown at Philadelphia's Paradigm Gallery. Others are currently part of an exhibit at the Joseph Gross Gallery at the University of Arizona. "I'm so glad that people enjoy many of the nude or scantily clad young ladies," said Riley, but "even more psyched when a college age girl comes to me and completely gets my perspective because we have both expressed our sexuality through images in text messages."