Ramona Apologizes To Luann On 'RHONY'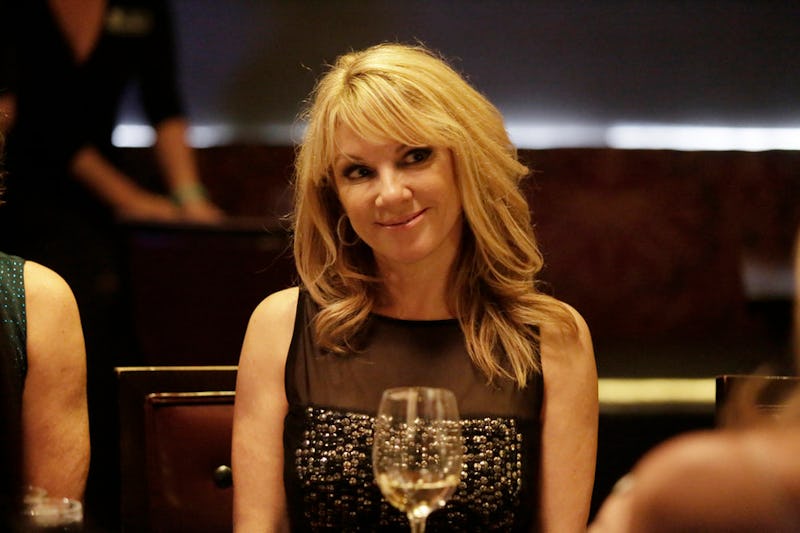 It's a season of changes for The Real Housewives of New York City cast. Most notably, Bethenny Frankel returned to the show after a three-season absence. Tuesday night's episode of RHONY opened with the estate sale of Luann de Lesseps' Sag Harbor home. Ramona Singer is of course going through a very high-profile and nasty divorce from her husband Mario, which is why she actually apologized to Luann during Tuesday night's episode.
Yeah, I couldn't believe it either. In six seasons of RHONY, Ramona has never been one to admit any wrongdoing and take much responsibility for when her words and actions rub other people the wrong way. This is a scene I'm going to have to rewind on my DVR over and over and over again just to make sure I didn't imagine the whole thing.
But yes, it was real, and it was actually a nice moment between the two RHONY OGs that have often come to blows. During Luann's estate sale, Ramona took her to the side and got Ra-motional. I wasn't sure how this was going to play out, because when the Ramona coaster is out in full force, nothing good usually comes of it.
However, Ramona did in fact apologize for the offensive things she said in the past about Luann's relationship with her ex-husband. As you may recall, Luann was married to Count Alexandre de Lesseps when we first met her on RHONY. However, the following year, Alexandre revealed that he had met someone else, and the two divorced. In the past, Ramona unnecessarily called out Luann's husband's infidelity and her parenting skills.
Now that Ramona knows how it feels (her husband Mario allegedly cheated on Ramona with a 27-year-old woman he had met one summer in the Hamptons), she decided to make amends with Luann. I'm a bit disappointed that it took Ramona actually walking in Luann's shoes to understand just how wrong her comments toward her fellow Housewife were, but it's progress, and I'll take anything I can get from reality TV stars.
Ramona seemed genuinely sorry about the situation. However, Luann was not having it. After Ramona apologized to her, she said that she'd like to forgive and forget, but in the end she said, "We'll see." This is because Ramona has made apologies in the past before, but they never really seem to stick. Though Luann said Ramona seemed more sincere than usual, she was just not ready to fully forgive her yet.
And I respect that. Ramona can be very unpredictable. She has had conversations in the past where everything seems settled and resolved, but then she'll bring it up again as if she's still furious about the whole thing. Didn't you see the never-ending merry-go-round of drama she put Kristen Taekman through last season?
I do think Ramona's divorce has changed her. I'm just not sure how much.
Images: Nick Valinote/Bravo; realitytvgifs/Tumblr (2)