Third Time Is The Charm For Rayvon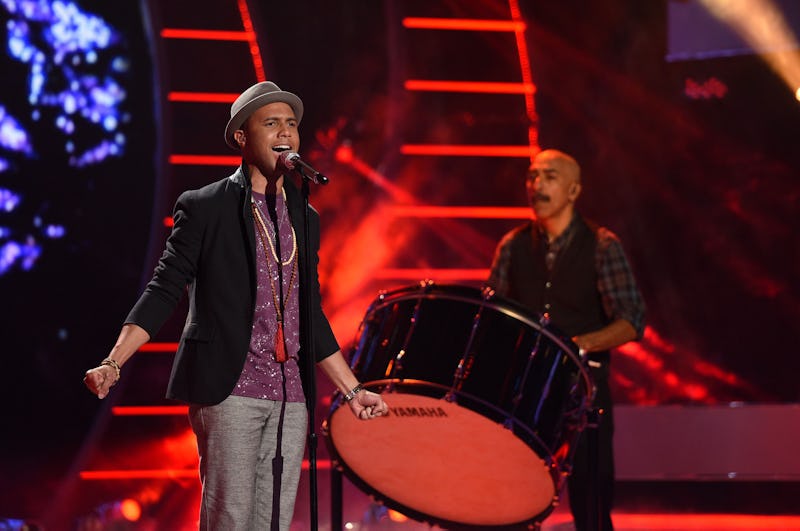 Well, third time was the charm for Rayvon Owen in the American Idol Fan Save. Seriously, this man has been kissed by the music gods — he has managed to escape elimination three consecutive times in a row. That has to be some sort of record. But if the fans keep saving him, why does he continue to end up in the same spot? I touched on that last week (when I was convinced he would be sent home if he were to land in the bottom two again). The voters clearly love Owen — and if tonight's performances were any indication, he won't end up in the bottom two again next week.
It seems comical to Owen at this point that he continues to end up in the bottom two. This is what's so great about him. Instead of letting the constant fear of being eliminated get to him, he uses it to make him better. He knows he's talented, he just has to get the viewers to see that too. Owen's performances tonight were two of his best this season. His performance of the Doobie Brothers' "Long Train Runnin'" was energetic, exciting, and all-around pretty awesome. It showed a playful side of him we have yet to see this competition. To then follow that up with an emotional love song was no easy feat, but he did it effortlessly with Willie Nelson's "Always On My Mind." To pull off this combination of songs in the span of an hour was no easy feat, but the fact that Owen was able to do it reflects how talented he really is.
Owen has done everything he can to win over the voters, and now it's really up to them for him to continue on. It's easy for the voters to just forget to vote for him to make it to the next round because they've already voted to save him. It'll be very interesting to see Owen's fate next week. His performances tonight have earned him a one-way ticket out of the never ending bottom two cycle, but whether or not that will happen is up to the voters.
Image: Michael Becker/FOX